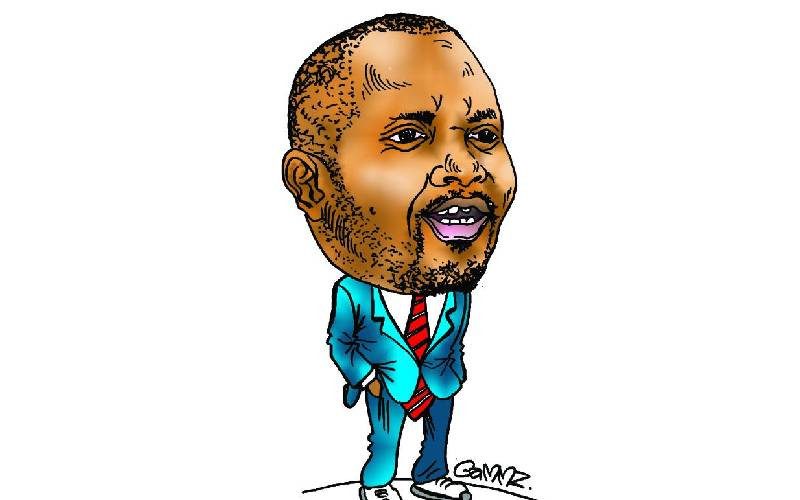 A few weeks ago, Gatundu South MP and Chama Cha Kazi leader Moses Kuria gave all indications that he had pulled out of the Kenya Kwanza rallies until his grievances were addressed by the coalition leaders.
Kuria had teamed up with former Kiambu Governor William Kabogo to express his displeasure on United Democratic Alliance(UDA)'s bullish attitude against his party over the planning of rallies in Mt Kenya.
He claimed that UDA affiliates from other regions had equal stakes in planning and execution of campaign rallies but when it came to Kenya Kwanza, it was mainly a UDA affair.
"Following the unfortunate incident of June 15, the Tujibebe Wakenya party and Chama Cha Kazi have decided to pull out of the UDA caravans as they are clearly set up to embarrass other parties and demonise the Kenya Kwanza Alliance as a coalition," a joint statement by Kuria and Kabogo read.
In a show of solidarity, Kuria and Kabogo even posed for a photo, with the MP writing on Facebook that "Kiambu is in safe hands, Hatupangwingi" meaning that the two leaders will not let others plan their political destiny.
They argued that UDA was engaged in a deliberate move to discriminate other parties in the Mt Kenya region.
To sustain their political onslaught, the two gave Ruto's rally in Kiambu a wide berth and held separate campaigns while at one point, they met at a burial.
Kuria went ahead and posted on his Facebook account: "For miraculously extracting defeat from the vicious jaws of victory, they deserve a medal" a statement which was interpreted to mean that the two individuals' withdrawal from Kenya Kwanza would deny the alliance a win.
All-out war
While Kuria remained cryptic on his political moves, Kabogo went ballistic and launched an all-out war against Deputy President Ruto and his running mate Rigathi Gachagua, accusing them of interfering with Kiambu politics.
Accusing Ruto of political deceit and conmanship, Kabogo vowed never to return to Kenya Kwanza until his grievances are addressed by the top organs.
The former governor also accused Gachagua of being a dictator within Kenya Kwanza alliance and claimed he was making Ruto lose votes.
"Karua is so strong for Gachagua. He is making Ruto lose votes in the region," Kabogo claimed while declaring himself a de facto Mt Kenya region kingpin.
All this time, Kuria was silent, probably mending fences with Kenya Kwanza coalition's top honchos.
As Kabogo went on to castigate and demonise the coalition, Kuria pulled a first one and wrote on his Facebook page: "When (inevitable) disagreements arise in heaven, hell is not an option," which meant he was in Kenya Kwanza to stay despite the differences.
Ruto rallies
He later joined Kenya Kwanza rallies in Nakuru and is expected to join Ruto to launch the Kiambu Hustler Fund which is one of his campaign promises.
While Kuria has since mended fences with Kenya Kwanza, Kabogo appears to be in the dark now that his letter was never responded to and there are little or no signs that a meeting would be called to address their issues.
"I have moved on as the party leader of Tujibebe. I have not spoken to Kuria in the last two days. I don't know his moves. We imagined it would go smoothly," Kabogo said on Wednesday when he appeared on KTNs Newshour.
He added: "We did not get the meeting. I don't know what happened after our secretary generals wrote to them. There is no response. We haven't heard from them."
"There were speculations that we were to meet on Monday or Tuesday but we have not been invited to any meeting," he added.
Kabogo is optimistic about his governorship bid. He hinted at distancing himself from Azimio la Umoja and Kenya Kwanza coalitions ahead of the August polls.
"Life has to go on. I am now focusing on my campaign for Kiambu governor. There are several presidential candidates and some of these things are a blessing in disguise. I was in Githurai today, I asked them to vote for their preferred candidate but vote me in as the governor," said Kabogo.
Kuria and Kabogo joined had hands to demand for inclusion in Kenya Kwanza rallies but are competitors in the race for Kiambu governorship. Due to Ruto's influence in Mt Kenya region, both needs his support.
Did Kuria employ the proverbial tale where a hare deceived a hyena to go and beat their wives but the hare beat drums while hyena the followed the script and beat his wife to a point of unconsciousness?
The Sunday Standard interviewed Kuria who says he had not schemed against Kabogo and that he was a forthright leader who spoke what was in his heart. Here are excerpts.
Question: Your decision to join Kabogo's efforts to express your dissatisfaction with the bullish attitude by UDA and then your presence in Kenya Kwanza rallies even before your letter was responded to portrays you don't mean what you say and may have fixed Kabogo. What is your reaction?
Answer: We may be on the same side with Kabogo on the approach but I can't quit because Kenyan Kwanza is my house. This is a moving vehicle we may change brake pads ahead and not quitting.
Have your concerns been addressed by Kenya Kwanza principals?
There are positive changes. My party candidates have been given a chance to speak. Once you deliver a message you don't keep on fighting. I don't have two candidates. my candidate is William Ruto, my team is Kenya Kwanza and my deputy president is Rigathi Gachagua. Azimo has its patron in Uhuru Kenyatta. Martha Karua has no shares in it. All the coalition shares belong to Uhuru Kenyatta and Raila Odinga. Uhuru will control all the shares for Mt Kenya region and there is no space for me. That's why I can't join Karua in Azimio.
Did you go back to Kenya Kwanza to enjoy the political forays made by Ruto in Kiambu since you can't sustain your individual campaigns?
I campaigned for my candidates in Mt Kenya in Juja and Gaturi and won way before UDA came into being and I did this while being in Ruto's side. I have been a consistent Ruto supporter for five years' despite being Uhuru Kenyatta's MP and I have never associated with Raila. I don't understand why people think I have not been faithful to Ruto.
If you were to offer unsolicited advice to Kabogo, what would you tell him?
Pick your side as there is no perfect house. Declare your political stand and don't sit on the fence. Stop using grievances as excuses to bolt out. He should declare if he is in Azimio. Those who are don't hide and they still have their votes, let him leave. Time is up there is no third horse. He is my friend and my brother and I wish him well.
Some people feel you are a schemer and and may be politically misguide
I'm open and I use common sense. I don't have any hidden agenda. I'm not a schemer. I'm a very honest open person - what you see is what you get.
When Kabogo sees you in Kenya Kwanza, what is he telling you?
Our only joint project was to raise concerns and not any other. Any other move was supposed to be an individual decision and I respect that. I'm a part owner in Kenya Kwanza and I'm there to stay. How can I leave my house? There can't lack small grievances in heaven.
What is the fate of your letter and concerns raised?
Those are now by-gones. The people it was intended for have got our concerns. I'm now focused on campaigning for Ruto, myself and my candidates. I'm determined to deliver a win for Ruto and Kenya Kwanza.
There are people who claim you misled Kabogo into complaining in order to remove him from the equation so that he doesn't enjoy Ruto's support.
That is not true. I'm a forthright leader who is genuine and speaks from the heart without having other motives. I raised what I felt was important but I never said we shall move out of Kenya Kwanza.