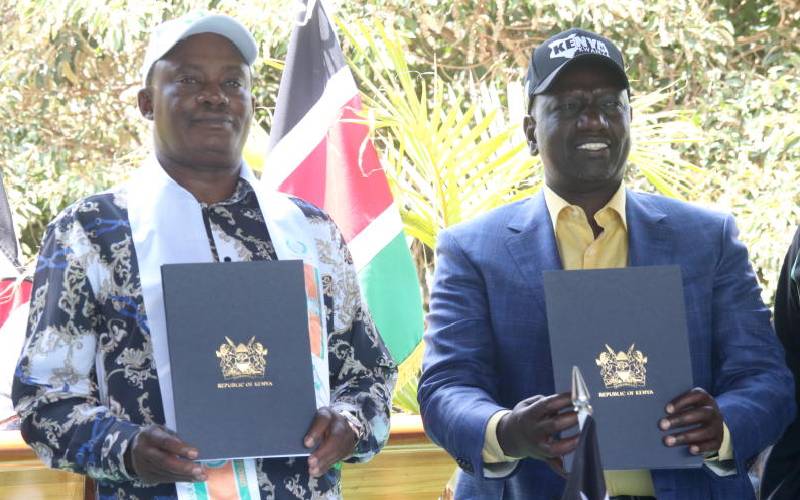 The High Court has now ruled that the Democratic Party (DP) is properly in the Kenya Kwanza Alliance after dismissing an earlier ruling by the Political Parties Disputes Tribunal (PPDT).
The PPDT had ruled that some party officials, including chairman Essau Kioni and party leader and National Assembly Speaker Justin Muturi, had taken DP into the alliance without proper consultations.
But Justice Joseph Sergon dismissed the tribunal's judgment and orders made on May 20 and set them aside, meaning the party will continue being legally part of the Kenya Kwanza Alliance (KKA) headed by Deputy President William Ruto's United Democratic Alliance.
Justice Sergon also dismissed a complaint dated April 11 by Deputy Secretary-General Wambugu Nyamu, Daniel Munene and Kingori Choto who argued Muturi had taken up the role of the party leader despite opposition from a section of party members.
The PPDT had ruled that the coalition deal signed between National Assembly Speaker Justin Muturi's DP and Deputy President William Ruto's Kenya Kwanza Coalition was illegal.
"An order dismissing the Preliminary Objection (PO) dated May 12 has also been set aside and is replaced with another upholding the PO," noted the judge.
The tribunal had dismissed the PO seeking to have the complaint struck out on grounds that the complainants had not exhausted the internal party mechanisms.
"I am convinced the (PPDT) committed an error in dismissing the PO. There was no application before it to extend the time to file and admit the complaint out of time," Justice Sergon said, noting it cannot be said the PO was a procedural technicality.