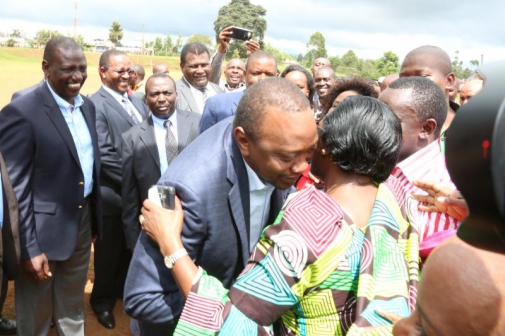 Yes, what will Jubilee do if Karua and Waiguru forge a joint-ticket for Kiriyaga's gubernatorial seat, as candidate and running mate?
Deputy President William Ruto has no love lost for Anne Waiguru. He loathes Waiguru's "catwalk" and "lots of English", but the DP turned the knife on the former Cabinet Secretary when he went to Kirinyaga County and called Martha Karua "a good woman", who once she joins Jubilee Party, should be elected as governor. Karua is Waiguru's rival for the gubernatorial seat, and she has already said she has no problem with her constituents in Kirinyaga electing the Jubilee Party for the presidency, as long as they pick her for county governor.
As if that was not enough, President Uhuru Kenyatta tightly hugged Karua while Waiguru watched and invited her to fold Narc-Kenya if she really wanted to work with the Jubilee Party in her gubernatorial bid.
The bad news for Waiguru did not end there. President Uhuru Kenyatta, who was so close to Waiguru during her rosy tenure in government when she served as a powerful Cabinet Secretary for Devolution and Planning, stood before the Kirinyaga voters, and told them that he did not have favourites; that they had a right to choose whoever they wanted, and that he was not in the business of endorsing people.
"We want to assure you that Jubilee will conduct fair nominations and all aspirants will be given equal chance. Our internal party democracy will ensure voters are given space to choose the candidates they want," said President Kenyatta.
The Head of State said the Jubilee party wanted the Independent Electoral and Boundaries Commission to conduct its nomination to ensure free, fair and transparency in the exercise. This, the President said, would give the electorate an opportunity to elect their leaders without any interference.
"The Deputy President and I have no preferred candidates. It is upon the electorate to decide whom they want. People should not go around claiming that they are our favourites. To us, all Jubilee aspirants are equal," President Kenyatta said and kept turning the knife. "When we say we are together, we mean that residents are given the opportunity to elect their leaders without any manipulation... It is you who will decide what kind of people you want to take up leadership positions."
Karua has gone head-to-head against President Kenyatta for the presidency. That was in the 2013 General Election. She lost. In fact, in her own Gichugu Constituency in Kirinyaga County, where she had served as MP for an uninterrupted four terms, Karua managed 1,460 votes against Kenyatta's 57,104 votes. In the whole county where she now wants to be governor, Karua got 2,438 votes, just one per cent of all the votes cast, while Kenyatta got nearly 100 times that with 231,868 votes. With that in mind, Karua has decided that she can play local, try to get the gubernatorial seat and lead her people.
It's not that Waiguru has been written off. The task just became a bit harder. She may have the connections within Jubilee Party (after all, she is a life member of the defunct The National Alliance Party). She may have some goodwill left on the ground courtesy of her tenure as devolution boss, but when the President and his deputy, who are the Jubilee bosses visit your homeground and publicly show dalliance with a seasoned politician, the public watches and doubts about where you really stand with the Jubilee bosses can arise. And Waiguru is also not a politician.
If you ask Karua, who has vowed that Narc-Kenya will not fold, what she thinks, she will just smile – yes, Karua will smile—and tell you it is all politics, and winners and losers are inevitable.
"All those positions are up for grabs. Only one person can win. Those who lose will not move out of this country. They will still be around. That's why we have to compete and campaign respectfully," said Karua.
Karua has worked for government as a Cabinet minister, and during her tenure as water minister, she was praised for competent, reform-oriented administration.
Waiguru too has worked in government and her career culminated into a ministerial position. She was the first and only minister to quit the Jubilee administration's Cabinet. It was over the multibillion shilling scandal at the National Youth Service. She has maintained that she is innocent. She toyed with the idea of vying for the governorship in Nairobi, but she shelved it, and took her aspirations to her home county in Kirinyaga. She appeared to be widely popular, but that was until Karua joined, and now her chances of being look threatened.
The challenge is that people are looking it as a matter of either Waiguru or Karua. What if the two team up, say Karua as governor with Waiguru as the running mate, or Waiguru as governor with Karua as running mate? The two were standing next to each other when President Kenyatta greeted them. They are not enemies. That's a possible political permutation.
Karua and Waiguru share the tag "stubborn". During their respective tenures in government, they were powerful. Karua had access to the then President Mwai Kibaki, while Waiguru had access to the current President Kenyatta. They moved mountains and scared opponents and critics. They both lost favour.
As the conversation goes on about who between the two women will succeed the sitting governor Joseph Ndathi, it is all taken for granted that Ndathi, who vied and won on a TNA ticket in 2013, and who has had the power and resources to change the county will not win a second term.
Karua loves Narc-Kenya. It's her party. She vied for the presidency through it, and she is keen to vie for the gubernatorial seat. When Kibaki tried to have all parties affiliated to PNU dissolve and merge into a single party, Karua was the one who scuttled that merger. Karua balked, stating that "NARC-Kenya had made a big mistake joining PNU and had weakened itself". With her history of being politically stubborn, she is unlikely to join the Jubilee Party.
-Alphonce Shiundu is a Nairobi-based journalist and an independent content developer
Related Topics