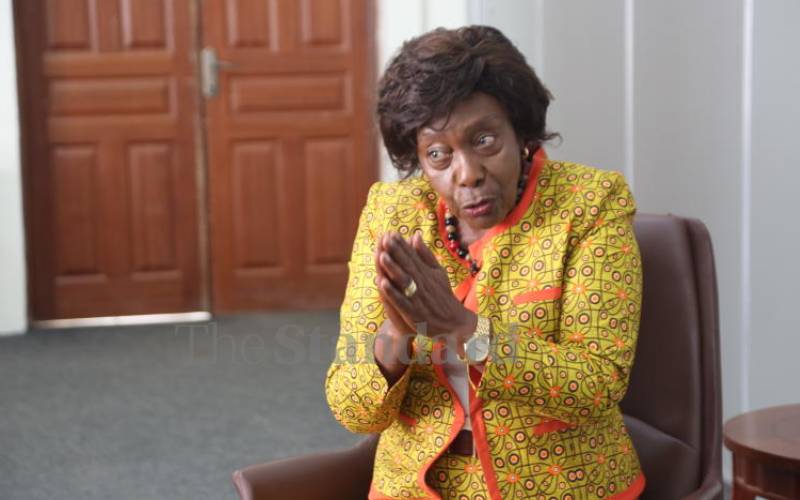 Kitui Governor Charity Ngilu says Wiper leader Kalonzo Musyoka was misadvised to contest the presidency by people driven by selfish interests.
Speaking on a live interview on KTN News, Mrs Ngilu said the Kamba community will stay put in Raila Odinga's Azimio la Umoja despite Kalonzo's decision to go it alone.
Mrs Ngilu said Mr Musyoka's claim that he has sacrificed much for the nation and therefore deserved the Azimio running mate slot did not hold water because there are many other leaders who had done more for Kenyans.
"Martha Karua's running mate nomination has excited the country. Even my sister in the village called me saying that for the first time, we will have a strong woman on the national platform," said Mrs Ngilu.
The governor said Mr Odinga had offered the Kamba community the powerful position of Chief Cabinet Secretary. She said she was equal to the task and ready to take up the job since Kalonzo had turned it down.
Mrs Ngilu said she vied for the presidency in 1997 and it was not any special for Kalonzo to try his luck in August. The governor warned that the community would not accept to follow Mr Musyoka blindly.
She said when Nyiva Mwendwa became the first woman minister, it opened the gates for other women to serve in senior positions in government. She added that it would be historic to have the first woman deputy president.
"It is a great loss for Azimio to have Kalonzo Musyoka leave its ranks. He had said he is going to support Raila for president unconditionally. Where did the condition that he must be made running mate to stay with us come from?" posed Mrs Ngilu.
She said Kenyans should elected a team that will create jobs for the youth, ensure quality medical care for citizens and provide avenues for economic prosperity.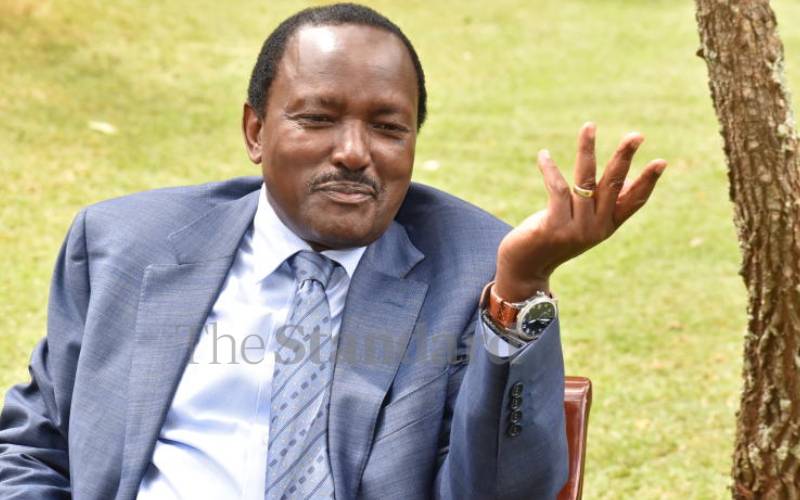 Mrs Ngilu said that even if she does not win the Kitui governorship seat, she would continue supporting Azimio towards women empowerment. She said she would be ready to perform assignments given to her by the coalition.
The governor said the naming of Ms Karua as the Azimio running mate was a major win for women.
She added that Kenyan women have confidence in Karua because she is qualified and would represent their interests on the high table.
"It is my desire to have Wiper leader Kalonzo Musyoka back to Azimio la Umoja. We have held meetings to convince him. However, we are aware of some leaders within Wiper who need to hang on Kalonzo's coat tails to win seats in the August 9 polls and are pushing him to run," said Mrs Ngilu.
Mrs Ngilu said Deputy President William Ruto has been government but has been absent in the implementation of projects. This, she said, made President Uhuru Kenyatta work alone in efforts to ensure his agenda for development was on track.
The governor said Kenya Kwanza team getting into government would be disaster in the making, since key leaders in the team have a questionable past and could not be trusted to take the country forward.
Mr Musyoka has declared his bid for the presidency and picked businessman Andrew Sunkuli as his running mate, promising to give his rivals a run for their money in the General Election.