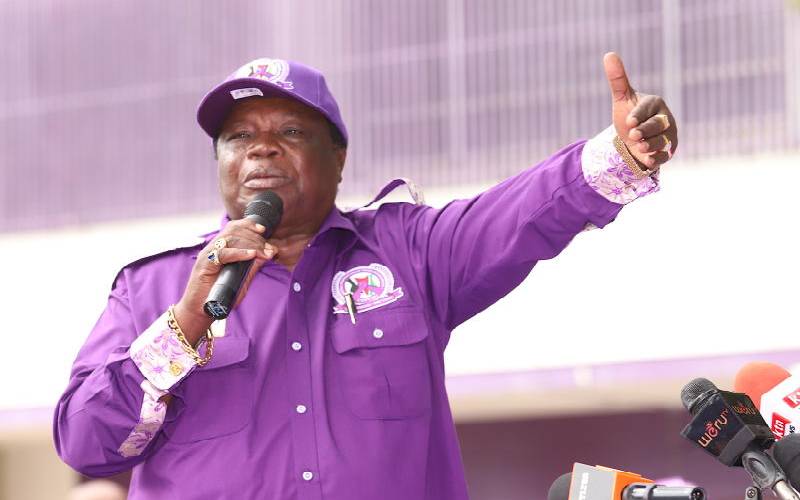 The Secretary-General of COTU Francis Atwoli has reiterated his past remarks that President Uhuru Kenyatta is too young to exit active politics.
Speaking to KTN News on Saturday, April 30, on Labour Day preparations, the trade unionist said President Kenyatta could make a comeback as Head of State in ten years' time.
However, for that to happen, the Constitution has to be changed to revise a president's maximum term limit.
The current Constitution does not allow a holder of the Office of the President to serve for more than ten years, either continuously or on a comeback basis.
Atwoli said President Uhuru Kenyatta will, on Sunday, May 1, preside over the national Labour Day celebrations at the Nyayo National Stadium from 9:30am.
The Central Organization of Trade Unions (COTU) chief said in the Sunday function, Kenyatta would be making his last Labour Day address to the nation under the Jubilee administration.
"I am not saying that this will be his (Kenyatta's) last Labour Day celebrations [as president]. He is too young to retire, he's still a young person. He may be in retirement for ten years, or a number of years, and then make a comeback in politics and leadership," said Atwoli, speculating on the possibility of Uhuru making a return as president in the future.
The Constitution under current implementation, however, does not allow that.
Atwoli said there are countries where presidents retired and returned to rule in subsequent years. He mentioned Singapore and Ghana as examples.
"We can't rule out the possibility of Uhuru Kenyatta returning as president in the near future," he said.
In February 2022, the COTU boss said Kenyatta was still too energetic to be shepherded to retirement.
Atwoli suggested that the Constitution needs to be amended to allow Kenyatta occupy a leadership role in the next government, even if it means in a different capacity.
The trade unions' representative said Kenyatta is the de facto Mt. Kenya spokesperson who should continue fighting for the welfare of the people of Central Kenya.