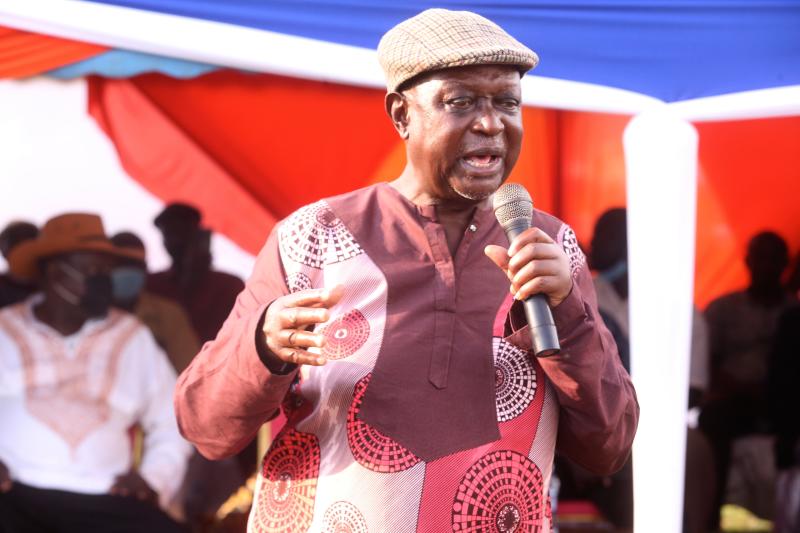 East African Legislative Assembly MP Oburu Oginga and Siaya Senator James Orengo have been given direct tickets ahead of ODM primaries today.
Branch ODM chairman Oloo Okanda said the party has also cleared Rarieda MP Otiende Amollo and and Ugunja legislator Opiyo Wandayi to defend their seats.
"From the information given to me by the party's National Elections Board (NEB), we will only have primaries for MCAs, Woman Rep and MPs for Bondo, Gem and Alego Usonga," he said.
Mr Wandayi confirmed getting his certificate.
Following the decision at a meeting attended by NEB chair Catherine Mumma in Nairobi last week, Mr Orengo will now face off with former Rarieda lawmaker Nicholas Gumbo of UDM for the governor's seat.
Mr Oginga will fly the party's flag in the battle for the Senate seat in ODM Leader Raila Odinga's home county.
There is anxiety in the county as aspirants turn the heat against each other in the hunt for votes in the party primaries.
The contest has been so rough that rivals have been cautioned against spoiling the ground for the ODM presidential aspirant in his backyard.
The battle lines have been drawn in Bondo, Alego-Usonga and Gem constituencies.
In Bondo, the parliamentary seat held by Gideon Ochanda has attracted the most contestants amid calls for regional balancing.
Besides Mr Ochanda, other aspirants are Rachael Omollo, Fred Banja, Thomas Obondo, Andiwo Mwai and Lynnet Olima.
Except for the sitting MP, the other five contenders are from Sakwa clan. Bondo constituency comprises Yimbo and Sakwa clans.
A section of MCA aspirants from Yimbo led by Francis Otiato (Yimbo East) and Willis Ochieng (West Yimbo) have endorsed Mr Ochanda, arguing that Yimbo community deserved the seat.
"For purposes of fairness, we are going to support Oburu who comes from Sakwa community and we're therefore not going to negotiate on the MP's seat," said Mr Otiato.
But yesterday, Ms Olima argued that Mr Oginga's candidature has little effect on who becomes the next Bondo MP.
"Every constituency must have an MP regardless of who becomes the senator or governor. The effect might only be seen in terms of gender balancing," she said, arguing that it would be good to have a woman as the next Bondo MP.
According to Mr Obondo, regional balancing should only be applied at county level to ensure all sub-counties get seats.
"When it comes to Bondo, I don't support any balancing based on regions or clans. The people of Bondo should be left to nominate and thereafter elect their next MP based on one's manifesto," he said.
In Alego Usonga, the incumbent Samuel Atandi is also facing a tough challenge from university don Dr Nicholas Kut Ochogo and Nominated MP Jackline Oduol.
Mr Atandi and Prof Oduol are banking on their loyalty to the party.
Focus will also be in Gem constituency where Booker Ngesa (Communist Party of Kenya) and Prof Isaiah Ndiege of Democratic Action Party will face off with the ODM candidate in the August 9 elections.
While the sitting legislator Elisha Odhiambo will be battling for the party ticket with Jalan'go Midiwo and Felix Okatch, opponents from other political parties are leaving nothing to chance as they pitch tent in the six wards to market their bids.
While expressing confidence of re-election, Mr Odhiambo said his constituency is one of the best performers in the county.
"I'm challenging my competitors not to expect any favour but expect a rigorous nomination for the ODM ticket," he said.