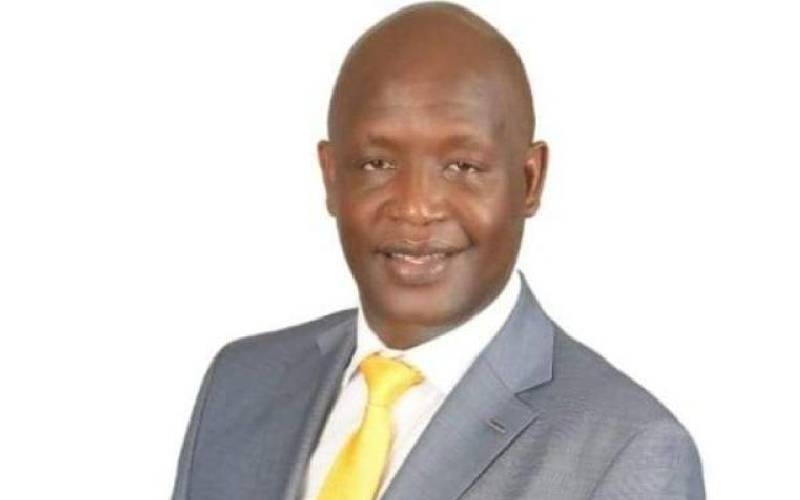 For most voters, the campaign period is a season of receiving goodies and 'feel-good' promises.
It is a period, where they expect handouts from aspiring politicians, who use all tricks, in the book, to woo their voters.
Rarely do the voters, contribute any money to support the aspiring politicians. But, for Bureti residents from Kericho county, they changed the script last Saturday.
Perhaps borrowing a leaf from the United States, where fundraising plays a central role in gubernatorial campaigns, the residents, raised funds to support Dr Eric Mutai, who is eyeing the governor's seat.
And this is the second time residents are supporting Dr Mutai, 38, a former literature and communications lecturer at Embu University, who is making his debut in politics.
He intends to take after Governor Paul Chepkwony, who before joining politics, was a Moi University chemistry lecturer.
The aspirant, who is popularly known as the "Equalizer" is up against Former Devolution CS Charles Keter, Deputy governor Lilly Ngok, Mr Fred Kirui, and Prof James Sang for the UDA's party ticket.
According to various sources, at least Sh200, 000 was raised during the impromptu fundraising that left Mutai in tears.
He was overwhelmed by their support.
Mr Jacob Ngetich, a businessman, contributed Sh1, 700.
"I contributed because I believe Mutai is the best candidate to take over from Governor Chepkwony," he said.
He said besides the aspirant's manifesto to address the state of unemployment in Kericho, Dr Mutai, had won him over with the pledge that his administration will not discriminate against anyone.
"The problem with other gubernatorial aspirants, who have already established themselves is that they are surrounded by other politicians. Dr Mutai, on the other hand, is accessible and stands up as his own man," he said.
Ms Joan Chepngeno, a vegetable trader, who contributed Sh400 to the fundraiser, said she made it because she was convinced that Dr Mutai will complete and open the stalled Litein traders' market.
"We have also suffered water shortage and it's only Dr Mutai, who seems to have the answer and commitment to solving Litein town issues," she said.
Dr Mutai told The Standard he had just completed his speech when one of his supporters fished a Sh1, 000 note, citing it was to fuel his campaign vehicle.
"I was touched by his gesture. Another resident took a carrier bag and people began jostling to come forward to make their cash donations. I was overwhelmed with emotions," he said.
Changing fortunes
Dr Mutai, who began his grassroots camping in 2020, using an old Toyota vehicle, attributed his rising political star to firmly believing in changing the fortunes of Kericho county.
"The overwhelming support is due to the fact that Kericho residents are coming out of a fractured devolution. It didn't work in Kericho and if I get elected, I will fix it and make Kericho be at par with the other counties, where devolution has taken root and the people are reaping the benefits," he said.
Dr Mutai said he spends Sh30,000 daily on his campaign with well-wishers taking the tab on most of his campaign bills, especially fuel.
Former Roads Minister Franklin Bett, who has come out to openly campaign for Dr Mutai and bankroll his campaign tweeted that he was touched by the act. "I am touched by this act of raising money to fuel Dr Mutai's campaign vehicles. Litein people, I knew you of your generosity. Kapkatet did the same. And Kiptere. Kebeneti started. Kunyak got involved. Kericho town will be an earthquake of reception and support," he posted.
In Kericho, the Deputy President William Ruto's party primaries will be akin to August General Election with the candidates almost assured of winning the seats as UDA is the party to beat in the county.
Besides independent candidates, most political parties have not fielded aspirants to challenge the UDA ticket holders.
Dr Mutai, who has managed to adapt and run away with Ruto's hustlers' narrative to outwit his rivals for the gubernatorial seat, said he was humbled.
"I was truly humbled and blessed by the hustlers, who spontaneously fundraised to finance my campaign," he said.
Dr Mutai's main agenda has been on job creation for the youth, a situation he claims has been caused by the introduction of tea harvesting machines by multinational tea companies.
"If I am elected as the governor, I will ensure that tea harvesting machines are withdrawn from the tea estates to pave way for the rehiring of locals and revive the economy," he said.
Dr Mutai had accused Mr Keter of being among the main owners of the tea harvesting machines, claims that he (Keter) vehemently denied.
"I challenge my accusers to table any evidence that I own tea harvesting machines or keep quiet. Those seeking elective office should come up with an agenda for the people of Kericho instead of opting to resort to lies and misinformation," Mr Keter said.
Keter, a former Belgut MP, dug out a 2003 Hansard, where he is on record taking to the floor of the National Assembly to raise concern over the mechanization.
For Mr Kirui, this year's election is the second attempt at the governor's seat. He said his campaign is centred around revamping agriculture and enhancing the provision of water.
"Kericho is a known producer of tea, maize, coffee, and sugarcane, among other crops. The problem is that we don't have industries to process these crops. That is why I will give special attention to value addition if elected the next governor," said Kirui, who comes from the Kipkelion Constituency.
Prof Sang, who is in his late 60s and the oldest of the contestants, said his priority is health and education.
"As we work hard to make the bottom-up economy a reality, education, and health are key," he said.
The race is open after Mr Chepkwony said he has no preferred candidate. "I don't intend to go around campaigning for anyone. My focus will be on offering services to residents of Kericho until my last day in office," he said.