Raila promises better terms for varsity dons if elected President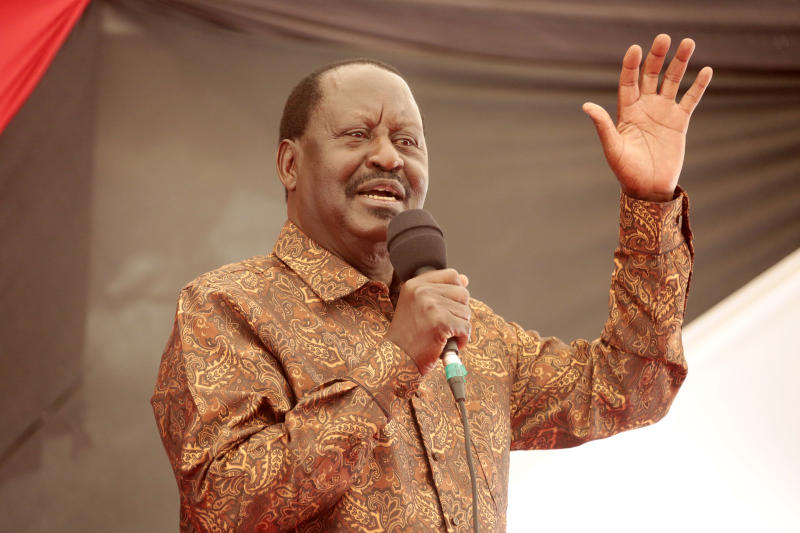 Opposition leader Raila Odinga has promised better terms for university lecturers and staff should he clinch the presidency in the August 9 elections.
Yesterday, university dons from various universities threw their weight behind Raila and presented issues facing them and needed to be solved.
The Universities Academic Staff Union (UASU) members called for industrial harmony, legislation, welfare and funding in universities should Raila win State House. They also promised to mobilise their resources and campaign for the ODM leader.
UASU chapter secretary Josiah Ochieng, in a memorandum presented to Raila's secretariat, also called for honouring an existing Collective Bargaining Agreement (CBA) that would see the dons paid upwards of Sh7 billion.
"In the unfolding electioneering period we did an evaluation of the presidential candidates and we decided to champion the interests of our candidate who is now Raila Odinga. You have heard dons go on strikes because of small figures and if you look at what we are asking for compared to the money lost through graft, those are peanuts," said Ochieng.
They also complained of underfunding in universities which has stalled development projects such as students' hostels. They said in some universities dons are paid only 60 per cent of their salaries.
They called for a review of legislation such as the University Act, 2012 which scrapped off elected representatives in university councils, senates and management. By not being represented in these bodies, they had no avenues of giving their input in decision making.
"We also have welfare issues. Civil servants have a scheme working well for them but we as dons are neglected. We are requesting a scheme similar to that of civil servants," added Ochieng.
Raila promised to deal with the soaring cost of living, curb corruption and financial pilferage.
"Remuneration depends on cost of living. It is what makes teachers, doctors and nurses demand salary increases so we must address and arrest the high cost of living so that it matches people's income. This is what we are going to deal with," said Raila.
"We will work together with the dons, but first we must get there (State House) and once I get there I will be in your debt," said Raila.
He also reiterated President Uhuru Kenyatta's sentiments on the fight against corruption. "We just need to slay this dragon called corruption and we will have enough money to not only pay lecturers but also provide the social welfare fund. What the lecturers are asking for compared to billions being misappropriated, is peanuts," said Raila.
He also undertook to improve the infrastructure, fully digitise the economy and capitalise on ICT.