Plot to unseat Moses Wetang'ula hots up ahead of August poll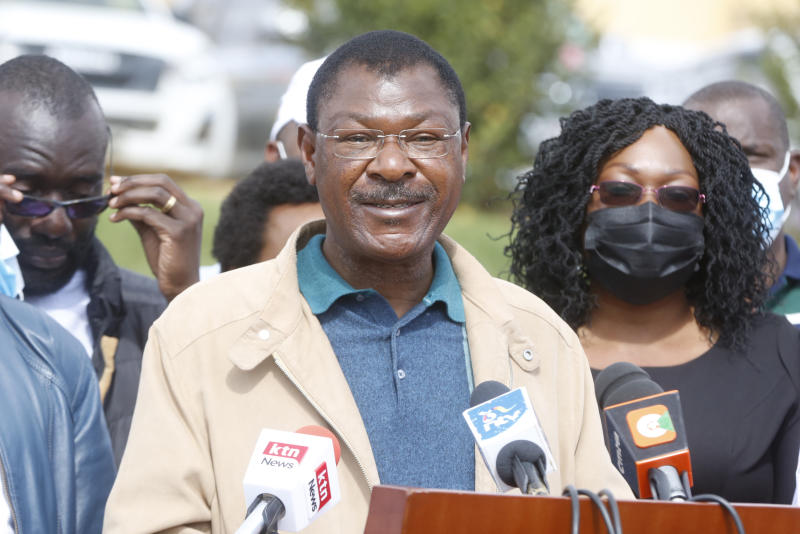 The plot to unseat Bungoma Senator Moses Wetang'ula is gathering momentum just six months to the August 9 general election.
Bungoma Deputy Governor Charles Ngome is among politicians and their strategists working n edging out Wetang'ula, a seasoned politician. Others in the race are journalist Advice Mundalo, and Machembe Mapangulula, the former Personal Assistant of former Westlands MP Fred Gumo.
Speculations are rife that Democratic Action Party of Kenya (DAP-K) party leader Wafula Wamunyinyi could square it out with his former party boss. When reached for comment, Wamunyinyi said he was not interested in the Senate race.
He added that he will be defending his Kanduyi parliamentary seat "because we have got a candidate who will square it out with Wetang'ula.
"We have already identified a strong candidate who will give Wetang'ula a run for his money." He did not reveal who the candidate is.
Wamunyinyi went on: "Wetang'ula should start preparing for early retirement. We are taking over the county leadership in the forthcoming polls. We cannot continue living under the Ford-K bondage anymore." Nonetheless, Wetang'ula's aide Wafula Wakoli warned those eyeing the Senate seat to think twice "because they could be in for a rude shock".
According to Wakoli, the Ford Kenya party boss still has a following in Bungoma "and he is guaranteed victory". With the Kanduyi lawmaker out of the way, Prof Ngome, Mundalo, and Mapangulula have vowed to cut Wetang'ula to size and send the senator to political oblivion.
Prof Ngome, a former Ford Kenya member, will contest on a UDA ticket while Mundalo has been linked to the newly formed National Reconstruction Alliance (NRA). Mapangulula is contemplating running as an independent candidate. But matters may be complicated for Ngome and Wetang'ula due to the Kenya Kwanza Alliance internal arrangements.
Friendly competition
Former Kakamega Senator Boni Khalwale, a UDA pointman in Western, says the coalition will ensure it fronts one candidate.
"We will have a friendly competition for other elective seats, including MPs, Woman Rep and MCAs. However, for the seats of governor and senator, we want the best candidate to contest and the best candidate shall win the nomination ticket," he said.
How that candidate will be picked is still unclear, with Khalwale indicating that it could be "through a boardroom, negotiations or nomination process".
Political analysts hold that Wetang'ula's rivals could face an uphill task in their quest to unseat him.
"He is not a walkover as people think. In fact, when in Bungoma, you will hear him campaigning for other candidates yet whenever his name is on the ballot, he always gets a resounding victory," said Emmanuela Mulaa, a political analyst from the University of Nairobi.
Mulaa avers that the aspirants must brace for a tough contest.
Wetang'ula garnered 149,458 votes in 2013 to clinch the seat, beating Kombo who vied on the New Ford Kenya ticket but managed only 81,016 votes.
In 2017, he got more than 250,000 votes while Dr Mukhwana bagged slightly more than 50,000 votes.
Wetang'ula has not announced whether he will defend the seat, being one of the key players in the Kenya Kwanza Alliance. But his foot soldiers have disclosed that he intends to retain the post.
Prof Ngome said the incumbent has outlived his "political usefulness in the county". "I want to give the people of Bungoma new leadership which Wetang'ula cannot offer."
"I am focused on becoming the second senator of Bungoma and we are determined to put up a spirited fight and trounce Wetang'ula and the rest."
Mundalo is banking his hopes on the support of youthful voters. "Many youth are unemployed despite having good education. The healthcare system is rotten and our economy is stunted. I would like to help in addressing the problem of unemployment and push for realistic reforms in health sector which is a devolved function."
Mapangulula said he was determined to clinch the seat. "We cannot keep on recycling leaders, we need fresh blood in the management of our county affairs. I have experience to represent the residents in the senate."