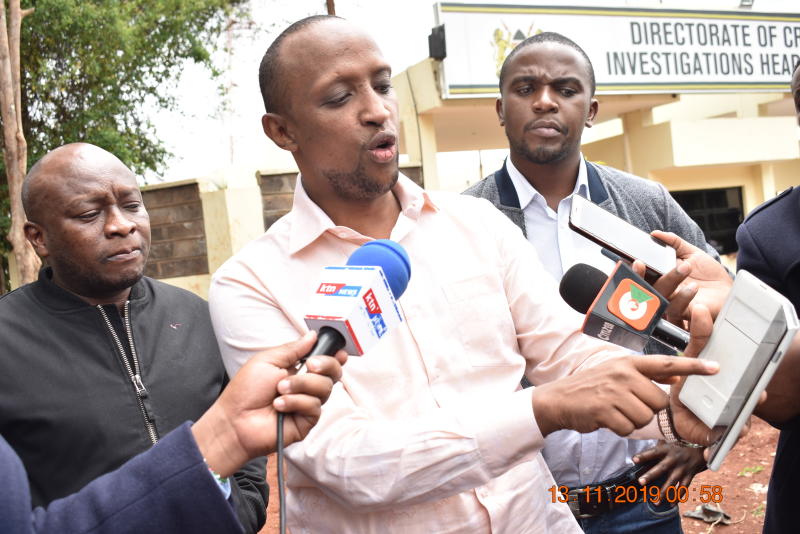 Nairobi County Assembly Majority Leader Abdi Guyo got a major boost after Kikuyu and Borana elders endorsed him for Embakasi Central seat.
Mr Guyo who is Matopeni/Spring Valley MCA is seeking to oust the incumbent MP Benjamin Mwangi alias Meja Donk. Mr Mwangi will defend the seat on United Democratic Alliance ticket.
The Kikuyu Council of Elders under the umbrella of Kiama Kiama and the Borana Council of Elders led by chairman Ali Jilo endorsed the Majority Leader during an event at the Afro Sayari Hotel in Ruai on Thursday.
The elders led by their Nairobi branch secretary Josphat Mwangi gave Guyo an arrow, shield and traditional hide as symbol of their support.
The elders further issued the Majority Leader with symbolic keys which they said were to enable him campaign freely in Embakasi Central constituency.
They also offered prayers for Guyo facing Mt Kenya.
"We have now blessed you and given you the go-ahead to campaign and knock on every door as you look for votes," Mwangi said.
Speaking during the event attended by Embakasi ward MCAs, Guyo pledged to increase bursary allocations from Sh5,000 to Sh10,000 and restore Embakasi Central to its former glory, if elected in the August 9 General Election.
He promised to improve livelihoods of residents and continue with the projects he initiated in Matopeni/Spring Valley ward including construction of classrooms.
Guyo pledged to ensure transparent award of bursaries to needy students and creation of employment to more than 300 people in the ward.
"I ask you my people to test me by giving me the leadership mantle. I aspire to practice servant leadership as I have been doing. I will ensure that the services are devolved to the constituencies and that they are offered to all equally," he said.
He said his interest in the parliamentary was informed by the need to improve the livelihood of constituents.
"We are going to work with everyone in order to improve the economic situation of our constituency and ultimately the country. Plans are afoot to empower over 200 youth self help groups and over 300 women groups from Embakasi," stated the majority leader.
"It is God's favour that has made this happen. I thank the elders and I am humbled. My focus, as always, will remain the people of Embakasi Central," he added.
Guyo urged his competitors to exercise political tolerance to avoid a repeat of post election chaos.
"For those of us vying for the seat I urge that we practice political tolerance and accept the outcome of the polls no matter who wins," he said.
Guyo hails from the Sakuye community in Isiolo county.
He has served as a two-term Jubilee Party MCA and a councillor from 2007 to 2012.
Guyo was Minority Leader in the last assembly from 2013-2017 under the regime of former Governor Evans Kidero.
The 40-year-old politician is said to have the ear of the President and is entrusted with pushing the Jubilee agenda in the assembly.