Why Mudavadi, Kalonzo are key players in battle for vote numbers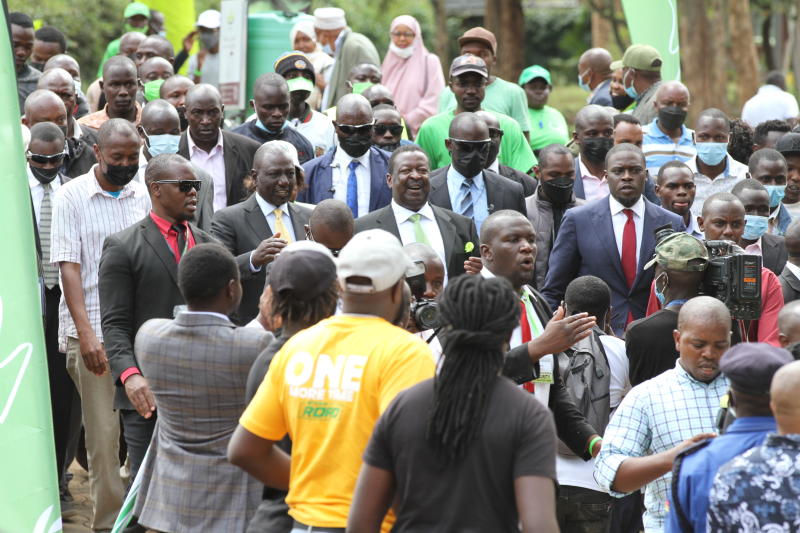 Numbers matter most in any election. As clock ticks to the August polls, the scramble for numbers will gain even more moment.
Stakes were raised last Sunday when by ANC party leader Musalia Mudavadi and his Ford Kenya's Moses Wetang'ula entered into a pact with Deputy President William Ruto's UDA, thus offering their new partner a window to access a chunk of western Kenya's 2.4 million votes.
Next, focus will be on Wiper party leader Kalonzo Musyoka, whose base in eastern Kenya has 1.6 million votes. Will he go all the way to the ballot or join hands with other presidential candidates, such as ODM's Raila Odinga?
Both Raila and Ruto are regarded as front runners in the journey to succeed President Uhuru Kenyatta, whose tenure ends this year.
Last weekend's decision by UDA, ANC and Ford Kenya to work together was one move aimed at garnering numbers and stave off competition from ODM and Azimio la Umoja Movement leader Raila Odinga.
But what number of votes do Mudavadi and Wetang'ula bring to the table? According to IEBC data, ANC and Ford Kenya parties enjoy considerable following in Vihiga, Kakamega, Bungoma, Busia and Trans Nzoia. The five counties had by November last year registered 2,451,057 voters.
These are the votes that if in the unlikely event are delivered as a bloc have the potential of handing Ruto the presidency.
As of November 5, out of the 1,519,292 newly registered voters across the country, the five counties had an additional 193,043 voters. Vihiga registered 20,567, Kakamega had 57,816, Bungoma 51,204, Busia 30,109 and Trans Nzoia 33,437.
A look at the 2017 IEBC data report extrapolated from the presidential election results in the five counties also give insights into the numbers that Mudavadi and Wetang'ula garnered when they backed Raila's presidential bid under NASA.
In Mudavadi's home county of Vihiga, of the 272,415 voters, Raila garnered 134,312 votes while President Uhuru Kenyatta managed only 18,275. Mudavadi was Raila's campaign manager.
In Bungoma, there were 559,866 registered voters. Raila secured 284,786 while Uhuru got 126,475, while in Kakamega, Raila garnered 484,157 against Uhuru's 63,399. In Busia, 239,296 people voted for the NASA candidate and 34,239 for Jubilee's.
Trans Nzoia County, strategically placed in the North Rift, gave Raila 134,312 votes while Uhuru garnered 110,489.
In the recent elections the five counties overwhelmingly voted for Raila who has had the backing of Mudavadi and Wetang'ula separately in 2007 and 2013 then 2017 when they both campaigned for the ODM leader.
But with the duo now domiciled in Ruto's camp, it remains to be seen whether they will sway the numbers in favour of their new partnership or whether Azimio will still reign supreme as has always been the case in the previous elections.
Given this scenario Wiper leader Kalonzo Musyoka's next political move could seal Ruto or Raila's fate in the August election.
Kalonzo is smack in the middle of what is considered to be a two-horse race - and he commands a base which has about 1.6 million votes. Depending on which side he leans politically, his vote basket could be the tie breaker in the presidential race be it in the first round or in the event of a run-off.
Kalonzo - whose political career spans 37 years - enjoys immense support in the three Eastern counties of Kitui, Makueni and Machakos.
According to IEBC data, the three counties had 1,614,220 voters as at the end of the first phase of the voter registration drive that ended on November 5. The data indicates that Kitui has 504,407 registered voters, Machakos 659,838 and Makueni 449,975.
Compared to the 2017 elections, the three counties registered an additional cumulative 95,860 voters. Machakos registered 39,475 voters, Kitui 29,844 and Makueni 26,541.
The former Vice President has the power to be a kingmaker. He could determine which side the chips fall for the two presidential front runners.
Given that he walked out of the ANC conference when Ruto walked in, Kalonzo is left with two options; either to back Raila or go it alone all the way.
Should he choose to contest the presidency, his decision will have huge political ramifications for Raila and Ruto, because he will deny them the 1.6 million votes from the Lower Eastern and those from his supporters in the rest of the country. This could force a rerun if neither of the two top contenders bags the magical 50 per cent plus one of all votes cast.
Kalonzo was Raila's running mate in 2013 and 2017 before a bitter fall out following the March 2018 handshake between Raila and Uhuru, which ultimately led to the death of NASA.