Its a shame we did not make it to AFCON, Raila says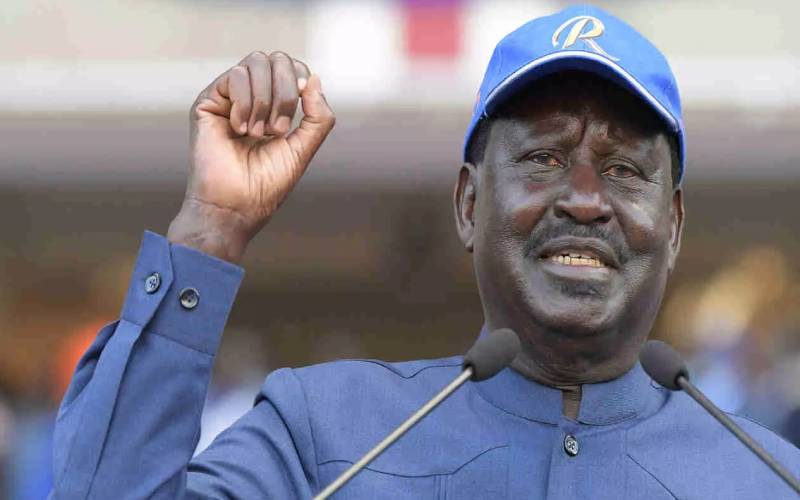 ODM leader Raila Odinga has for the first time expressed his disappointment regarding Harambee Stars missing out on this year's Africa Cup of Nations (AFCON) football league.
His sentiments come days after the games took off and even cleared the group stages after Harambee Stars had missed out on the qualifiers stage.
While addressing the Azimio la Umoja meeting between Maasai leaders and the Mount Kenya Forum on Wednesday, the former Prime Minister promised to make sure the team participates in the next games.
"Shame on us for not playing in AFCON when small countries like Comoros and Burkina Faso are playing. I will make sure next time we play AFCON and even the World Cup," Odinga said.
In addition, Odinga urged Kenyans to embrace their ethnicity and practice the same in a positive way, as he urged leaders to help in modernizing the economy.
He also urged people to shun traditional agriculture and livestock and embrace modern economic activities.
"Depending on traditional agriculture and livestock keeping is a primitive way of existence. It is a pre-industrial way of life. Let us build industries for jobs and acquire land commercially. Make the country modern," Odinga said.
Then went on, "Ethnicity will be there, let us embrace our ethnicity and practice positive ethnicity. Be proud to be a Maasai but don't think you are better than a Luo or Kikuyu. We are all Kenyans, we can make this country great,".
Siting examples from European nations, Odinga was optimistic that it is possible to unite as a country despite the diverse ethnicities in the country and in turn adopt different cultures.
"If we are together under the Azimio la Umoja ideology It is possible to unite our people. For instance, Ethiopians are the ones who introduced circumcision to the Bantus. Circumcision is not a Bantu culture," Odinga added.
Secrets of the wealthy
Kenya's rich have diverse business interests spanning agriculture, transport, manufacturing, clothing and real estate.