MP Washiali on Raila, Ruto and quitting politics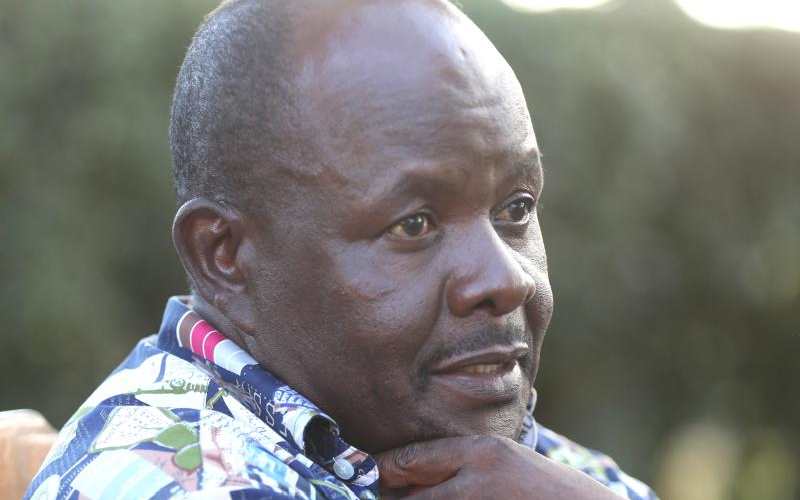 Mumias East MP Benjamin Washiali caught many by surprise when he announced he would not defend his parliamentary seat in August.
Washiali has served as MP for 15 years and his announcement posted on Twitter triggered protests from his supporters and left the lawmaker's competitors in shock.
"I have served my people with passion and dedication since 2007 when I was first elected. I believe it is time to exit the stage and let other able individuals serve them," Washiali told The Sunday Standard.
"I joined politics in 1997 and threw my weight behind Wycliffe Osundwa who was seeking a second term. Later in 2002, I decided to run on Kanu ticket but was defeated."
But as luck would have it, Washiali managed to clinch the ODM ticket in 2007, beating Osundwa and went ahead to capture the Mumias parliamentary seat. The electorate had huge expectations in Washiali and compared him to the late Elon Wameyo, who was the first area legislator. Wameyo was credited with championing for the welfare of sugarcane farmers since 1980s.
Voters rejected Osundwa, accusing him of misplaced priorities in terms of projects implementation.
"I was one lucky MP because ODM offered me the position of Deputy Chief Whip after the 2007 elections, a position I held for four consecutive years," says Washiali.
When Mumias Constituency was split into two, Washiali joined Musalia Mudavadi led United Democratic Forum (UDF) Party and managed to clinch the seat garnering over 19, 000 votes against his closest rival Justine Mutobera's 9,678 votes with Osundwa finishing a distant third.
Once again, President Uhuru Kenyatta and his deputy William Ruto appointed Washiali Deputy Chief Whip. In 2017, Washiali was among four MPs elected on Jubilee ticket in Kakamega County. "It was an uphill task selling Jubilee in Kakamega and Western region in general," he told The Sunday Standard.
Washiali confided that he made a campaign pledge in 2016 that he will not contest in 2022. "I have kept my promise, not that I am unpopular but because I want to focus on DP Ruto's presidential campaigns and have some time with my family.
"I also thought about going back and sharing a bench with newly elected greenhorn politicians in Parliament. It does not make sense. What else is left for me to do in Parliament after three terms?"
He wants colleagues doing their third, fourth, fifth and sixth terms in Parliament to call it quits and pave way for new blood.
"We don't need a law to compel them to exit the scene, it is common sense, if you are not selfish and your interest is not to accumulate wealth, pave way for others to serve the people."
According to Washiali, exiting the scene while alive is better than dying in the office. "What if I died in office? My people would suffer more, but I am glad I will be available to listen to them."
Washiali believes Ruto stands a better chance of forming the next government.
"If he wins, I will have something to do and in the event, he loses to Raila Odinga, I will concentrate on managing my clearing and forwarding company and farming."
Currently, Washiali chairs the Kazi ni Kazi segment within United Democratic alliance. "Through it, we want to debunk the notion that Kenya can be ruled by only two communities and also promote the bottom-up economic model that targets to transform the lives of Kenyans."
He also serves as the Treasurer of Parliamentary Sacco with a capital base of over Sh2 billion and chairman of Parliamentary Housing Sacco "and I have helped purchase a 24-acre plot and flat for members."
Washiali says UDA has become more popular than Jubilee in 2017 and ODM in 2007. "I would like to see UDA succeed, the signs are good and the ground welcoming."
Asked about his relationship with political bigwigs including President Kenyatta, Washiali said he never understood why the President stripped him of his parliamentary position.
"I don't understand why he fell out with Ruto, either. It is not too late. I pray that one day he will realise the mistake and amend it before polls."
As the Majority Whip, Washiali enjoyed trappings of power including a government vehicle, an office at parliament, enhanced security detail among other goodies.
He took a low profile immediately he was dethroned and his position handed over to his friend turned rival Emmanuel Wangwe (Navakholo).
Washiali says he has not had a rosy relationship with Raila. "He has always claimed to be a descendant of Wanga but turned a blind eye on the development of our region even when he had a chance to help."
"I don't see myself working with him on anything anywhere. He was the prime minister when Mumias Sugar Company was brought down. Only Ruto who was the Agriculture minister then intervened but there was little he could do.
"Before President Kenyatta visited Kisumu, he gave out billions of shillings courtesy of handshake for development projects. One would have expected Raila to reciprocate the support he has been accord by the people of Western but he did not."
Washiali describes Amani National Congress leader Musalia Mudavadi as an independent-minded person. "I will be the last person to fight for his downfall, I just hope he will make the right decision and join DP Ruto to form a formidable political force."
Washiali said his lowest moment in politics was when he was ejected as National Assembly Chief Whip. "I couldn't tell why yet Uhuru was my friend."