From Uhuru aide to Ruto wingman, will Rigathi deliver votes or be running mate?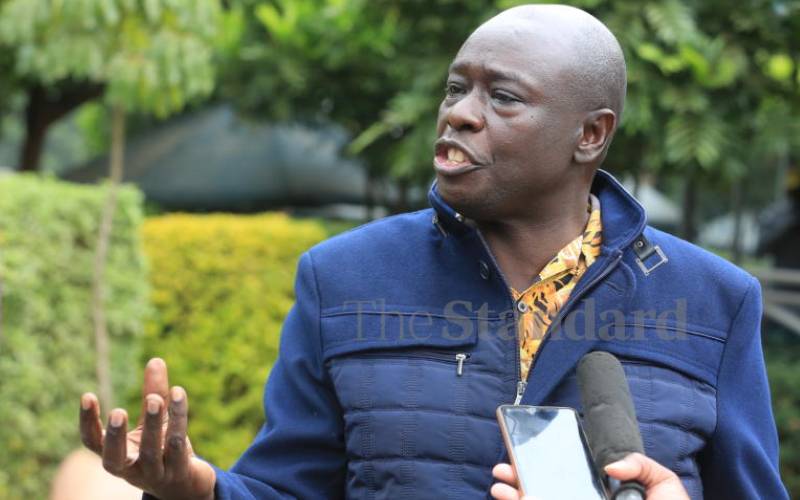 His name has recently popped up as a possible running mate of Deputy President William Ruto.
From his not so shallow pockets, he has the means and you can see he is ambitious. Based on his experience, the ability to be a number two is not far-fetched.
At Hiriga village on the edge of the Mt Kenya forest in Mathira, Nyeri County, Rigathi Gachagua has a magnificent bungalow that holds most of his life secrets, including those of powerful friends who once slept there but whom he now terms enemies.
There was no air of self-importance around him as we sat for the interview, and no aides zoomed past him.
The previous week, he had a good run hosting the DP in Nyeri.
He was by his side all through, to set the pace for all the speakers.
He handled the money, such as the donations for the retirement home of the outgoing Nyeri Anglican bishop Joseph Kagunda and the Sh2 million given to Chaka market traders and Nyeri boda boda operators.
He also stayed late with the DP during his sleepover at FK Hotel on the outskirts of Nyeri town, reviewing each day's performance.
"Much of this I do because I am the regional overseer of his campaigns," Gachagua said, referring to the position he picked when Kandara MP Alice Wahome left to head Inua Mama, the DP's alliance of women parliamentarians.
He says he has not had any formal talk with the DP about the running mate slot, and does not mind the position either.
He says people may have misunderstood the DP when he told a rally in Mathira that he wanted them to release him to national engagements.
"I think he was interceding for me because he wouldn't want my ground to be messed up with when I am out there looking for his votes. But people are free to speculate."
As the DP's wingman, however, he has drawn up the qualities of the man Ruto should pick.
The candidate ought to be a zealot of the bottom-up economic model, must be humble and tolerant to every opinion, should be hardworking and definitely not a person who drinks alcohol.
From this outlook, Gachagua might as well be looking at the candidate in his own mirror.
But wait, the DP would by now have had this conversation with him.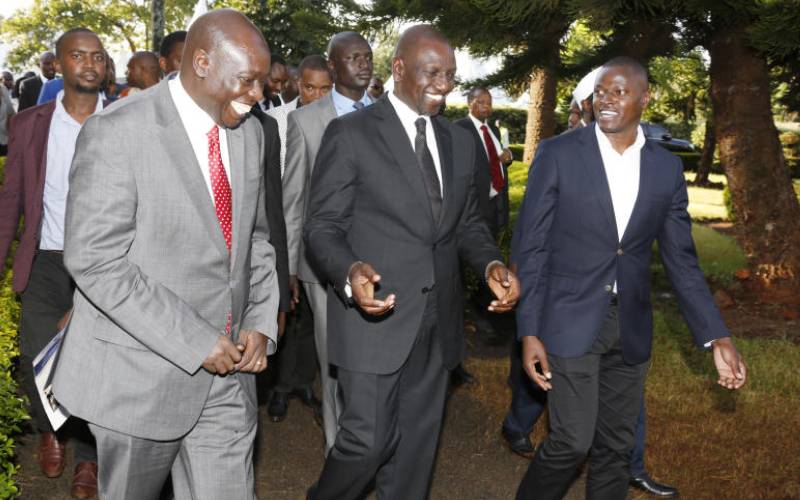 "The only time I remember the running mate issue coming up was during our meeting earlier in the year with the DP and 61 Mt Kenya legislators when we presented our proposed economic blueprint.
"We told the DP that we would be happy to work with a team that minds our economic sectors and he promised he would offer the region the running mate position," says the MP.
"As of who it will be, we did not get into that because it will be his government and he will make his choices. Also, note we don't discuss positions. We discuss policies and programmes."
But is he interested?
"I am qualified and open for any position offered on condition it will be in a government that will prioritise economic empowerment. I wouldn't want to be Number Two of a country of poor people," he says.
He adds he's ready to give the DP his advice, if he seeks it.
"I will give it readily but he is really just spoilt for choice," he says.
He speaks proudly of his parents' Mau Mau heritage crediting their genes to his stubborn resolve to stick with Ruto despite the spat with his former employer - President Uhuru Kenyatta.
"Uhuru knows I stick with my friends to the end as I did when he was running against Mwai Kibaki in 2002 and I stuck with him as a loyal personal assistant despite coming from Nyeri," Rigathi says.
When he speaks in slow measured steps, the Mathira MP's bitterness against Uhuru shows.
"We did good business with the government during the Kibaki years. It pains me to see my business down to just nine employees from an all-time high of 722," he says.
For a man who hosted the president in his home for a number of occasions, things seem to have gone cold between the two.
They last spoke in 2019, but he says that all which happened when he worked for Uhuru is secure.
"I assure the president that I am an officer and a gentleman first," he says.
During the last Mt Kenya leaders' meeting with the president at the Sagana State Lodge, which is in Mathira Constituency, the president offered some unsolicited advice to the DP's closest allies in the region - the likes of Gachagua, Kimani Ichungwa (Kikuyu), Ndindi Nyoro (Kiharu) and Alice Wahome (Kandara).
Referring to former Attorney General Charles Njonjo and late minister GG Kariuki, Uhuru said DP's loyalists would be the first victims of his administration.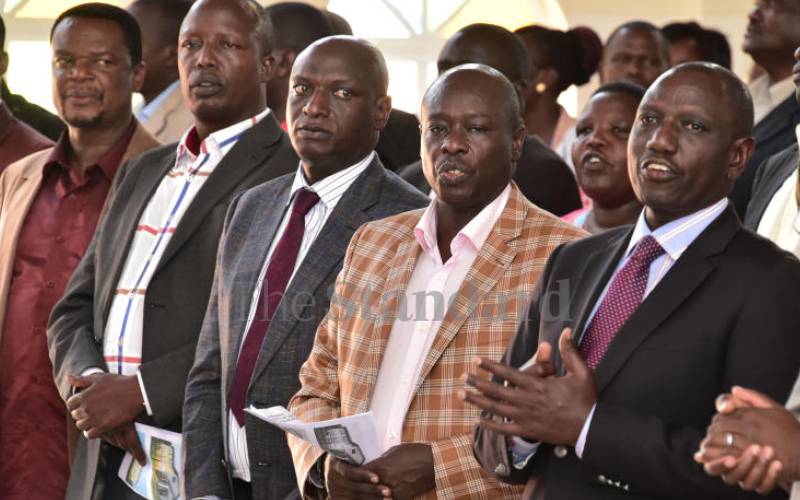 "If he said that, it is quite unfortunate. Uhuru is least qualified to give such advice," he says.
"Look at how he has treated his friends since he took power. He has destroyed all of them."
Still, he has a plea to the country's Commander-in-Chief: "Uhuru must call off his men on us even if just for old times' sake."
Nevertheless, he sees his troubles with the law as a small thing, "a flu that will soon go away."
He also urges the president to keep off from trying to determine his successor, saying he has little powers to sway the electorate and such an attempt will have serious repercussions.
"As a long time buddy, I would advise Uhuru Kenyatta not to get into trying to shape his own succession. It is going to be embarrassing.
"People remember the last bad thing you did and that is what will happen if he insists on forcing Kenyans to accept his successor. All the many roads, railways, electricity connections, dams will be forgotten if he takes that route," he says.
On the other hand, he assures the president that his peaceful retirement will be well guaranteed if he keeps off, citing that of his predecessor, Kibaki.
Like most of the UDA crowd, Gachagua exudes confidence that they always had the numbers of MPs in Mt Kenya and anticipates they will hit 160 legislators nationally by end of February.
Jubilee, on the other hand, he said, is struggling to raise legislators.
Mt Kenya and specifically the five Central region counties plus Laikipia and Nakuru though have a poor record of re-electing MPs and 2017 was a good reference point.
Laikipia, Kirinyaga and Embu elected new faces while Nyeri re-elected just one, and Kiambu picked three of the 12.
"We agree that those MPs are facing serious challenges everywhere but the fact that all elected leaders are leaning towards us is a good thing and an indication of where the ground is," he says.
On the recurrent question about the ''hustler'' agenda championed by tycoons like himself and the DP, the Mathira MP says the mantra has always been misconstrued.
"It is not about being poor but about people who work their way up from poverty. Like me. Born to a poor family in a grass-thatched hut, jigger infested and with body lice at an early age. But look at me now."
On the expected storm during UDA nominations, he says they will try and manage them and will avoid a one-day exercise so that resources and personnel are not stretched.
The party is considering asking senior politicians to supervise the exercise in regions away from their homes. "The Rift Valley aspirants have asked me to go and supervise their primaries, for example," he says.
He also rules out pre-election deals between UDA and small parties like Moses Kuria's Chama Cha Kazi, Mwangi Kiunjuri's The Service Party of Kenya (TSP) and Kiraitu Murungi's Devolution Empowerment Party.
"We can only negotiate with ODM with its over 70 MPs, Wiper with its 25 MPs or ANC with its known numbers. The fringe parties we can only talk to after we see their numbers at the next elections," he says.
But he denies that Moses Kuria had left their corner. "MK believes in the bottom-up policy and I have never heard him say he has left our side," he says.