Ruto graces fete, seeks pact with Turkana leaders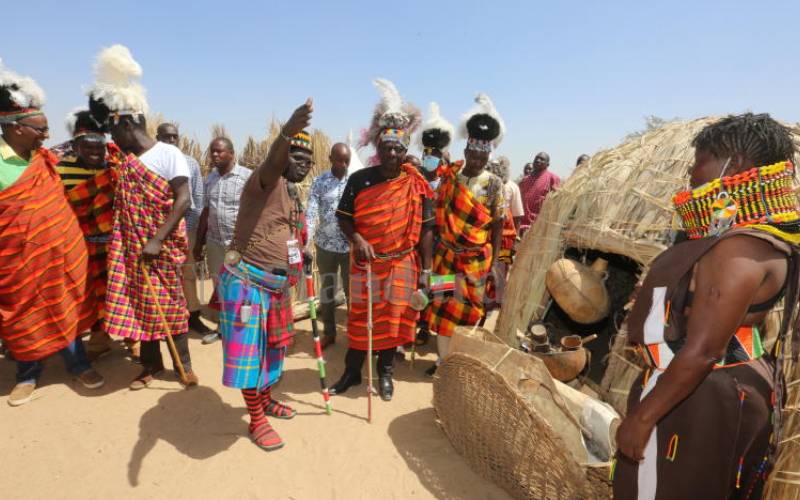 Deputy President William Ruto says his United Democratic Alliance (UDA) will sign an agreement with Turkana leaders next year on development projects.
Dr Ruto said he had agreed with local leaders that the charter will detail priority needs his administration will address if elected president.
The DP used the three-day Turkana Tourism and Cultural festivals – Tobong'u Lore (welcome back home) – to consolidate support, spending two days before gracing its closure yesterday.
Addressing those in attendance yesterday, Ruto said if elected, his administration will support the annual event which is currently funded by Turkana County government.
"I am looking forward to signing a charter with the people of Turkana County on how to deliver on their priorities including water and road network. I am committed to signing a charter between UDA and the people of this county so that we can deal with their issues on day one, God willing next year," Ruto said.
He said among the priorities listed by local leaders are water and irrigation projects. He said if elected, he will allocate more money to agriculture to increase production of cash crops such as sunflower in Turkana.
The DP praised the cultural fete and pledged to elevate it to a national event if he ascends to power.
"This event has gone beyond culture. We are not only celebrating the Ateker culture which covers almost four countries. This event has also become a diplomatic event that brings nations together," said Ruto.
He added: "It is equally a commercial function that brings entrepreneurs together." He said the event had brought leaders from Kenya, Uganda, South Sudan and Ethiopia together.
At the event, Ruto accused ODM leader Raila Odinga, who declared he will contest the presidency, of not being development conscious.