Which way for Amason Kingi with his new outfit?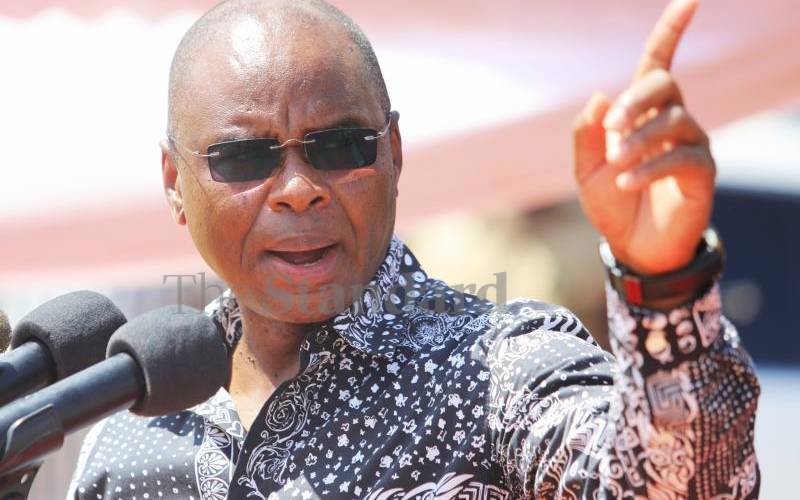 After months of speculation, Kilifi Governor Amason Kingi (pictured) has begun to popularise Pamoja African Alliance (PAA). But questions abound on which way the party will go, given that Deputy President William Ruto has ruled out the formation of a coalition.
Meanwhile, ODM leaders at the Coast have also rejected Kingi's plan to field candidates for other elective seats but support ODM leader Raila Odinga for the presidency.
Questions have lingered on whether Kingi, who propelled ODM to success in Kilifi County in the last two general elections, is headed for the One Kenya Alliance, or if PAA, registered on October 18, will stand alone.
Kingi is seen as a man with limited options, isolated.
He cuts the image of a lone ranger, even as PAA leaders plan its launch next month.
Last week, the governor, who is determined to have a strong political vehicle for the Coast ahead of the next General Election, launched the PAA youth league and promised to match across at least 35 counties to popularise the party.
Meanwhile, Kwale Governor Salim Mvurya, who, like Kingi, is set to retire next year, appears to have gone back to Dr Ruto's camp.
On October 27, Mvurya played host to Ruto at Kinango during the launch of the Duruma Bible, and expressed his support for the DP.
Mombasa Governor Ali Hassan Joho, Lamu's Fahim Twaha, Dhadho Godhana of Tana River and Granton Samboja of Taita Taveta have stuck with Raila.
PAA national chairperson Ibrahim Khamis, alias Babangida, indicated that the party's leadership was focused on popularising it ahead of its planned launch in January next year.
"We are in preparation to launch the party in January next year. We have not discussed a coalition and that decision will be taken much later," Babangida said. Babangida and PAA secretary Ben Furaha are allies of Tourism CS Najib Balala.
He dismissed reports that the party and Kingi were isolated simply because they had not aligned themselves with any national political formation or coalition.
Babangida said there was time to join a coalition, but they had to first deal with more urgent issues for the party.
"Governor Kingi and PAA have time to join a coalition. Nobody should push us to do so. We can even opt for a post-election coalition because that is possible," Babangida said.
Sammy Ndago, who is the Shimo La Tewa MCA and Kingi's ally, has indicated that Raila is PAA's preferred presidential candidate, even as the new outfit plans to field candidates for the other seats.
Kwale Woman Rep Zuleikha Hassan, an ally of Raila, opposed any plans to have PAA negotiate for a coalition with ODM, saying it was meant to kill the Orange party in the Coast region.
She argued that if Kingi and his allies wanted to remain closer to ODM, they should abandon their plan and rejoin the Orange party as members.
"Now they want to take advantage of all the efforts and resources ODM has used to build the party and piggyback on ODM to gain power," she added.
Pwani University's Halim Shauri said the likely option for Kingi was working closely with ODM to ring-fence Kilifi County against Ruto's UDA, which has been fronted by vocal Malindi MP Aisha Jumwa.
"I see PAA as a response to the onslaught on ODM by Ms Jumwa and a strategy by Governor Kingi to remain politically relevant after his retirement next year. He wants to use PAA to get to the national table to negotiate power, and is likely to align himself to ODM. In fact, I see PAA as an offshoot of ODM and a win-win arrangement for Kingi and ODM," Prof Shauri argued.
Political analyst and lawyer Yusuf Abubakar argued that Kingi was trying to exploit the fluid political situation at the Coast to come up with his party, while he stays close to Raila.
According to Abubakar, Kingi is better off staying close to Raila than joining Ruto following the strong ties the ODM leader has sustained with a majority of the coastal population.
"I think Raila has enjoyed the backing of Coast and also from President Uhuru. Kingi has grown politically under Raila's wings and feels he can position himself as the Coast kingpin and win political allies if he has his own political party. He is at ease keeping closer to Raila than rushing to join Ruto," he said.
A university don Rocha Chimera said Kingi was playing politics of survival, "which is okay in this game, as it can propel him to being Coast kingpin." Prof Chimera argued that Kingi had not yet left ODM or denounced Raila, instead of remaining tactical in his political moves.
"Kingi has made a lot of sacrifice in ODM. He is only playing politics of survival. He wants to negotiate with like-minded political formations and at the same time raise his political status," observed Chimera.