Kalonzo, Mudavadi: No rush to name flagbearer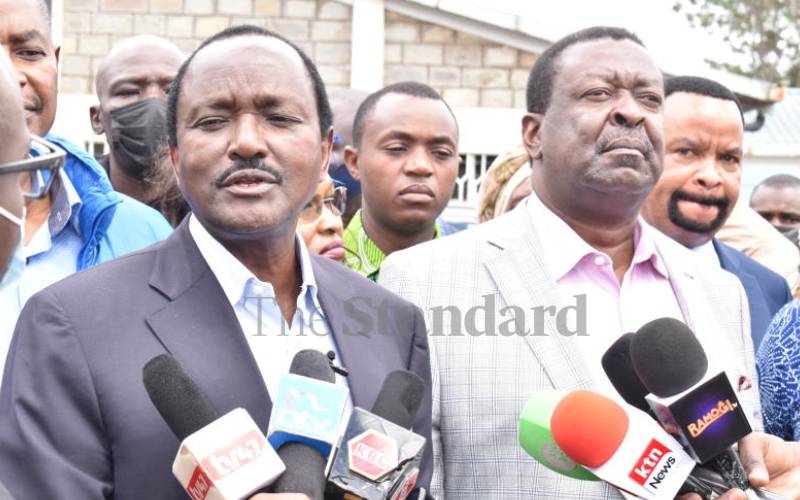 One Kenya Alliance (OKA) principals Kalonzo Musyoka and Musalia Mudavadi have said they are under no pressure to pick a flag bearer just yet.
Speaking at Nairobi East SDA Church where they joined worshippers, the leaders said they still had months to discuss and build consensus before settling on who among them will face off with other presidential aspirants.
OKA, which brings together ANC, Wiper, Ford Kenya and Kanu, is facing a moment of truth as the race to succeed President Uhuru Kenyatta next year, picks up pace.
Kalonzo and Mudavadi said their current focus was staying together and getting as many Kenyans as possible to buy into their vision for the country.
Kalonzo said there was a lot of speculation about OKA, and even attempts to manipulate them.
"We are solid. We know what has put us together and where we are going. We want to end poverty and corruption," he said.
Kalonzo added that Deputy President William Ruto jumped the gun by starting his campaign early and should not be used as a yardstick for OKA announcing its flag bearer.
He said Ruto was campaigning "as if the election was this December".
"We do not see the need for all that hurry that others have," he said.
"We are going step by step. What is most important is our unity. We are discussing with Kenyans. We are already in December and the election is next year in August. We have sufficient time," said Kalonzo.
The former VP said OKA had secretariats working on putting their common visions into a manifesto, as well as discussing with other leaders of a similar mind.
He suggested that the political leaders, who want OKA to name a candidate, are only out to cause unease and friction within the coalition.
"Even with NASA in 2017, we did not announce the flag bearer until April which was just four months to the election," Kalonzo said.
Mudavadi said in 2002, Mwai Kibaki was only announced as the Opposition candidate to take on Uhuru Kenyatta in October, with the elections a mere two months away.
He said the coalition was in no hurry and was intent on following the Independent Electoral and Boundaries Commission (IEBC)'s timelines.
"IEBC has a policy that guides how and when coalitions are formed and we have not gone against it because the deadline for announcing a coalition is next year," said Mudavadi.
He said OKA is having structured discussions with other groups such as the Mt Kenya Unity Forum, adding when they will eventually announce their plan, it will be solid.
He also called for the government to fund IEBC and give it space to work so that it can deliver credible elections.
Also in attendance were MPs Julius Mawathe, Robert Mbui, Edith Nyenze and Patrick Makau.