For Ruto to succeed, he must navigate many minefields on his path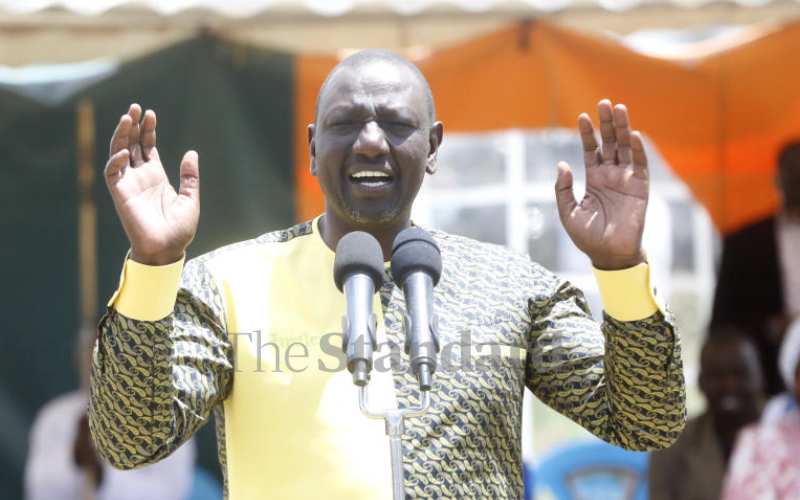 William Ruto is the isolated political animal that the rest of the pride would like to run off a cliff. For whatever reason, the rest of the political elite club of President Uhuru Kenyatta, Raila Odinga, Musalia Mudavadi, Kalonzo Musyoka and Moses Wetang'ula has marked him out as a common enemy and an election issue, in next year's election.
He has been cast in a horrific cask and hoisted for political drubbing at every opportunity. A political address by this class is incomplete if it has not bedraggled him through the worst sewers of politics. How he navigates his way out of this challenge to romp home to victory remains to be seen. The massive numbers he attracts at his political rallies and roadshows are only good when they are converted to bankable votes. To do this, he must overcome several hurdles.
His biggest setback has been his fallout with his boss, President Uhuru Kenyatta, subsequent to their re-election, the Raila Odinga controversial swearing-in of January 30, 2018, and the March 9 Handshake. He insists that Raila is not just the Jubilee homewrecker, but that he has also a destroyer of the Jubilee development agenda. In this, he also throws brickbats at his boss, whether he intends it that way or not.
Political crooks
He especially hits hardest at the president when he talks of political crooks, "matapeli who would like to hoodwink the country to change the Constitution so that they can share power while the massive population toils in hardship and poverty." This only exacerbates an already bad relationship with his boss.
Ruto's messy relationship with Uhuru remains a major downswing. It never looks good to be fighting the boss, and especially to use derogatory descriptors against him. This has given his adversaries and detractors an easy tool against him. To manage part of the damage, he often struggles to invoke his previous partnership with Uhuru in the good old days. He reels off a catalogue of joint achievements in their first term, even as he decries the state of the nation and doubts that his opponents could match that performance.
It is an awkward place to be in, juggling the tricky marbles of owning and disowning the government, at the same time. Uhuru has himself publicly asked Ruto to decide whether he is in government or not. He considers that if Ruto is not happy with how he has managed public affairs, he should quit and criticise from outside. With barely eight months left to the critical day when Kenya must decide on August 9, next year, the groundswell against Ruto is predictably set to go into high octane, with the President in the lead.
The collective messaging at the Kalonzo Musyoka presidential bid launch this week is a harbinger for things to come, an inoculation against what is to follow. Ruto would do well to begin preparing for the political fight of his life. He has assured his supporters that he is indeed ready.
Grand corruption
The focus at the Kalonzo function was not just on visionary promissory notes and agendas. It was also on Ruto as an electoral agenda. His detractors have epitomised him as the totem of all that has gone wrong in governance in the country. At the heart of it is grand corruption in government. As the plot thickens, his detractors have thrown the caution of euphemisms to the winds.
They now talk not of corruption, but glibly about theft. Once again, President Kenyatta leads the chorus with the recurring refrain of, "I will not leave the country in the hands of thieves." When he moves on to upbraid his deputy in the same breath, Uhuru leaves little doubt about his target. Shaking off the label of the grandmaster of graft is, hence, easily the foremost assignment Ruto needs to get done. Even if he wishes it away, it will not go. He must make a conscious decision to set aside this sinister poisoned chalice, or drink from it.
But apart from external issues, there exist thorny internal issues. While he has endeared himself to the original Jubilee base, worrisome rumblings are emerging. In the Mt Kenya region, there are issues of who will be his running mate, political party primaries and alternative parties to UDA.
It is taken as a matter of course that Ruto's running mate will be from the Mt Kenya region. A number of Mountain politicos are each angling for that perch. Legislators Moses Kuria, Rigathi Gachagua, and Mwangi Kiunjuri, among others, have each cast their sights higher. When, eventually, Ruto picks his number two, his management of the fallout will be critical. Moreover, to win over giants from the rest of the country, he may still need to dangle that carrot. It is a veritable Catch-22 situation.
Related to this is the management of party defectors and primaries. Ruto's forays into the counties are rewarding him with defectors. As demonstrated in the case of Kirinyaga County, defections are both boons and liabilities. Purity Ngirici, the County Woman Rep who has been a Ruto loyalist, is not happy with the crossing over of Governor Anne Waiguru into the Ruto camp. While, initially, her volleys were directed at Waiguru, they are increasingly getting directed at Ruto. He has to balance delicately between the expectations of defectors and loyal friends who have walked the entire stretch with him so far.
Ethnic duopoly
While he cannot keep his new friends on the shelves as if they were trophies won in battles, he must also remain sensitive to perceptions of betrayal within his camp. This is especially so given that his own perceived betrayal by President Kenyatta remains one of his ace cards. He cannot afford to appear to betray anybody, the same way his friends cast him as having been betrayed himself.
Finally, how he manages expectations in the rest of the country also remains critical. Focus on the Mountain has left the rest of the country wondering where it stands in a possible future Ruto dispensation. Before the fallout with Uhuru, the Jubilee Government wore the face of an ethnic duopoly. Ruto needs to reassure the rest of the country outside the Mountain and his home region that he can be trusted with management of ethnic diversity. The UDA party officials list that was filed with the Registrar of Political Parties two months ago raised eyebrows. It was dominated by personalities from the Mountain region and the Rift Valley. It sent jitters of worry that his future government would be no better than those Kenyans have decried in the past, on account of poor management of ethnic diversity.