Raila queries Ruto's wealth and sacks of cash during rallies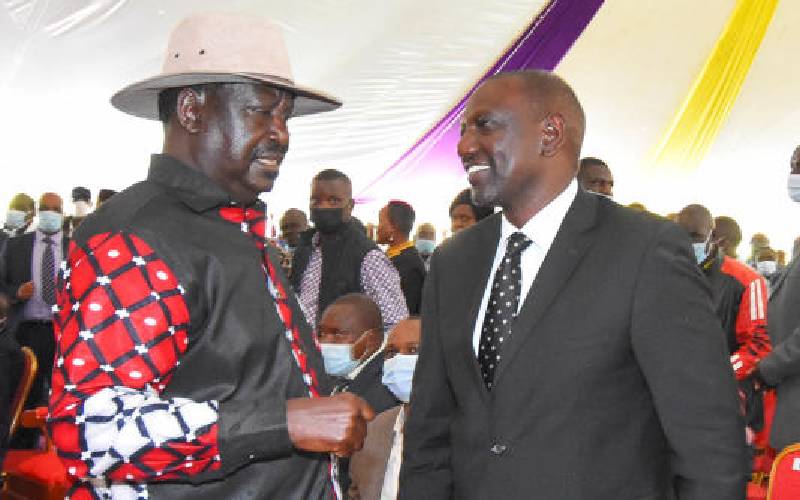 ODM leader Raila Odinga has once again questioned the source of Deputy President William Ruto's wealth.
Speaking in Kibra yesterday, Raila said the salary the DP earns contradicts the millions of shillings he donates.
He said with a salary of Sh2 million he fails to understand where Ruto gets money to dish out close to Sh100 million in his rallies countrywide.
"Where is he's getting all that money?" Raila posed while addressing residents at at Hawkers market.
The ODM boss said it is ironic how leaders get their wealth in questionable ways and then "bribe their way to be elected to political offices".
Raila said those who have stolen public funds are blindsiding Kenyans by giving handouts to churches and being part of different harambees "moving from county to county with sacks of money".
"The money being used by our competitors are proceeds of corruption," he said
He warned the youth against handouts whose intent, he said, is a quick fix and not a sustainable economic model that can prosper a country to the next level.
"Some of these people get to government and in a span of a few years you can even fail to recognise them. They are fat like a tick," Raila said.
The DP has in the past said his source of wealth is from, among others, his Koitalel farm where he breeds chicken.
Further, Raila defended his social protection fund arguing that it will be achieved after sealing corruption loopholes.
"I have promised on so many things that I have delivered, so be sure on this one. It is a promise that I will fulfill," he said.
Wheelbarrow economics
Meanwhile, Wajir business community and religious leaders yesterday dismissed the DP's wheelbarrow economics.
Speaking at ODM headquarters in Nairobi, they projected Raila as the ideal successor of President Uhuru Kenyatta as he has the best interests of the community.
Supporting the Azimio la Umoja initiative by the former PM, they said their support is pegged on his past and current policy positions on the socio-economic aspirations of the region.
They were led by former MP Jilo Falana.