DP allies fault Matiang'i support for Raila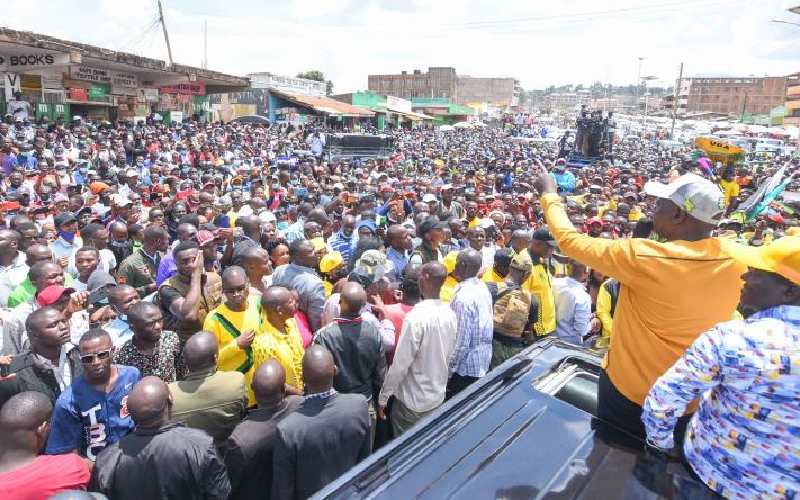 Deputy President William Ruto and some UDA-allied politicians have dismissed recent declarations by Interior CS Fred Matiang'i supporting ODM leader Raila Odinga's presidency.
Addressing locals along the Sotik-Keroka road, Ruto led the onslaught alongside Mwala legislator Vincent Kawaya, Gusii MPs and politicians Shadrack Mose (Kitutu Masaba), Vincent Kemosi (West Mugirango), Joash Nyamoko (North Mugirango) and Silvanus Osoro (South Mugirango).
In his speeches to residents at Keroka, Chepilat, Metamaiywa, Nyansiongo and Rigoma, Ruto said he would form the next government. "Our economic agenda is very elaborate and it is very clear... We want to assure all the SME traders that all will be well with them and that the government will be theirs."
He took a swipe at Raila and One Kenya Alliance (OKA) principals, who he said lacked an agenda for the country. "They have all been in leadership positions and never did anything while serving... there is nothing new they will offer," Ruto said.
Ruto's lieutenants discredited Dr Matiang'i's recent vow to support Raila's bid for presidency, which saw some politicians urge the former PM to hold the CS' hand in politics.
Mr Kemosi said Matiang'i did not consult from within the political circles or even from locals regarding his association with Raila. "He has made up his mind to support Raila when we thought he was going for presidency. That's the worst thing he has done for the community," Kemosi said.
The first-time MP said Matiang'i demeaned himself by referring to himself as Raila's assistant.
The same criticism was made by Mr Osoro, who told Matiang'i off for "shying away from his presidential ambition". "The Interior CS has been telling you that he wants to be president. Why has he ceded his dream for Raila? We knew he won't vie and we knew he could not be elected."
Mr Mose, the Kitutu Masaba legislature, said the Gusii community was prepared to vote for Ruto and urged residents to approve of his (Ruto's) campaigns in the region. "The DP has been with us for the last nine years and we have seen all that he has done for us as DP. We now want to give him his full term as president so that he can do even more in uplifting our country's economy," Mose said.
Earlier, there was uncertainty over Ruto's visit to Riyabe Secondary School after tents set up at the venue were removed. Ruto was scheduled to hand over a bus to the school.
The school administration is said to have been directed to remove the tents but the source of the said order was not named. "We were ordered to clear the venue by people who said they were sent by government. We have removed tents and seats and the venue has been moved to Rigoma," a guard told The Standard.
When The Standard arrived at the school, the principal, Meshack Olule, had left for Rigoma. He returned after Ruto's advance team assured him that the DP would return. Ruto later went to the school and briefly addressed students and residents.
Mr Mose accused unnamed forces of disrupting Ruto's rally. "How could the Interior CS host politicians at Mwongori Secondary yet the same government denies us such a function by the DP?"