Secrets of Raila's grand scheme to win State House battle in 2022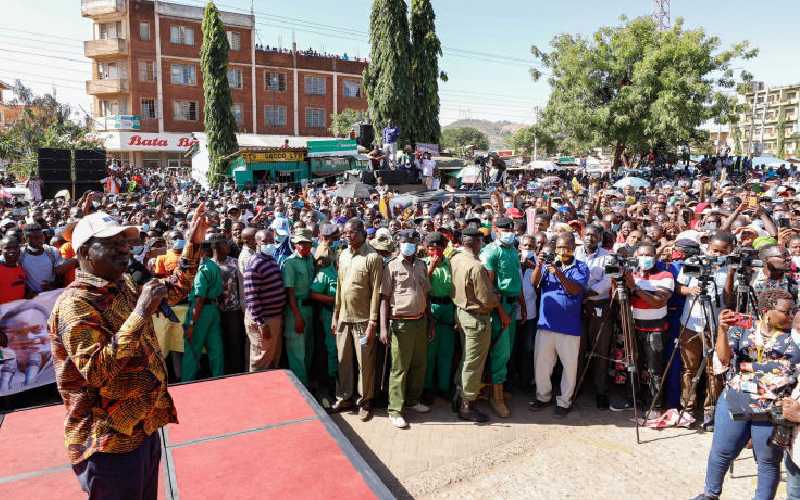 By March this year, Opposition chief Raila Odinga had technically been locked out of the race to succeed President Uhuru Kenyatta. This was after failing to present his application to the party organs by midnight of March 31 in accordance with ODM's constitutional guidelines.
That scenario has gradually changed and today, he is considered to be among the top contenders for the country's top seat.
Ideally, Kenyans are back to the 'Raila-phobia' and 'Raila-mania' mode witnessed every General Election year. During Friday's official launch of the One Kenya Alliance (OKA) campaigns in Kakamega, for instance, politicians unleashed a barrage of attacks on the former prime minister, and poked holes at his presidential candidature.
Elsewhere, personalised attacks on Raila have peaked in public functions and on social media platforms – a trend that is typically seen every five years since 2007 whenever he is vying for presidency. And same as before, opponents are questioning his academic credentials and development record.
While ODM national officials dismiss the attacks as "a tired and meaningless ritual", which they have perennially overcome and which the electoral commission has repeatedly addressed, pundits view them as a firm pointer that indeed Raila is in next year's presidential race.
"The attacks on Raila can be understood from the lenses of political competition. Ideally, he is as good as in the race and that is why opponents are trying to pull him down. And he is not alone – as the electioneering process peaks, all crucial aspirants will be targets of smear campaigns," says Dr Henry Wabwire, a commentator on political affairs.
Even though all indications point to Raila's fifth stab at the presidency, ODM chairman John Mbadi maintains he will have to make a public declaration about this himself.
"Nonetheless, Kenyans have spoken across the country during his consultative meetings and I don't think the (former) premier will disappoint by declining to contest," says Mbadi, who is also National Assembly's Minority Leader.
Even as Mbadi gives conflicting signals, we separately established that the Orange party is engrossed in delicate coalition-building engagements, besides fundraising and assembling of campaign materials, ahead of what insiders term "a major campaign rollout by January next year".
On Tuesday, Nakuru County Governor Lee Kinyanjui similarly hinted at the January date while reacting to the defection of his Kirinyaga counterpart, Anne Waiguru, from the ruling Jubilee Party to United Democratic Alliance (UDA), which is allied to Deputy President William Ruto.
The governor, now one of Raila's leading lieutenants from Mt Kenya and within the larger Rift Valley, scoffed at Waiguru's defection terming it too early and misguided, adding the political wedding starts in January.
Boardroom talks
Multiple sources within ODM similarly confirmed to The Sunday Standard that Raila's marathon campaign will kick off early next year. The time between now and then is dedicated to boardroom negotiations, coalition-building and strategic campaign mapping.
Top on the priority list at the moment is fine-tuning a working arrangement between ODM and Jubilee. Yesterday, Mbadi confirmed that the anticipated merger between the two parties was ongoing and that it would be formalised at an appropriate time.
"We cannot form a formal agreement at the moment owing to legal technicalities," Mbadi said, in an apparent reference to Jubilee's current coalition agreements. Unlike Gideon Moi's Kanu and Kalonzo Musyoka's Wiper, which have an ongoing cooperation arrangement with the ruling party, ODM plans to engage Jubilee in a pre-2022 poll pact.
Already, ODM's director of elections, Junet Mohamed, has secured a coalition outfit, to accommodate allies of Raila's and President Uhuru Kenyatta's parties and those of allies currently being wooed to their side. On Friday, the Registrar of Political Parties Ann Nderitu, through a statement, confirmed the reservation of "Azimio la Umoja", which is Raila's campaign slogan, for use as a coalition name.
The reservation of the name was requested by Junet, who also serves as National Assembly Minority Whip. The name will be reserved for 30 days, in accordance with the law. That window period also stretches to January; the very time Orange party officials say "it will be all systems go".
The ODM leader is said to be receiving financial and material boost already. Early this month, for instance, he received a donation of six campaign vehicles, from the Director of Homeboys Entertainment Mike Rabar and a Mombasa-based businessman Bernard Waore.
The move by Mombasa Governor Hassan Joho to step down in favour of Raila's candidature, is yet another clear indicator of "serious business ahead".
Reached for comment, Joho who alongside Kakamega counterpart Wycliffe Oparanya sought to vie for presidency on ODM's ticket, told The Sunday Standard that it was foolhardy to stand in the way of his party leader.
"We have all along voted for him through the years, and this time around – when his chances are even more realistic – we cannot afford to gamble with this opportunity," said Joho.
Besides retreats by Raila's deputies, ODM is in the process of rolling out various campaign teams, including a recently unveiled lobby group dubbed "The Struggler's Movement" aimed at rallying players in small and medium enterprises ahead of the 2022 General Election. The movement uses the unmistakable "R" logo, which is associated with the Raila campaign.
Separately, the Raila campaign has stepped up its economic and development agenda, which it has been sharing periodically, including disbursement of Sh6,000 as a monthly social welfare package.
Coupled with the countrywide so-called partnership trips, which kicked off in August with the launch of "Azimio la Umoja", pundits and political players alike are in agreement that Raila cannot be laying ground for the State House race for someone other than himself. And indeed from the moment Raila and Uhuru kicked off a working relationship on March 9, 2018, following their symbolic Handshake, some like the Deputy President were not in doubt that "this thing was all about succession politics".
There on, from the Handshake, Raila's candidature has lingered on despite his firm denial. His presidential bid has gradually metamorphosed and survived several challenges, including the birth and eventual hiccups of the Building Bridges Initiative (BBI), to political dalliance with Interior Cabinet Secretary Fred Matiang'i.
And last weekend, Raila seemed to give away crucial secrets of his journey to next year's presidential bid by revealing that Matiang'i was initially the "agreed candidate" to face off with the DP, but that he only surfaced after "the realisation that he can't successfully elbow Ruto aside".
All along, though, he has been slippery on the question of whether he was in the race to State House. Initially, he maintained the Handshake was about inclusivity and electoral justice and after the birth of BBI, denied claims mostly from Ruto's allies that the exercise was meant to propel him to State House.
Raila, however, went flat out on campaigns after BBI was halted, a second time, by the Court of Appeal. But to date, he remains evasive on his bid, stating he will only be persuaded to vie if people in his strongholds turn up in large numbers to register as voters.
Dr Wabwire attributes Raila's apparent either-neither stand to political cautiousness. As a senior and seasoned political player in the country, the political analyst opines that the former premier is being overly calculative to avoid an embarrassing outcome.
"His actions are also a demonstration of his willingness to step down for another candidate in the event he realises he cannot make headway. That is why he is going about his campaign cautiously, because he equally wants to shape an exit strategy," says Dr Wabwire.
Former Cabinet minister Cyrus Jirongo also holds that OKA should stop targeting Raila for verbal attacks, "because you never know, he could turn his numbers to us in the event he opts out of the race".