Ruto reaches out to Kalonzo, seeks deal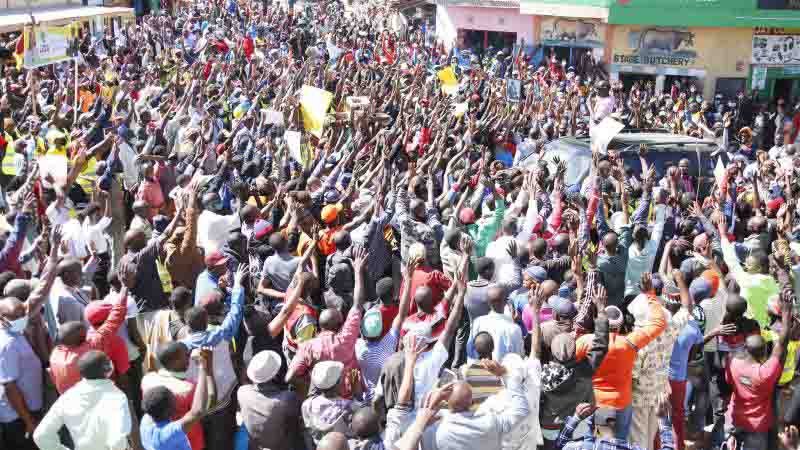 Deputy President William Ruto has reached out to Wiper leader Kalonzo Musyoka and intensified his forays in Ukambani to win over the lower eastern voting bloc.
Makueni Senator Mutula Kilonzo Jr said everything is fluid now and there was nothing concrete. "I have no doubt that there are efforts to reach out to Kalonzo, and we are waiting to see," said Kilonzo Jr.
"We are trying to reach out, two of his MPs are willing to join us but the hardliners seem to have scared him from any deal at the moment, some are saying it is still early," said a source.
In the last two months, the DP has been to Ukambani five times touring Machakos and Makueni counties.
He has hosted three delegations of leaders, another one of residents and religious leaders from the region at his official residence in Karen, Nairobi.
In one week, Ruto has visited Makueni twice in a bid to win over constituents who overwhelmingly voted for ODM leader Raila Odinga and Kalonzo (Wiper) in the last elections.
The DP and Kalonzo are in the race to succeed President Uhuru Kenyatta and they are working to lock their support bases.
Addressing residents at a funeral in Mwingi Central, Kitui County, the Wiper leader said his priority is to defeat Ruto in 2022.
"Defeating Ruto is my number one priority, and I know why. I also welcome my brother Johnson Muthama to work with us once we clinch the victory because defeating you, we shall," Kalonzo told mourners.
In 2017 elections, Kalonzo delivered majority of the Ukambani votes to NASA presidential candidate Raila, as the running mate.
Jubilee leaders President Uhuru Kenyatta and Ruto won three parliamentary seats in Ukambani - Machakos town MP Victor Munyaka, Kitui East MP Nimrod Mbai and Rachel Nyamai (Kitui South).
But, ten months to the August 2022 General Election, the DP and Kalonzo have locked horns over the control of 1.6 million votes in Machakos, Makueni and Kitui counties.
The DP is banking on the influence and network of UDA chair and former Machakos Senator Johnson Muthama to make inroads in Ukambani.
Mr Muthama has described Ruto as a kingmaker who helped Raila in 2007 election, and President Kenyatta in 2013 and 2017 elections and was now ready to be the king.
"Ruto has won the hearts of many Kenyans and if he wins in 2022 let them accept the outcome. In our party let nobody wait for endorsements. We will hold free and fair nominations and we will not consider anyone who thinks is close to the DP," he said.
The DP's forays in Makueni are being championed by former Kalonzo allies including James Mbaluka, a businessman who unsuccessfully vied for Kibwezi West MP in 2017 on Wiper ticket.
Others are Regina Ndambuki (former Kilome MP), Gideon Ndambuki (former Kaiti MP and assistant minister), Richard Makenga (former Kaiti MP), Terry Mbaika (entrepreneur), Amos Ngumbi (businessman), among others.
Mbaluka has hosted Ruto twice in the region. Last month, the businessman took a section of local clergy to Ruto's official residence in Karen for consultative meeting.
"As a community, we will not rally behind leaders who have no agenda for our people. Kalonzo has been taking us behind Odinga who later joined the government through the Handshake and took all Handshake benefits to his backyard leaving the Kamba community empty-handed," he said.
Mbaluka led campaigns for UDA candidate David Kivuva Musau in the Nguu Masumba by-election in Kibwezi West. The seat was won by independent candidate Timothy Sireri Maneno who polled 2,894 votes. Mr Musau came second after garnering 2,223 votes while Wiper's Eisho Mwaiwa was third with 1,601 votes.
DP has been enjoying good relations with Makueni Governor Kivutha Kibwana who fell out with Kalonzo shortly after the 2017 elections.
Prof Kibwana has been engaging with Ruto's allies from the region led by Africa Brotherhood Church (ABC) Archbishop Timothy Ndambuki.
Last month, Archbishop Ndambuki, who is also the convener of the South Eastern Kenya Economic Bloc (SEKEB) warned that the Kamba community could be swept by the side if local leaders continue dragging their feet on forging political coalitions ahead of next year's polls.
He spoke after meeting with the governor and Muthama in Machakos where they discussed the community's stake in the next government. The Wiper leader failed to attend the meeting despite being invited.
Ndambuki urged local leaders to unite and rally the community behind a presidential candidate that will guarantee them inclusion in government.
He has openly been rallying residents behind the DP.
The region is yet to chart the political direction and Kitui Governor Charity Ngilu warned Kalonzo that he might be left alone if he fails to reach political agreement with key leaders.
Kitui East MP Nimrod Mbai, (Jubilee) said the DP was welcome to the region.
Kitui has two Jubilee MPs who defied the Wiper wave in 2017 while Makueni has Wiper MPs a factor that could be behind Ruto's intensified forays in the region to win support.
"We want to capture Makueni which is a Wiper stronghold. Kitui has been defying Kalonzo factor and electing leaders not based on parties," said Mr Mbai
Machakos Town MP Victor Munyaka, asked the Wiper leader to take que from Kirinyaga Governor Ann Waiguru and join UDA.
Yesterday, Ruto kicked off his tour of Makueni with a meeting at the home of former Kaiti MP and assistant minister Gideon Ndambuki in Mukuyuni before addressing rallies at Mukuyuni market, Kilala, Nunguni, Enzai, Sultan Hamud, and Kasikeu in Kilome constituency.
Ruto asked residents to assess the track record of each leader ahead of the elections.
"Over 90 per cent of voters in this region in 2017 voted in favor of ODM leader but through the Jubilee government we have been able to connect electricity from 14,000 to 18,000 households. I have come today to ask you if you will again be confused by slogans of "Tialala" and "Tibim" without giving a framework of what they will do to this region to be partners in government," said the DP.
Mt Kenya clerics hold peace prayers
A prayer caravan that was flagged off on Monday in Nyeri County to pray for peace during the electioneering period arrived in Nairobi yesterday.