Non-priority projects to blame for Kenya's poor economy, Mudavadi says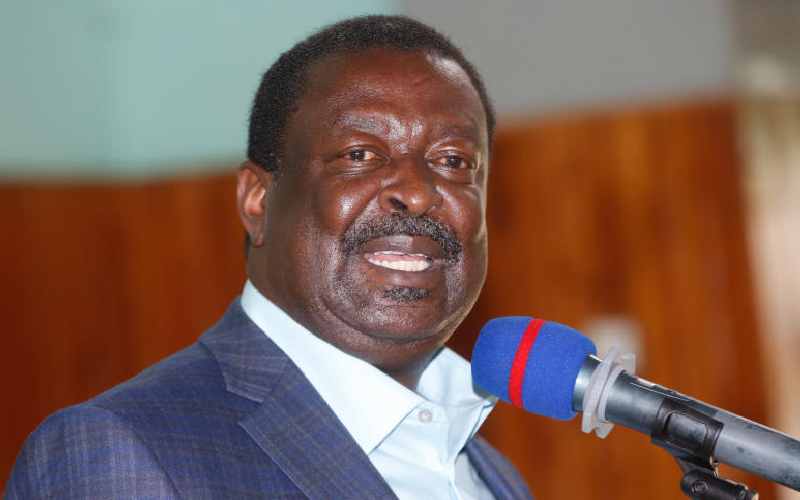 Amani leader Musalia Mudavadi has said it is vital to restrict borrowing through scaling down of non-priority projects to boost the economy.
Mudavadi added that sealing corruption loopholes and closing government spending leakages will go a long way into ensuring there is more money in Kenyans' pockets.
In a statement on his promise within the first 100 days in office as president, the Amani party leader stated that within the first 100 days in office he will ensure every Kenyan is vaccinated against Covid-19.
In his plan to rebuild the economy once he takes over the presidency, Mudavadi said he will avail enough Covid-19 vaccine doses to ensure that Kenyans attain herd immunity.
"Also, within the first 100 days, the Mudavadi administration will enact laws to promote social welfare that is sufficient to support and stimulate rapid economic recovery," he said.
Mudavadi noted that the economy has been severely affected by the Covid-19 pandemic, with many people losing their source of income and businesses closing down.
"My economic agenda within the first 100 days in office will focus on reviewing, revamping, diversifying, and redirecting investments that restructure the country's economic growth."
Currently, the Jubilee administration is offering the senior and vulnerable citizens a monthly stipend of Sh2,000 money which Mudavadi says should be increased by 20 per cent.
"Corruption has been and continues to be the most undoing factor of our economic development … my priority will be to seal all corruption holes and fund the Judiciary and other arms of government that fight corruption well," he said in the statement.
Mudavadi said he will include enhancing agriculture production and marketing to ensure food security, increase access to water for both household use and irrigation and reduce the cost of energy in doing business.