Senate Speaker Ken Lusaka launches bid to recapture Bungoma governor's seat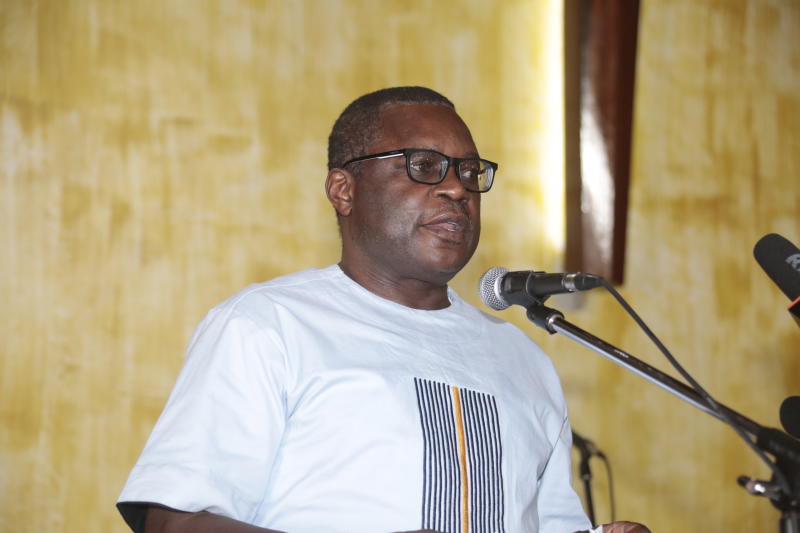 Senate Speaker Ken Lusaka has declared his bid for the Bungoma governor's seat.
Lusaka, who made the announcement moments after meeting professionals and opinion leaders from across the county, says he consulted widely before making the decision.
The move has caused jitters in incumbent governor Wycliffe Wangamati's camp. Wangamati beat Lusaka, the county's first governor, in the 2017 elections.
Lusaka, whose dalliance with Ford Kenya leader Moses Wetangu'la could see him secure the Lion party's ticket. Wangamati has fallen out with Wetangula.
"I have accepted the challenge. The voice of the people is the voice of God. I had flagship projects that I started which stalled when I left the seat. I want to come back and finish the job I began in 2013," Lusaka told Sunday Standard.
Lusaka, a former provincial administrator and Permanent Secretary, appears to have learnt from his mistakes in 2017 and says he has his eyes on the prize.
Jesus Christ
He likened his defeat by Wangamati to what happened to Jesus Christ as told in the Holy Bible.
"When Jesus went to Jerusalem, they said the Messiah has come but later he (Jesus) was crucified innocently as the people demanded for the release of Barnabas. In 2017, the people sacrificed me for Barnabas," said Lusaka.
Wangamati won the seat on Ford Kenya ticket after garnering 197,422 votes while Lusaka, who ran on the Jubilee Party ticket, came close second with 175,929 votes.
Lusaka has reactivated his political networks across the county and over the weekends, he attends funerals and other public events to get in touch with the people.
Among others leaders, Wetang'ula campaigned for Wangamati in 2017 and urged residents of Bungoma to elect the career accountant.
Governor Wangamati is among leaders behind the recent Ford Kenya 'coup'. He is in the fore front pushing for the party National Delegates Conference (NDC) through which rebel leaders plan to elect new leaders and remove Wetangula from the helm.
"We would like Wetang'ula to agree to the NDC. We are ready to support him if he wins and he should be prepared to support Kanduyi MP Wafula Wamunyinyi in case he emerges the victor," said Wangamati.
But Wetang'ula has vowed to teach the governor a lesson next year and has openly vowed to support Lusaka for the top county job. Lusaka has since mended fences with Wetang'ula after their differences scuttled chances of his re-election in 2017.
While Wangamati is confident he will secure a second term based on his development track record, like the construction of Musikoma-Kanduyi dual carriageway and Kanduyi stadium, the Speaker appears to be putting his act together in preparation for the gruelling battle.
Other candidates eyeing the seat are activist Zack Barasa, Sophy Waliaula (UDA), Dr Peter Khakina and former Communications Authority of Kenya Director General Francis Wangusi (Kanu).