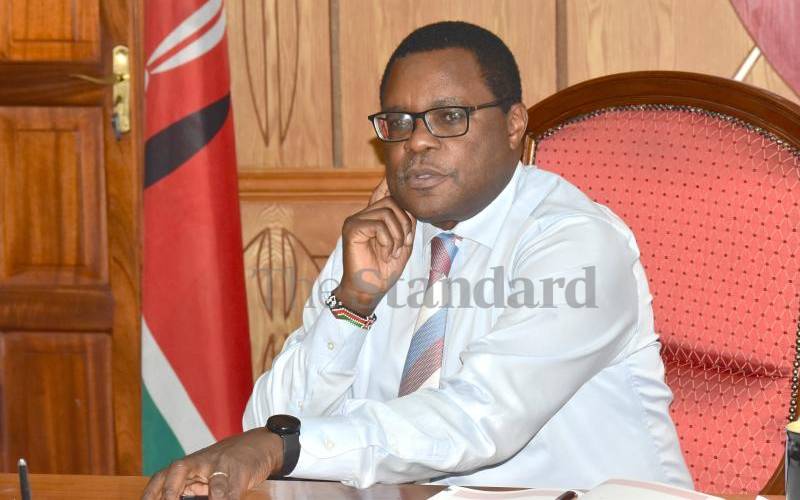 Senate Speaker Kenneth Lusaka risks being ordered to pay Sh25 million to a woman who has sued him for allegedly refusing to take responsibility after impregnating her.
The woman, in a suit filed at the High Court in Nairobi, through lawyer Danstan Omari, wants Lusaka compelled to pay the lumpsum amount to cater for the welfare of her unborn baby and her pre-natal medical care.
Omari argued that the woman identified as INM had an intimate relationship with the speaker since 2018 but that he turned his back on her after she became pregnant three months ago and has refused to pick her calls.
"They have been having a jolly intimate affair punctuated with several instances of unprotected carnal knowledge since 2018 until two months ago when they disagreed after she disclosed that as a consequence of their unprotected sexual encounters, she had conceived a child," said Omari.
Pregnancy complications
According to Omari, the cause of the disagreement was Lusaka's alleged insistence that the woman terminates the pregnancy but she declined on account that she had not been intimate with any other man apart from the speaker.
The woman told the court that she has been going through pregnancy complications that threaten her life and that of her unborn child and she is unable to meet medical costs for pre-natal clinics.
"The speaker, despite being a man of means, has refused, neglected and ignored to take care of the woman's pre-natal clinics necessary to ensure the wellbeing of the unborn child perhaps in the hope of stressing her and causing a miscarriage of their unborn child," said Omari.
In the event that the speaker is not able to pay the Sh25 million lumpsum amount, the woman asked the court to compel him to pay a monthly maintenance fee of Sh200,000, cater for her pre-natal expenditure and include her in his medical cover to safeguard the welfare of her unborn child.
Omari submitted that the speaker's defiant refusal to accept responsibility and assist the woman to access high-end hospitals capable of giving her highest standards of pre-natal medical care violates her right to the highest standards of healthcare.
He added that Lusaka has consistently rejected his association with the woman's pregnancy despite his full knowledge that they have been having unprotected carnal knowledge for over three years.
National figure
"His failure to take responsibility as the father of their unborn child yet he is a national figure whose wealth and riches is public knowledge is contumelious, deliberate and an affront to the unborn child's fundamental right to be born alive and healthy," said Omari.
He said the woman risks suffering serious high blood pressure, which could result in the premature birth of her child due to Lusaka's negligence.
The woman, in her affidavit, swore that she met Lusaka at his Nairobi house on April 1, 2018, where the speaker insisted that they have unprotected sex and soon after discovered that she was pregnant.
"Ever since I broke the good news to the speaker that we were going to have a child as a symbol of our love and care for each other, at least for the three years duration we have been intimate, I have faced negativity, rudeness and disregard from him," she swore.
She stated that as a result of the rejection, she has experienced pregnancy complications, which she cannot afford to treat because she is jobless.
She said she is willing to undergo a DNA test to confirm that her pregnancy was caused by Lusaka.
High Court judge James Makau certified the matter as urgent and directed the woman to serve the speaker for him to respond before the hearing on July 7.