Raila Odinga promises to change the fortunes of Turkana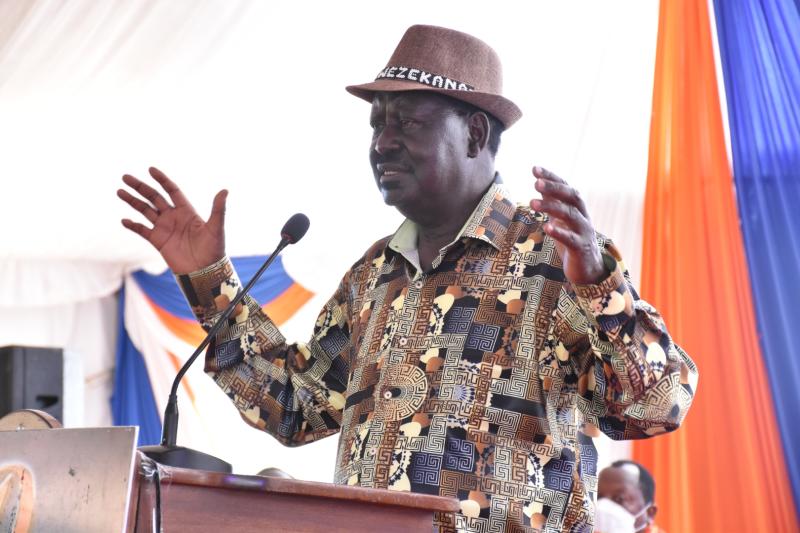 ODM leader Raila Odinga has promised to transform Turkana county as he began a tour of the Rift Valley region.
Raila, in a meeting with ODM party delegates at a hotel in Lodwar town yesterday, shared his economic blueprint and decried the state of food insecurity in the country. He said despite the available agricultural resources, residents of Turkana have had to contend with perennial food shortages and promised this would change under his administration.
"We want to ensure none of our people sleep hungry. In Turkana we have enough resources. We should not have people going hungry. We have water and even wanted to start irrigation," Raila told the delegates.
He added, "We have enough water in Turkana, we have Lake and underground water. We want to have a green revolution. Turkana has potential to feed Kenya."
Raila revisited proposals under the Building Bridges Initiative (BBI) which he said would have doubled the allocation to Turkana county and promised that 'reggae' will return to ensure the goodies are delivered to the people.
"We agreed with President Uhuru Kenyatta to support devolution. We agreed to increase 15 to 35 per cent. Turkana was to get Sh20 billion. Some people went to court, and it has gone on half-time," Raila said.
He noted that his administration will finish the fight against ignorance, poverty and disease which the country's forefathers had promised to end when Kenya gained independence.
"At independence, we wanted to fight disease, ignorance and poverty. We later added bad governance. 60 years later, the three issues are still prevalent," he said.
"We want to change the economy; we have to deal with these. In education, the United Nations has identified five basic fundamental right- right to life, right to food, right to shelter, right to education and right to good health."
He said his administration will ensure all children irrespective of their background will access quality education and expand internet access to every part of the country. On LAPSSET, Raila said that the project will benefit neighbouring South Sudan and Ethiopia through construction of a railway and pipeline which will bring jobs to residents of Turkana.
"We have fuel in Turkana. As a country with oil, we are rich. We had agreed with South Sudan and DRC to use the Lamu port. We will build a refinery here to refine the fuel here. This if implemented will bring more jobs here. Turkana will be the source of jobs and change lives of many Kenyans," Raila said.
He maintained that his plan to provide Sh6,000 to vulnerable families was not a dream but a plan which has been implemented world over.
"We will give vulnerable families Sh6,000 starting next years. We have experts who have looked at it and said it is possible. The big problem we face is corruption," he said.
He also took a swipe at some of his competitors, claiming they have stolen public funds and were using the same to hoodwink Kenyans to get their support.
He promised to close corruption loopholes to ensure people get money to fund critical services.
"In agriculture, we will give reduce the costs and reduce prices of seeds, fertilisers and pesticides. In Kenya, we sell Sh2,300 but in Uganda Sh1,500. It is affordable to grow maize in Uganda, hence affordable milk. We have to reduce the costs," he noted.
He added that the high cost of energy has negatively affected industries and contributed to job losses in the country. Raila hailed devolution as a game-changer that has improved Turkana country that had been neglected for decades by successive administrations.
The ODM leader is today expected in Uasin Gishu County, where he will meet with party officials from the region and popularise his bid for the top seat. The visit to Deputy President William Ruto's turf is the first in a long time, and residents of Eldoret town have been urged to accord the former PM a warm welcome.
Elgeyo Marakwet Governor Alex Tolgos, who is the team coordinator, said he will lead over 20 leaders from both ODM and Jubilee parties.