Why they called me Kanini Kega, MP explains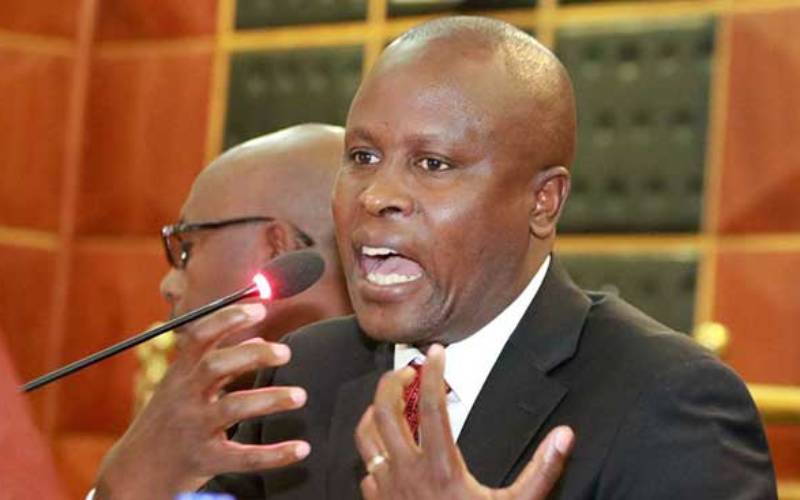 Kieni Member of Parliament (MP) Kanini Kega, whose birth name is James Mathenge Ndung'u, has explained the origin of his political name and why he decided to adopt it in his political career.
In Gikuyu, 'Kanini Kega' means 'small and good (pleasant)'.
During an interview on Citizen TV last night, the National Assembly's Budget and Appropriations Committee chairman said he was given the name by the electorate when he first showed interest in the Kieni parliamentary seat at a young age.
"I got the name Kanini Kega during the campaign period ahead of the 2002 General Election. I was the youngest aspirant, and most of the voters found me promising. The electorate liked me and so they called me young and good," the lawmaker said.
According to Kanini in a past interview, he ceased using his real name after it cost him the parliamentary seat twice, before his ultimate win in 2013.
"I lost twice because my supporters could not find my nickname on the ballot, instead the voters found my real name; James Mathenge Ndung'u and ended up voting for other people," he said.
"Most people who knew me before I rose to fame are the only ones who know me as Mathenge. Kanini Kega has been my name in the political arena," he added.
Efforts by The Standard to reach the legislator for a comment on whether he had legally adopted his nickname were futile. Our calls and messages to him went unanswered.
According to Kenyan law, for one to legally change their name, a document known as a Deed Poll needs to be drafted and registered with the Registrar of Documents.
The Deed Poll must subsequently be gazetted in the Kenya Gazette. It is only after the gazettement that one may legally take up the use of their new name.
With a Deed Poll, one can change their forenames, surnames, add names, remove names or rearrange their existing names.
In this case, it is not clear whether Kanini has officially changed his name.
Kanini was elected MP in 2013 when he used Kanini Kega in the ballot, dethroning his predecessor Namesyus Warugongo who served under the Party of National Unity (PNU) ticket between 2007 and 2013.
Kanini is among the members of parliament from central Kenya who strongly support President Uhuru Kenyatta.
He is seen by many as the right-hand man of President Uhuru Kenyatta in Nyeri County and has actively been a part of the handshake team popularly known as "Kieleweke".
He joined active politics in 1998 but it was until 2013 that he was elected as a member of parliament for Kieni Constituency.
He would successfully defend his Kieni parliamentary seat in the 2017 general elections.