William Ruto's economic model will promote poverty, Musalia Mudavadi cautions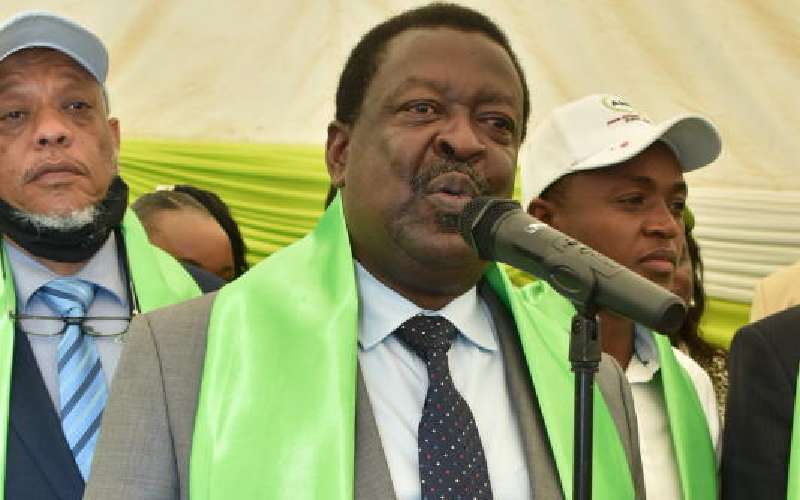 Amani National Congress party leader Musalia Mudavadi has told off Deputy President William Ruto with his bottom-up economic model.
Mudavadi said Ruto's economic model and the hustler narrative he is championing are promoting and championing poverty among the people.
Speaking at the funeral service of Samuel Masikonde, a reknowned businessman who had interests in Nakuru and Narok, Mudavadi said the DP camp's "hustler" politics is a gimmick that glorifies poverty.
"Kenya is not a hustling nation. I want a country that has a thriving economy, which will ensure that jobs are there for our youth, not narratives championing hustling," he said during the service in Siriri, Narok North constituency.
He added: "We don't need models that are of bottom-up, all we need are practical solutions on how we will lower the taxes so that prices of commodities come down so that we have markets for our farm produce."
At the same time, Mudavadi called for political tolerance and peaceful campaigns as Kenya's heads to the electioneering period.
He said every Kenyan should be able to live and work in every part of the country without being threatened.
"Whether you come from the Mountain, the Valley, the Lake, the Coast or even a desert, you are a Kenyan first, so it is not right that we are always being divided along the lines of where you come from," he said.
Mudavadi added that no region should be left behind in development, as the country's economic growth depends on the development of all regions.
"Every part of this country should be developed and allocated resources in an equitable manner. No region should be left behind," he said.