Political debts return to haunt Uhuru as succession race hots up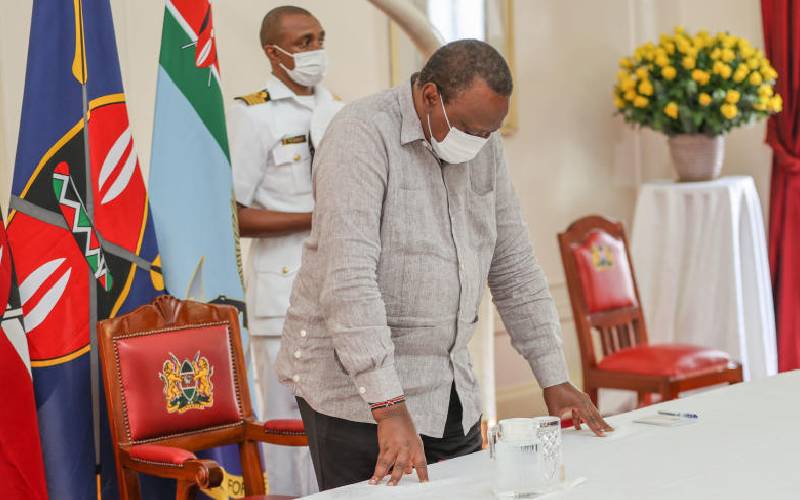 President Uhuru Kenyatta, serving his final term and beholden by political debts to a number of top leaders, faces a dilemma ten months to the General Election.
Though Kenyans have a right of universal suffrage, and which will be exercised on August 9, 2022, endorsement of a candidate by the incumbent gives impetus to their campaigns. The political debt dates back to the pre-independence roping in the founding Mzee Jomo Kenyatta and Jaramogi Oginga Odinga in the early 1960s.
From Deputy President William Ruto to ODM leader Raila Odinga, ANC leader Musalia Mudavadi and Wiper leader Kalonzo Musyoka, all have a reason to seek Uhuru's backing.
The Building Bridges Imitative would have provided a political solution by creating an expanded executive to accommodate more leaders at the top. But the courts declared it illegal dealing a blow to many political realignments.
President Kenyatta will now have to pick which political debt to pay and shape his succession. During the handshake, Uhuru and Raila vowed that "no Kenyan blood would be shed again because of politics" unconsciously acknowledging the tribulation that the two families' political rivalry had caused the nation.
The handshake
Though initially seen as a political ceasefire, the handshake has metamorphosed into a political union that could see power transfer between sons of two warring families. Ruto has often times said the handshake was meant to deny him chance to ascend to power.
Uhuru is keen to pay back Raila perhaps for the truce or also use that the opportunity to settle the two families long-standing political debts. The president and ODM leader have battled out in two contested elections where Raila insisted his victory was stolen.
Last month, at State House in Mombasa, Uhuru tried unsuccessfully to impress on the One Kenya Alliance principals, Mudavadi, Kalonzo, Gideon Moi and Ford Kenya leader Moses Wetangula to back ODM leader's presidential bid in next year's polls.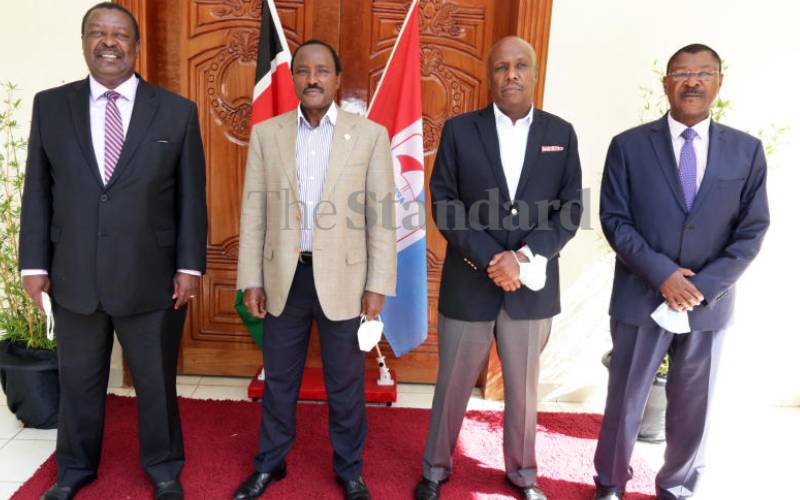 This was the clearest sign of Uhuru's commitment to hand the leadership baton to Raila. The Kenyatta and Odinga families generational debts of the 1960 to date, will not dwarf another between the Kenyatta's and the late former President Daniel Moi that dates back from 1978.
It is for the historians to debate whether the transition from Mzee Kenyatta to Mzee Moi at the time it happened notwithstanding, was by default or by design. Though some will argue that it was by default occasioned by the death of the founding father, there are those who will say that, had Mzee Kenyatta not wanted to have Moi succeed him, he would have made changes to replace his deputy in his sunset days.
Seen as a possible payback, Mzee Moi sidestepped more senior and experienced politicians including his Vice President the late George Saitoti to pick Uhuru a political neophyte to take over after his 24 years reign. Prior to endorsing him, Moi picked Uhuru from the private sector and appointed him chairman of the Tourism Board and would later appoint him Minister for Local Government in 1999, after asking his ally the late Mark Too to relinquish his position as Nominated MP to Uhuru.
With such a heavy-laden background, Uhuru could easily find himself feeling indebted to the Moi family, and specifically to Gideon who has declared his interest in the presidency next year.
Away from the family debts, is the Ruto question. During campaigns for his re-election in 2017, the President publicly asked voters to give him his final five years and prepare to vote in Ruto for another 10 years.
"Please give me ten years and also give Ruto his ten years," was Uhuru's clarion call.
The big fallout
But things have changed. Addressing a roadside gathering in Malava, Kakamega county recently after meeting members of the African Church of the Holy Spirit, Ruto said he propelled Uhuru and Raila to top positions in government.
"I campaigned for Raila Odinga in 2007 to the point I was almost being locked up in Hague. I helped my friend Uhuru Kenyatta to become President in 2013 and 2017 general elections. All these happened in broad daylight. Now, they have teamed up to lock me out of presidency, claiming my father was a nobody in Kenya. Even the child of a single mother can become President in this country. Let them go away," he said.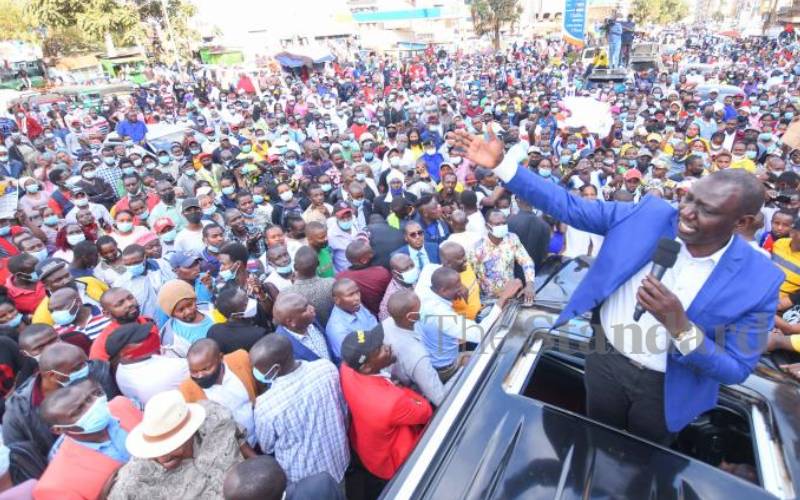 For Kalonzo and Mudavadi, the President is behooved to them given their political roles in the 2007 and 2013 elections. At the time the country was in the abysm due to the disputed 2007 presidential election and it is Kalonzo who stood with former President Mwai Kibaki at the hour of need. Uhuru then uncharacteristically shifted from Opposition leader to support Kibaki.
For Mudavadi, Uhuru is indebted to him after backing out on a written promise to support him. In the run-up to the 2013 polls, on December 4, 2012, Uhuru and Ruto drove to Mudavadi's home on Riverside road in the company of Tourism CS Najib Balala to inform him they would back his quest for the presidency.
"I had declared my intention and I was doing my preparations to launch my campaigns formally, then these two gentlemen drove into my compound and declared their support for me," disclosed the ANC leader.
But Uhuru backed out jolting Mudavadi's campaigns and leaving politically wounded.