Coming of age of Moses Kuria and what he sees in Uhuru, Ruto and Raila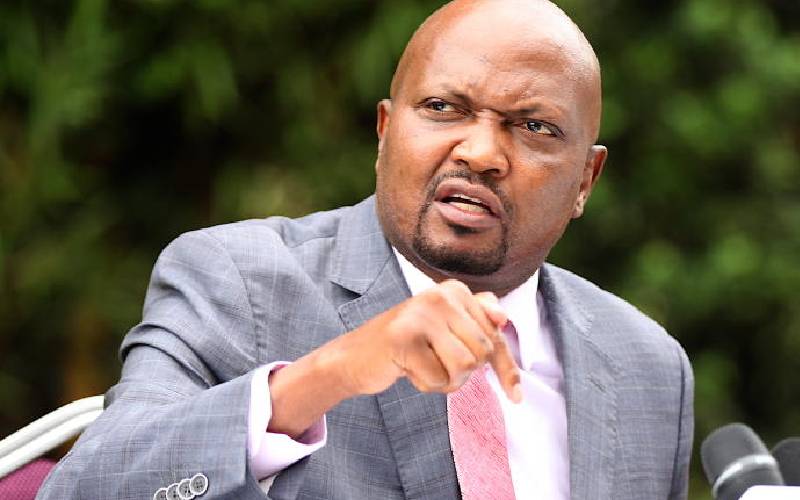 In the run up to the 2013 General Election, Gatundu South MP Moses Kuria was presumed by some to be nothing more than an errand boy for then presidential hopeful Uhuru Kenyatta
So much so that when the rest of the boys were sharing the spoils of The National Alliance (TNA), Kuria was too engrossed in the "I believe" project to care.
He did not vie in 2013.
When his area MP Joseph Ngugi unfortunately passed on shortly thereafter, Moses was picked unopposed to succeed him. He did the president's bidding but only for one term. He fought, cursed, spat and walked out in protest, in the president's name.
After delivering the goodies once again in 2017, the old Shakespearean adage of 'first mouthed to be last swallowed' began to unfold on him. In his own words, he had become an "unnecessary irritant."
For running his mouth, Kuria was dropped like a hot potato. The situation between him and the president went back to factory settings. In 1997, alongside his namesake Moses Muhia, they jettisoned Kenyatta's initial foray into politics.
He continued with his banking career before returning to politics as self-appointed PNU spokesman in retired President Mwai Kibaki's government. He would later resign from a position no one appointed him to, to give full attention to the Kenyatta project.
"When President Kenyatta resorted to his old networks of urbane and 'polished' friends and school mates, he lost touch with the common man and there was an automatic regime change in his circles. So we became victims," he sums up the fallout with Uhuru.
He picked himself up, dumped Jubilee, headlining little known People's Empowerment Party (PEP) which upset the big boys in a ward by-election. He did not settle in PEP for long, moving to his present stable, Chama Cha Kazi (CCK) which is now a thorn in the flesh of Deputy President William Ruto's camp.
In the meantime, he wants ODM leader Raila Odinga to keep off the 2022 race, saying his time is up. He's least worried of the current rumbling in the mountain, comparing it to a butterfly that starts off as an egg before it becomes a lava and pupa then breaks its wings against the shell to fly.
"If you try to help it before breaking the shell you will kill it. The Mountain region is currently breaking through the shell. We shall be okay in the fullness of time," he says.
He says he has come of age. There are things he wishes he never did, and advises others against them.
Still, there is fire in his belly. He believes President Kenyatta has been ran over by sectarian interests, comparing it to Taliban's takeover of Kabul.
Q: You look like you have come of age if the latest wins in by-elections are anything to go by, how has the journey been?
A: Extremely challenging. Somehow Kenyan politics is for those with money or heritage. To have to come to where I am without belonging to the two categories is a miracle. People pretend to take you seriously but behind your back they talk ill of you and dismiss you simply on the basis of resources. What has kept me going is unflinching and consistent belief in and commitment to the people. The people are my rock. And of course, the power of friendships and networks cultivated carefully over time. Lastly the youth. They are the fuel that runs my engine. I mentor them, train them, guide them and lead them. In return they give back in volunteerism in a scale no money would buy.
Initially you came out as quite rough, walking out of interviews, saying the unpalatable/unprintable… have you changed and if yes, what informed the change?
We have come through a very tumultuous history. As a student leader I witnessed the 1992 tribal clashes and even led demonstrations against Moi over the same. Same thing in 1997. 2007 shattered me. I received calls as a PNU official from people facing death in the Rift Valley including Kiambaa PAG Church. I was tasked by President Kibaki and then Deputy Prime Minister Uhuru Kenyatta to coordinate IDP resettlement.
With the late Bishop Cornelius Korir, I co-chaired the Kiambaa burials committee. From 2009, I was among the few people who encouraged Uhuru that we lead Kikuyus in making peace with the Kalenjins leading to the Jubilee government as it is. I worked tirelessly to stabilise Kibaki's government post-2008 and fought many battles with Raila and his people in the process.
I fought fortuitously for Uhuru and later Ruto when they battled ICC at The Hague and as they sought the presidency. I was lead petitioner in a crucial presidential petition in 2013. Then battling Raila again in 2017 and leading the only nationwide campaign not led by Uhuru or Ruto — the Mbele Iko Sawa campaign. 10 years of daily battles in the trenches managed to kill the banker with corporate conquests across continents spanning 15 years.
Over time, we heal and more so after being disappointed by people you sacrifice your brand for. That's where I am. I did those crazy and juvenile things fighting for people who disappointed me. I will tell young people today. Don't do it! No one cares for you. But I thank God I transitioned out of those things with a positive mind, and I am not bitter.
You were bosom buddies with the president whom, it can now be said, is your chief political enemy, what changed?
I am not an enemy of the president. We are literally village mates and he is only 10 years older than me, so we will be together for many years. The president's mother particularly has been very fond of me and she remains the glue that binds the president and I. In the past, working with the president was absolute fun. He used to be very consultative and cared to hear what villagers like myself, Kabando wa Kabando or Mwangi Kiunjuri had to say.
When he resorted to his old networks of urbane and 'polished' friends and schoolmates, he lost touch with the common man and there was an automatic regime change in his circles. So, we became victims. That over the years I developed a very close personal and working relationship with William Ruto at the time they were falling out did not help much.
When is the last time you talked to the president and what did you tell him/what did he tell you?
We had left a Mt Kenya MPs meeting in Nyeri in November 2018. Some things were said that did not go down well with me. The president those days had this amazing conscience. If he thought he was harsh or unfair to you, he was quick to call, apologise and explain himself which is what he did. That is the last time I had an opportunity to have a conversation with him.
Barely two months later when I made remarks about the neglect of Mt Kenya region in the now famous Thika 2019 New Year's eve, life was never the same again. Though we don't talk, we have kept a respectable distance.
You fully embraced the DP, but started expressing reservations, what changed for you?
I have no reservations about the DP. We remain very close friends. I have a major difference of opinion on the issue of political parties within the Hustler Nation way before UDA was formed. I explained to him that I was in need of a vehicle to aggressively defend values and constituencies I hold dear, particularly growth of young emergent leaders and protecting businesses given my long stint and networks in the private sector.
Not that UDA does not believe in this, but I told him we have parties like Greens Party in Germany and the Scottish National Party in Britain specifically to focus on some ideals or communities of interest. He believed in a strong, centralised unitary party.
We agreed to respectfully disagree. When an opportunity arises to wok together like in the Kiambaa by-election, we both never shy away from it.
Kenyan politics is a theatre of betrayal and a graveyard of political parties, what do you consider the greatest sin of Jubilee as a party?
The biggest problem in Jubilee were people who could not go to the ground to look for votes yet they want to enjoy the trappings of power that emanates from those votes. Immediately we won in 2013 and especially after 2017, they thought we were unnecessary irritants. That's the only problem. If elections were to be held every year, they would behave with respect because they cannot look for votes while we can.
The DP has made it clear, in public, that UDA is not desirous of entering into coalition arrangements with other parties, what will you do if he persists?
That does not bother me at all. I have never asked for a coalition between Chama Cha Kazi and UDA. We are fielding candidates for gubernatorial, Senate and Women Rep races in all counties. We are fielding candidates in all 290 parliamentary races for National Assembly. We are fielding MCA candidates in 1,450 wards.
After Gaturi in Murang'a and Juja, we know how to win electoral contests. There is nowhere UDA has stopped us from fielding or operating in so we have no case against UDA. We live and let live and the only complaint is being referred to as small parties or tribal parties by a party we have an equal electoral performance record through my former party, the People's Empowerment Party.
You recently said you will not go for any seat in 2022. Some people feel or think you were intimidated into quitting. What informed the decision?
Those who know me well will tell you that Moses Kuria cannot be intimidated. They will also tell you that I care deeply for other people. I have decided to take sacrifice to focus 100 percent on building a political movement through Chama Cha Kazi.
Nothing will make me happier next year than seeing lots of governors, senators, MPs and MCA elected on a Chama Cha Kazi and entrenching our values and manifesto in National and County Governments. This is not a lighter duty. It's a full time job.
Central region appears at political crossroads with regard to Kenyatta succession, what will it take for the region to get it right in the succession matrix?
This is partly true. It is important for the current volcanic rumblings in the Mountain to go the full length before we find an equilibrium. It's the first time in 30 years we may not have a leading presidential candidate from the Mountain. We are evolving. A butterfly has to start off as an egg before it becomes a lava and pupa then break its wings against the shell to fly off as a butterfly.
If you try to help it before breaking the shell you kill it. The Mountain is currently breaking through the shell. We shall be OK in the fullness of time. Just let us be for now.
As the president's MP for the last ten years, what is your assessment of his performance?
I don't have to judge the president's performance as his MP. We have an extremely respectful relationship when it comes where we both come from and our respective mandates. But as a Jubilee member, I can say we had three phases.
In the first phase the president will always be credited for the way he captained our region and party to the 2013 elections when everyone thought anyone from our region must lie low like an antelope. Then between 2013 and 2017, we managed to focus on a relatively progressive agenda although we picked up lots of debts.
After 2017 we lost it. The Handshake made us lose focus away from the progressive agenda. The senseless focus on fighting his deputy dented his legacy. But all in all, no one person can finish all the work. Like Kibaki, Uhuru has done his best in the best way he knew how.
Now it's incumbent upon our generation of leaders to pick up from there. This is how nations are built through iterative processes.
If someone were to ask you to provide a character reference of DP Ruto, what would you say? And the president?
Why the president and his deputy took off to a great start is because of their diversity. They came from different worlds which created synergy in diversity. No man is perfect.
What is the one thing that you wish you knew of the president before, which you now know?
I saw the president resist sectarian interests that formed around him over the years. He did it spectacularly well and I thought he would do it for ever. If I knew that one day those interests would overwhelm him, perhaps I would have remained even closer to him and help him wade them off.
I consider that I am partly to blame. After 2017, these forces literally run over the president's life like the Taliban conquest of Kabul.
If you were to offer one important piece of advice to ODM leader Raila Odinga, what would that be?
Jakom is my friend. He has done it for this country and Africa. He needs to mentor younger leaders. If I am not vying for any seat even Baba can do it. I would tell Baba that like Saitoti said, there comes a time...
What is your political mantra, a political philosophy that you live by, and which you consider helpful to your career?
I have some values that I have deeply held over the years and that have helped me. Firstly, it's a sense of social justice, caring for the next guy. I am saddened by how society just stopped caring. It was not always like this.
Materialism and race for senseless accumulation has destroyed all our sense of humanity. We are now bosses, not servants any more. I believe that to create jobs and improve the welfare of society we have to give the Private Sector more legroom and support and stop suffocating business.
Government will not create jobs, only private sector will do. Finally we keep giving lip service to unity. There is nothing like unity. Ensure all 50 million Kenyans have full stomachs and they will naturally unite. They will not even need your help to unite.
Politics is the stuff ambitions are made of. Where do you see Moses Kuria in the next 10 years?
I will play a major role in this country I love and care for deeply. I will be at the forefront in pushing for policies that make Kenya a prosperous nation.
I will influence this as a party leader before I vie for the presidency in 2032 InshaAllah.