Inside DP Ruto's heart-to-heart meeting with Mt Kenya allies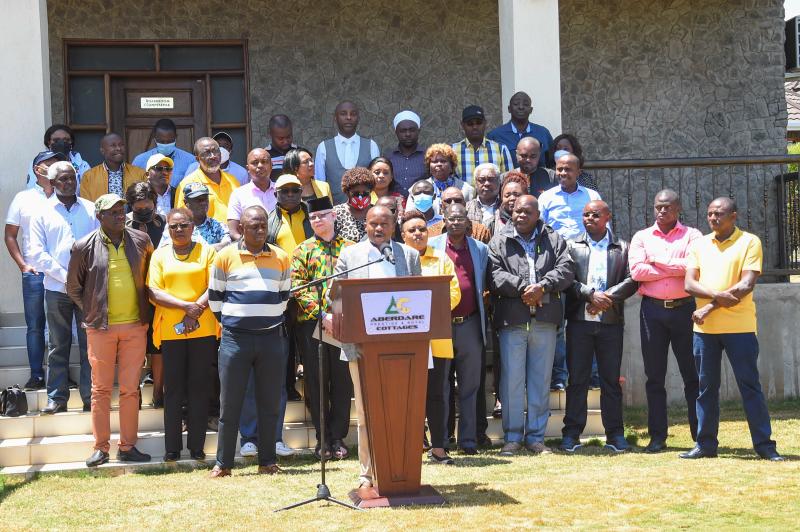 Deputy President William Ruto yesterday faced his allies in Mt Kenya region amid growing unease in his strategy to succeed President Uhuru Kenyatta in 2022.
Ruto's allies are pushing him to dismiss a push to form an alliance with parties from the populous region and adopt a strategy to lock out ODM leader Raila Odinga who has heightened his bid to woo voters in the president's turf.
Mt Kenya has been at the centre of political activity, receiving overtures from Raila as well as Uhuru who just a week ago met with his MPs, a section of governors and local leaders.
The meeting is a counter to a similar one at State House a week ago where one item on the agenda was to clip Ruto's influence in the region.
Raila has dangled the carrot too. He is wooing Mt Kenya with the promise of greater resource allocation and greater action to restore farmers' fortunes.
Ruto's allies are concerned about the effect this will have on their candidate's chances.
It was DP Ruto's allies turn on Saturday when they met in Nanyuki, Laikipia County to iron out issues threatening their camp.
They are also reported to be working on a service charter that will be a binding legal document, should Ruto win the presidency in 2022.
The United Democratic Alliance (UDA)-linked MPs in Mt Kenya also resolved to back Ruto's presidential bid under a single party.
Karua-Kuria-Kiunjuri trinity
That declaration is likely to drive a wedge between UDA and politicians such as former Agriculture CS Mwangi Kiunjuri and Gatundu South MP Moses Kuria who are also presently marketing their outfits, The Service Party (TSP) and the Chama Cha Kazi (CCK) respectively.
From Kiunjuri and Kuria, it becomes apparent that unease is settling within Ruto's supporters in Mt Kenya, especially concerning the outfits that will go into 2022.
The meeting also ruled out the possibility of entering a coalition as some allies of Ruto have been advocating.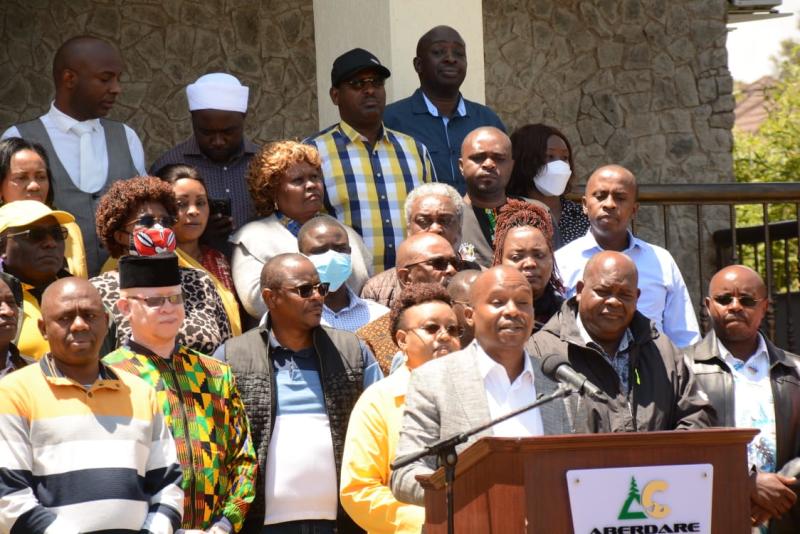 "We are championing a new Kenya where political competition will not be based on regional, ethnic or sectarian parties but on a national party that embraces inclusivity," Nyandarua Woman Representative Faith Gitau said.
She said UDA has support of millions of Kenyans across the country and they will start a national wide mobilisation strategy to woo members to the party.
The meeting comes at a time when Kuria, Narc Kenya leader Martha Karua and Kiunjuri have teamed up to pressurise Ruto to enter a coalition with parties from the region.
An MP who did not wish to be named said the disquiet by the trio was gaining momentum in the region and they felt they needed to develop a strategy to confront their push.
Running mate card
"If we are not careful, the trio's gospel will affect Ruto's presidential bid in the region and that is one of the main reasons for the meeting, we are also alive to the fact that our main competitor, Raila Odinga is also conducting town hall meetings with leaders from Mt Kenya and we know he could be crafting an alliance with them," the MP said.
Ruto's allies are split between those who believe they can go it alone and another that wants Ruto to seek the backing of regional parties.
Much as the meeting was called to affirm the decision that Ruto's supporters in the region would back him for 2022 under UDA, the sticking point was on Ruto's running mate.
Part of the reason why the MPs want every one of them under the party is to do with the delicate choice of who among them would be Ruto's running mate and if the DP were to settle on one from the region.
The DP has been guarded about who will be his deputy aware that the decision could make or break his chances.
Ruto's camp has started a process of identifying a running mate, floating the suggestion of employing a technical committee to determine who best fits or leave that decision to party supporters, a source in the meeting said.
Although the 40-odd leaders from the 11 counties said the discussion was not centred on political positions and maintained that dialogue will be at the tail end of the process, sources said the six-hour closed-door meeting at Aberdares Prestige and Royal Cottages, had broached the topic.
The meeting also discussed how they would hedge their numbers to benefit from Ruto's government should the DP be elected.
Communication from Ruto's office indicated that the legislators had backed his 2022 presidential bid and affirmed that they were united under UDA.
"We are keen on ensuring the political dispensation in Kenya shall be devoid of any form of division," said Laikipia Senator John Kinyua.
Tharaka Nithi Senator Kithure Kindiki said the issue of running mate was not a priority at the moment.
"In coming months, we will be working on a service charter to be signed as a region and the rest of the country.
"We have learnt from the pledges made in Jubilee Party which were not implemented. Will have guarantors to hold the leaders to account," disclosed Prof Kindiki.
Using the names 'guarantors and implementers' of the economic blueprint of Mt Kenya region, the leaders said those selected will safeguard and protect interests of the region.
However, other sources said they agreed to push Ruto to identify a running mate from the region to neutralise the coalition calls and Raila's entry into Mt Kenya region.
"The discussion propagated by Kuria, Karua and Kiunjuri is taking shape and needs a serious move to counter it. Raila is also crafting an alliance with his supporters in the region and that is not a simple strategy," a source said.
Asked about the running mate issue, Murang'a Senator Irungu Kangata said it was thorny.
"The process of picking a running mate should be people-driven where locals will have a say on who has national stature to deputize Ruto," Kangata said.
"Just before the election, we will sign a commitment charter between ourselves and the people we represent and their interests and those who will implement them," the senator added.
Mitigate situations
This according to Prof Kindiki, would mitigate situations where people sign commitments but abandon the promises when they assume power.
"We have witnessed people signing commitments and abandoning them the following day. Never again will people make political promises and get away with it.
"The politics of deceit, betrayal and political conmanship must come to an end," he said.
It is instructive that Kuria dismissed the meeting as 'Ruto's praise and worship team' saying the affairs of the region can only be understood by locals and not visitors.
"The home owner understands his home more than the visitor and therefore the visitor can't take charge of your home and dictate how to perform your duties," he said, referring to Ruto as a visitor in Mt Kenya.