What to do with Ruto? Uhuru's dilemma and why spat with DP is written in history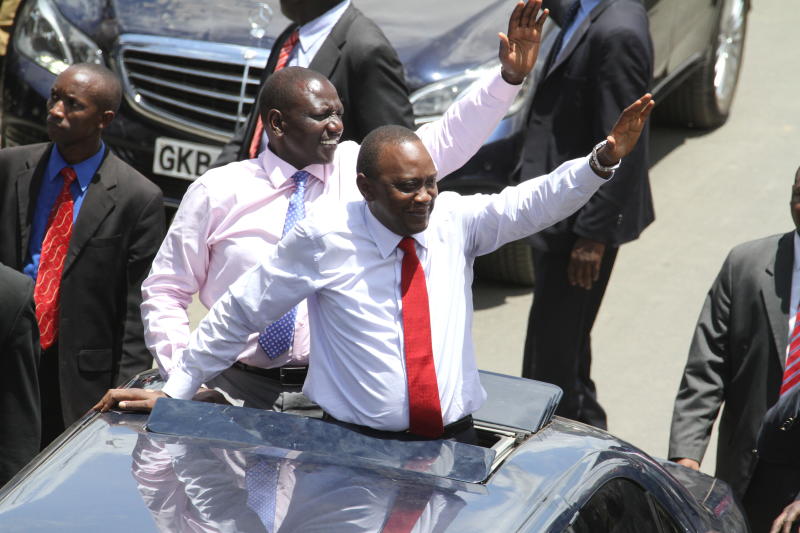 That Deputy President William Ruto has got under President Uhuru Kenyatta's skin is no longer the question, but what next for the once-celebrated 'dynamic duo'.
During an interview with senior editors at State House, Nairobi, on Monday, a visibly frustrated president painted a picture of helplessness, encouraging his erstwhile ally to quit his government.
From the outset, Uhuru and Ruto's relationship was a time fuse on account of the DP's declared ambitions, President Kenyatta's campaign promise to him, and the late-day necessities of Kenyatta's rule, including the Handshake agenda.
But besides these, history and the architecture of the Constitution have also conspired in the fallout of the two leaders.
According to the Constitution, the DP is the president's principal assistant and is to perform the functions of the president as the Head of State may assign him.
In the world envisioned by the drafters of the Constitution, the president and his deputy were expected to work seamlessly.
But that is as far as it goes. The reality on the ground since 2019 is that of a severely fractured relationship, which has, in times without a number, played out in public.
But unlike previous Heads of State who enjoyed sweeping powers to hire and fire their deputies at will, Uhuru's hands are tied and his fate intertwined with Ruto's.
Article 150 of the Constitution on the removal of the DP from office, cites physical or mental incapacity to perform the functions of the office or on impeachment.
The DP can also be removed if he is found guilty of gross violation of a provision of the Constitution, where there are serious reasons to believe that the DP has committed a crime under national or international law or for gross misconduct.
A deputy president can also be removed if a member of the National Assembly, supported by at least a third of all the members, moves a motion for the impeachment and if supported by at least two-thirds of all the members of the National Assembly, the motion moves to the Senate.
Although the 2010 Constitution guarantees the office of the deputy president security of tenure unless in breach on the laid grounds, Ruto finds himself in a unique situation, going by the countless remarks and threats of impeachment.
Based on procedure, Ruto allies have repeatedly challenged Uhuru's and Raila's camp mooting such a move to bring it on, but it has remained just a public utterance not finding its way to the floor of the bi-cameral House.
Yet, Ruto believes the arrows in the quivers of his attackers are quickly diminishing and grows bolder by the day.
There are also claims of a plot to frustrate him by forcing him out of his Karen official residence to undertake repairs and renovation as was the case with the Mombasa residence.
Eviction loading
At one point, his fierce critic and Jubilee Party Vice Chairman David Murathe said his eviction from the hustler mansion was loading. The party's National Management Committee (NMC) resolved to kick him out as the deputy party leader, but it was never ratified by the National Executive Council (NEC) chaired by the president.
The dilemma of this route is that if the DP survived an impeachment, he would be more emboldened and his boss weakened, analysts say.
Analysts and constitutional experts explain that some of the exercisable options the president has are to ask Ruto to resign as he did on Monday night.
Constitutional lawyer Bobby Mkangi and political analyst Barrack Muluka hold this view.
Mkangi said the president has already exercised his only option by asking the DP to resign.
"They came together through a political deal and perhaps need to go back and look at how they united and dissolve their marriage through that process. From what they have been saying, they seem politically bound, as much as they are constitutionally. The same methods they used to negotiate their union should dictate their separation."
Muluka said courtesy of a floundering Jubilee Party, Uhuru's other option was unavailable to him.
"Uhuru would have gone to the party if he wanted to expel Ruto but he has destroyed the party," he said.
Yet, even that would not have evicted Ruto from Harambee House Annex.
"If Jubilee was even able to expel Ruto, he would go to the Judiciary but the president has also antagonised the Judiciary," Muluka said.
"The notion of falling out is an oxymoron, they have never been together. The unions of presidents and their deputies are motivated by convenience."
But Ruto's woes are just a recent embodiment of something that is endemic in Kenyan politics.
Sixteen months after Kenya got independence and Jomo Kenyatta took office, with Jaramogi Oginga Odinga as his vice president, the latter left office.
From a devoted supporter of Kenyatta, Jaramogi would quit following dissatisfaction with the new government's policies, which he considered to be drifting further from democracy.
"Jaramogi and Kenyatta came together in a marriage of convenience, especially for Kenyatta," said Muluka.
"Before he quit, Kenyatta was not assigning Jaramogi any duties. He would come to the office just to read newspapers," says Wiper Secretariat operative Norman Magaya.
Frustrated and disenchanted, Jaramogi put ink to his thoughts in a 103-word letter dated April 4, 1966.
"I have a conscience and this, in fact, does prick me when I earn public money but with no job to do," he wrote in the resignation letter.
Jaramogi would go on to form his own party – a move akin to the formation of the United Democratic Alliance (UDA) captained by DP Ruto – an action that would see an intense onslaught of Jaramogi and his supporters.
State machinery
State machinery trampled on Jaramogi and his supporters while changes were made on electoral and national security laws to balk the political ascension on Odinga.
But at the time, in a country governed by the old Constitution, the president appointed his deputy and the appointee would serve under the mercy of the president, with little option but to do what was required of them by the Head of State.
"When Moi was appointed the deputy president, he never contradicted the president. In State events, he would mostly welcome the president and sit without saying much," recalls Magaya.
Muluka explains that another motivation for the selection of Moi as the DP was to mend the differences between Kenya African Democratic Union (Kadu) and Kenya African National Union (Kanu) and also resolve land issues for squatters from Mount Kenya who would be settled in the Rift Valley.
"When he (Moi) became president, he expected his deputies to always dance to his tune just as he had done," says Magaya.
In these "marriages of convenience", tribal politics played a central role.
"To tame the opposition from Mt Kenya, Kibaki proved a suitable person for the appointment and when he was not convenient to have any longer, it was important to find someone who would be absolutely loyal," says Muluka.
Kibaki served for a little over nine years and was shortly replaced by Josephat Karanja who Muluka describes as "elitist and overbearing".
After 13 years of deputising Moi, Prof George Saitoti was axed from his position in August 2002 after he publicly challenged the president's choice of handpicking then political novice Uhuru Kenyatta as his preferred successor.
In President Kibaki's era, Muluka points out yet another union of convenience, which catapulted Wiper leader Kalonzo Musyoka to the position of DP.
"Kibaki was on weak ground and needed someone to give him a semblance of legitimacy and that is how Kalonzo came in. When the regime ended, they dumped him," says Muluka.
In the current regime, Magaya argues Ruto ought to quit the government – just as Jaramogi did when he fell out with the president – and stop using state resources to advance his political ambitions.
However, Muluka says, "Ruto can't resign. He would lose his leverage. The man is having a ball."
[Additional reporting by Allan Mungai and Brian Otieno]