MP Junet insists he will defend his seat in 2022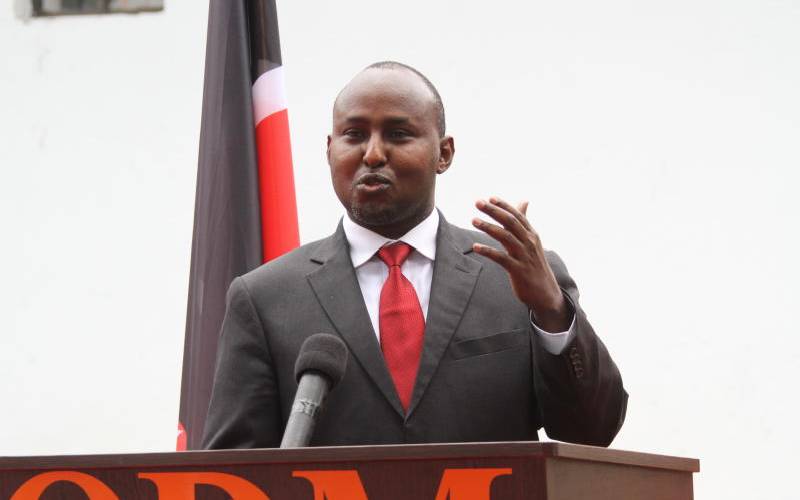 Suna East MP Junet Mohamed has declared he will defend his parliamentary seat for the third time next year.
This was after Orange Party Leader Raila Odinga endorsed him for the seat on Sunday, a move that brought to an end the speculation that he was eying the Migori governor's seat.
Junet, a key ally of Raila and Building Bridges Initiative proponent, has also shrugged off stiff competition he is facing in retaining the seat. "I have no serious competitor," said Junet.
His rivals have accused him of being an absentee MP as he concentrated on drumming up support for Raila and other national activities at the expense of his electorate.
Junet, who hosted Raila at his home, said Orange Democratic Movement (ODM) was still a popular party in Migori despite political overtures by Governor Okoth Obado's People's Development Party (PDP).
He said PDP was a passing wind and will be swept away in the next polls. The meeting that was attended by elders and ODM delegates was seen as meant to help Junet solidify his support.
Greatest battle
"The fact that Suna East has elected Junet for the second term means that Kenyans are united. This is the Kenya we want. We want to give our women and youth equal opportunities. We ought to embrace inter-communal integration so that we may show that Kenya is united," Raila said.
But as the clock ticks towards the 2022 General Elections, Junet could be facing the greatest battle of his political career. Some politicians were hoping that Junet was readying to battle in the Migori gubernatorial race, but he has denied it.
Politicians eyeing the governor seat are Senator Ochillo Ayacko, Women Representative Pamela Odhiambo, former MPs Dalmas Otieno (Rongo), John Pesa (Suna East) and businessman Philip Mwabe.
A section of his supporters also wanted him to succeed Obado while others would like to see him defend his seat.
And in Suna East, a host of politicians have started campaigns in a bid to replace Junet.
The Standard has established that more than six aspirants are marshalling support to replace a man who has proved to the country that minority groups can also crack regional political equations.They include businessmen Bruno Liende and Odipo Jasweta, publisher and educator Hezron Onyango and Samwel Amimo, an environmentalist.
Nairobi MCA Elias Otieno is also in the race to trounce Junet.
But Junet appears to have built a strong grassroots network in the constituency. He also has the backing of the ODM party.
And as a result, aspirants coveting the seat are not sitting pretty and have started grassroots mobilization, backed with active online blogging to woo voters.
Mr Onyango said he believes his passion for education and achievements as a publisher will give him an edge as he claimed Junet has done little to support education.
According to Onyango, 38, the experience he has received while promoting education in Migori has shaped his ambitions and goals for the sub-county.
"I am confident I will dislodge Junet from the parliamentary seat. He has only been painting classrooms but does not have any meaningful development under his belt," said Onyango.
The first major test for the aspirants will be to battle it out with Junet in the primaries for the ODM party ticket.
Obado is also planning to front a candidate on a PDP party ticket to challenge Junet.
The development comes as Obado, who has had a sour relationship with the ODM party for years, began a robust campaign to market PDP.
Obado emphasized the need for the region to embrace a cocktail of other parties to promote democracy.
He urged volunteers to vouch for PDP and challenge other people in his backyard.
"I also want volunteers to come out and defend the party that gives power to the people," said Obado.
Governor Obado's wife comes from the vote-rich Kadika clan in Suna East and this may give the governor an upper hand in the race for Suna East parliamentary seat.
Should Obado use the support he has enjoyed during his tenure to front a candidate, it will change the dynamics of the race and add fuel to what is expected to be a gigantic battle.
Nationally, Junet is hardly a missing figure in all pertinent meetings held by Raila, including some key consultations between the former prime minister and President Uhuru Kenyatta.
He has worked his way up the leadership ladder and defied ethnic odds to establish himself as a trusted ally of Raila. And for the past two elections, his efforts have paid off as he bagged two consecutive wins. He also served as a mayor for two terms.