Lessons galore for Uhuru, Ruto from Kiambaa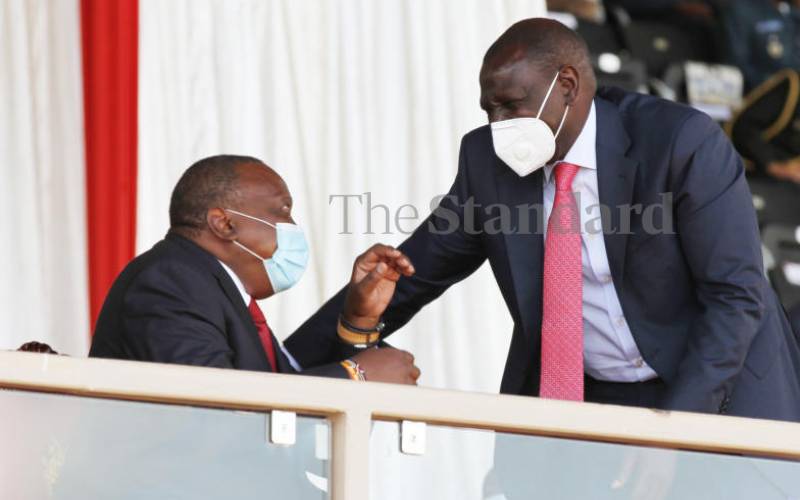 The by-election in Kiambaa where the United Democratic Alliance won on Friday has provided vital lessons for both President Uhuru Kenyatta and Deputy President William Ruto.
As Ruto and his allies savour their victory against Jubilee, the ruling party is being called to introspect and figure out what went wrong; and how it can do better next time after losing two key by-elections.
UDA candidate John Njuguna Wanjiku was declared the winner after defeating Jubilee Kariri Njama in an election that went down to the wire.
Njuguna received 21,773 votes while Njama got 21,263 votes. UDA fell short of their anticipated resounding victory.
Despite better funding and advantages at almost every front, Jubilee's efforts to take back the seat failed.
There were lessons to learn about voter turnout, picking of candidates, Jubilee's popularity, the electoral body's independence and the use of technology to make elections transparent.
But Njama's loss, especially after his dalliance with UDA and making a second stab at the seat has provided a lesson about the choice of candidates.
Njama vied for the seat as an independent candidate in 2017 and got 15,505 votes, coming in second to Jubilee Party's Paul Koinange, who had 60,166 votes.
He opted to vie as an independent candidate as a protest to party primaries he claimed were full of irregularities.
Njama had done well to threaten the dominance of Jubilee in 2017 by scoring major victories in Ndenderu and Gachie.
Independent candidate
Political logic would dictate that the candidate who was the second most popular would be the best alternative in a by-election.
This time, Njama did better to increase his vote tally but it was not enough to earn him the seat he has desired for so long.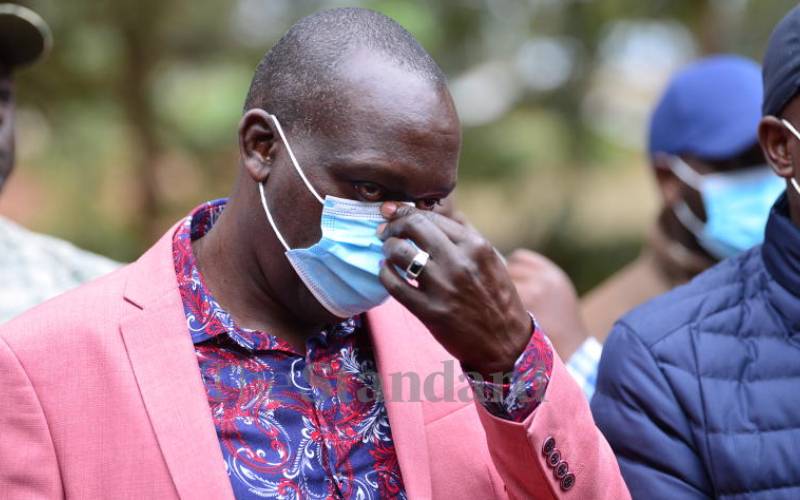 In the face of the challenge by UDA, Jubilee could only give Njama a slim 6,000 vote addition to the tally he acquired in 2017 when he was an independent candidate.
Observers say that Njama's good showing in Kiambaa last Thursday had much to do with his popularity in the constituency and little to do with Jubilee.
"Kariri Njama is a very popular man on his own. Jubilee ticket cost him the seat. Any other Jubilee candidate would not have received 20 per cent of the votes cast," Wehliye Mohamed tweeted.
It is instructive that when Ruto was in Kawaida Playgrounds in February to meet boda boda operators, he was accompanied by both Njama and Njuguna.
When the seat fell vacant following the death of Koinange, Njama was one of the candidates they considered to vie, Murang'a Senator Irungu Kang'ata said yesterday.
"When the MP died, UDA expected that Njama would vie using their party but he was enticed by Jubilee," said Kang'ata.
Last minute
The senator also said that Jubilee's loss in Juja had driven the party into choosing Njama as its flagbearer because he was a strong candidate.
"80 per cent of the votes that he got can be put down to him. He is the kind of candidate who can vie as an independent and win," said Kang'ata.
Another take is that Njama was set up to fail by the conspiring factors of Jubilee's own wrangles and how the campaign was run.
There is a popular belief among constituents in Kiambaa that had he run on any other ticket, or had he been a member of UDA, he would have won.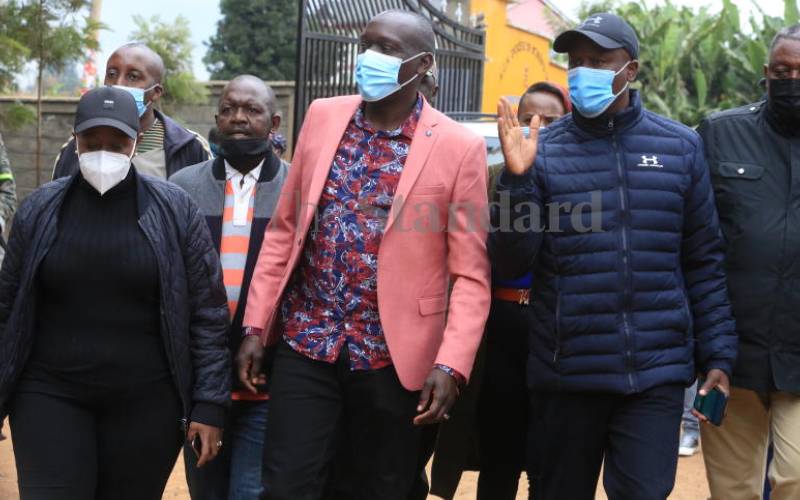 For a county that is home to President Kenyatta, the party leader's endorsement came almost at the last minute when the campaign period was winding down.
"There are people who know Njama from the Jubilee nominations and coming second in the election as an independent.
"We know that he is a performer," said Sandra Njeri, a voter at the Karuri High School polling centre.
There have been indications that John Njuguna was not UDA's choice candidate, or that they had hoped for someone with more clout.
Gatundu South MP Moses Kuria even described Njuguna on Friday as an unlikely candidate.
The two parties also waged a vicious online propaganda war that included fake news intended to influence the votes.
The intensity of the fight had the two parties using desperate means to win the hearts of the voters.
Some of the claims sent during the election were that Jubilee's Njama had withdrawn from the race or that UDA's Njuguna was not a registered voter in Kiambaa. Spin doctors and bloggers hired by the parties used manipulated images on Twitter to show large crowds of supporters.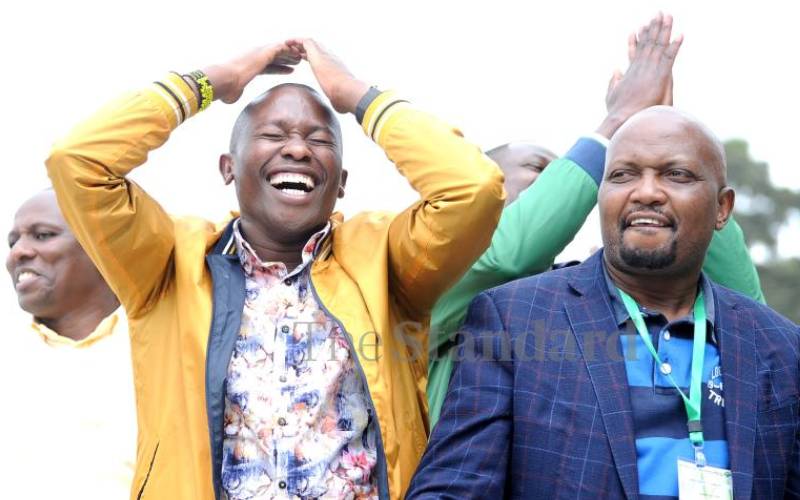 Some of the criticism regarding the manner in which the campaign was handled include the involvement of Nyeri Town MP Ngunjiri Wambugu and Kieni MP Kanini Kega who were blamed for using the platform for their rivalry with Mathira MP Rigathi Gachagua and other members of the TangaTanga wing at the expense of their candidate.
"Where are Ichungwa (and team) now to campaign for their candidate? They can't be seen anywhere near a polling centre because they know we will kick them out of the party," the Nyeri Town MP said at Gachie Primary School polling centre while mocking the UDA-leaning MPs.
That was the consistent theme of the election and which Njama was caught in between.
Party battles
But at the centre of their success was the organisation of UDA's campaign team.
Similar to their strategy in Msambweni and Juja, UDA stationed agents in all the polling stations and instructed them to photograph the result declaration forms and send them to their tallying centre.
The UDA party ran a parallel tallying centre where the results were announced publicly.
UDA hopes that the effects of the wins in Juja and Kiambaa will cascade and bury Jubilee as the dominant party in Mt Kenya.
UDA is attempting to prove that it is a genuine heir of Jubilee as the party battles to clear the impression that it is losing ground in Mt Kenya.
By securing a win in Kiambaa, Ruto was keen to prove that he is a factor in Mt Kenya on his own without Uhuru.
Despite the stakes in the election, the polls were peaceful contrary to the scenes in Kabuchai, Matungu, Bonchari and Juja.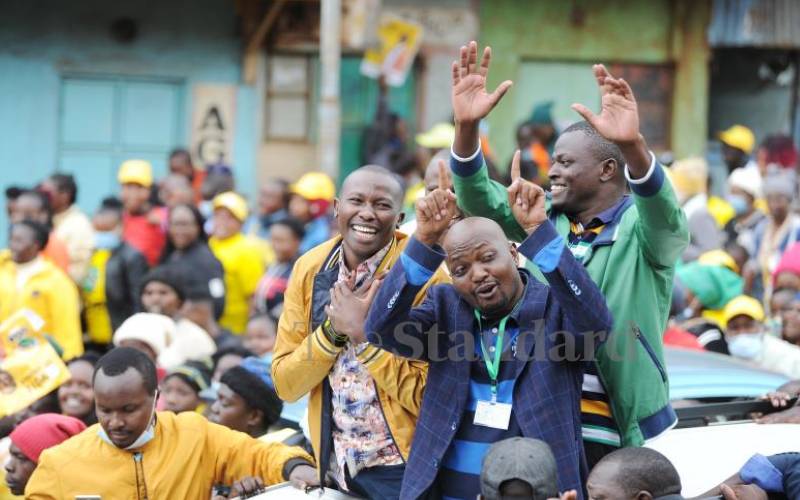 The Independent Electoral and Boundaries Commission has earned praise from observers for the manner in which they handled the by-election.
Commissioner Abdi Guliye spent the better part of the evening overseeing the running of the tallying centre.
IEBC put its foot down regarding the presence of politicians at the polling centres and was quick to call out National Assembly Majority Leader Amos Kimunya whose presence at Kimuga Cattle Dip polling station briefly caused a scene.
Kang'ata said yesterday that the biggest lesson for political parties was in choosing the right candidate.
"There is no doubt that IEBC has done well in Juja and Kiambaa. For the government to lose and by a very small margin, I imagine there must have been pressure on IEBC.
"That is something that we need to recognise,"? Kang'ata said.
But University of Nairobi political analyst Philip Nyinguro believes that it was not so much about the message but the voters choosing between the personalities. "This was about Uhuru and Ruto," he said.
"It had nothing to do with top-down economics or hustlers. There were no ideas, it was strictly personalities."
He argued that the result proved that President Kenyatta had no interest in interfering with the electoral process.
"UDA MPs cried wolf from early on because they expected the government to interfere.
"He had all the instruments to ensure that Jubilee won but he was not interested in manipulating the process in his favour," said Prof Nyinguro.