Mudavadi: Employ the right people at IEBC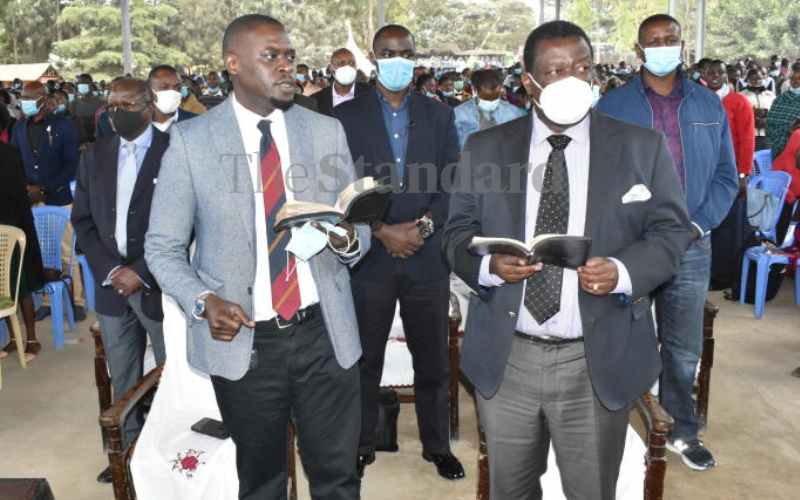 Amani National Congress (ANC) party leader Musalia Mudavadi has called for careful vetting of commissioners to the electoral agency.
Speaking at Mathare SDA Church in Nairobi yesterday, Mudavadi said the Independent Electoral and Boundaries Commission (IEBC) holds the key to peaceful elections and ushering in of the new government.
Thirty-six candidates were shortlisted for the interviews that started this week. The commission is seeking to fill four vacancies. Five candidates have so far been interviewed.
"IEBC should carefully vet all candidates, not just for the commission positions but also the candidates for various elective seats in next year's General Election," Mudavadi said.
The ANC boss said a number of government institutions had personnel of questionable standing who are out to rob the country dry.
"If we are not careful, the thugs and the corrupt are waiting for us in every corner. If we put them in office, our bleeding economy will be worse than it is now. Let us be careful and ask God to help us choose the right leaders. I promise to revive this economy if given that mantle," he told the congregation.
Mudavadi, who has not hidden his ambitions to go for the top seat next year, sought the congregants' support, saying he was the best bet to help fix the country's ailing economy.
"I am reaching out to you to give me your vote to be your next president so that we can together fix our bleeding economy. Choose a leader who minds about our economy. Having been a minister for Finance, I truly know how to fix it," he said.
Mudavadi said his administration will ensure the country is turned from a consumption to a production economy that will create jobs for its people.