Senator Moi urges residents of Kiambaa to vote for Jubilee man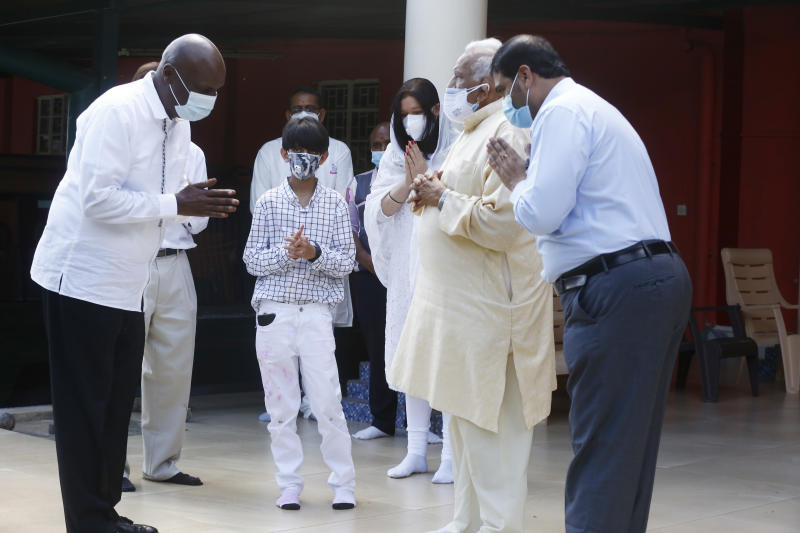 Baringo Senator Gideon Moi has urged Kiambaa voters to rally behind Jubilee candidate Kariri Njama in the by-election slated for July 15.
Senator Moi, who is also the Kanu chairman, called on Kiambaa residents to vote for Mr Njama to enable him fulfill the ruling party's development agenda in the constituency.
"We are here in solidarity with Jubilee candidate in Kiambaa and we are confident he will triumph in the upcoming mini-polls. We are counting on the support of the people of Kiambaa," said Gideon.
At the same time, the senator urged Kiambu MCAs to continue supporting President Uhuru Kenyatta's development agenda.
Addressing over 40 Kiambu MCAs and Kanu leaders in a closed-door meeting yesterday, Gideon said his party remains a strong partner in the cooperation with Jubilee and will continue to support the president's legacy projects.
He reiterated his support for the devolution of resources, particularly to the wards, in a bid to promote development at the grassroots.
"As members of county assemblies, you must guard and promote devolution at the grassroots. We will support you by ensuring ward funds are made available for the benefit of the great people of Kiambu," said the senator.
Meanwhile, the senator yesterday condoled with the family of businessman Patel Mansukh of Solai in Nakuru County.
Mansukh died aged 77 at Aga Khan Hospital on June 29 after a short illness. He was cremated at a crematorium on his Milmet Farm.
The private ceremony was attended by family members and a few associates under strict observance of the guidelines set by the Ministry of Health.
Gideon was accompanied by Tourism Cabinet Secretary Najib Balala, Nakuru Governor Lee Kinyanjui and Bahati MP Kimani Ngunjiri.
The ceremony began with the arrival of the entourage at his home where brief prayers were made then the body was taken to Solai trading centre where he has a business, as per Hindu customs.
Residents and learners from different schools sponsored by Mansukh group of companies lined up along the road to pay their last respects.
Francis Mwaura, a resident, described Mansukh as a pillar to the economy of the area where the family set up a coffee, flower and dairy farm.
"Mansukh's death has hit us as a community. We hoped to live with him longer. If the history of Solai is written, he has a chapter to himself," said Mwaura.
Among Mansukh's corporate social responsibilities include setting up of schools, health centres and opening up of roads in Solai.
He built Patel Day Secondary, Arutani Secondary, Mansukh Patel Primary, Solai Nyakinyua Primary, Bahati Health Centre, Solai Dispensary, among other facilities.
Senator Moi described Mansukh as a hard working businessman and philanthropist who connected well with humble families around him.
Governor Kinyanjui described the business magnate as a trailblazer in empowering the society by mentoring those who sought a share of his knowledge and expertise.
"His farm has employed over 1,500 people. When I last visited the farm, I admired his work ethic and how he was available to mentor others close to him," said Kinyanjui.
Matildah Monterosso, the principal of Arutani Secondary, said Mansukh's contribution to the local community was permanently engraved in the hearts of the locals.
"Many children who would not have had a chance to step into a class got it through him. After building the school, he built us a fully equipped laboratory and donated a bus," said Monterosso.
On the night of May 9, an embankment of a dam at Mansukh's farm collapsed and released more than 50 million litres of water through Nyakinyua, Energy and Nyandarua villages.
At least 220 families were displaced with 48 people losing their lives.
Despite the trail of destruction and an ongoing court battle for compensation, the affected residents have condoled with the family for the loss of the patriarch.
The victims, led by their chairman Philip Koech, said they share in the pain of losing Mansukh for his contribution in the community around his over 3,000-acre dairy and horticultural farm.