Why Governor Wilber Ottichilo is a man under pressure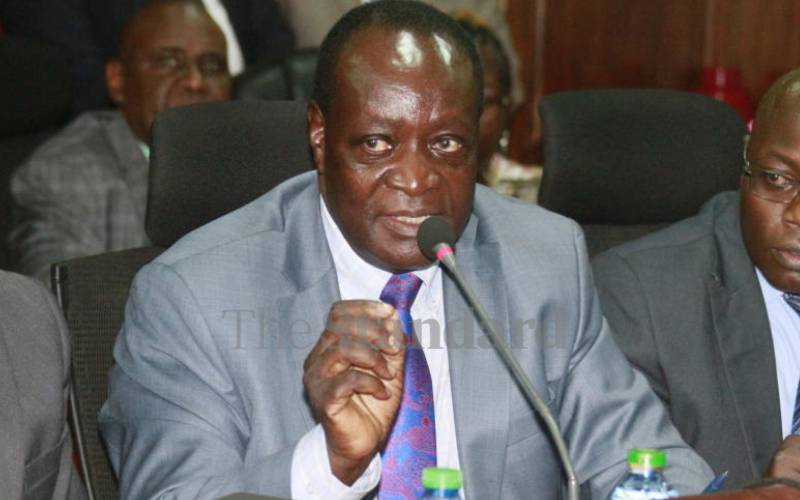 Since Vihiga Governor Wilber Ottichilo was elected into office in 2017, the county boss has been walking a tightrope.
Dr Ottichilo has survived politically by the skin of his teeth for almost four years, having been sued several times by civil society pressure groups and healthcare workers who were employed, sacked, and then reinstated by the court but denied salaries for months.
County employees sacked by Ottichilo's administration also have filed different suits in court challenging their dismissal.
And now, Ottichilo is facing a fresh storm that is threatening to end his political career, after a section of his allies-turned-foes started collecting signatures seeking to dissolve the county government.
The petitioners are Joseph Simekha, ODM coordinator in the county, and Francis Ominde, a former county secretary who was sacked by Ottichilo.
So far, they have collected 60,000 signatures, way above the threshold of 27,000 signatures required. The petitioners claim the governor has employed unqualified staff in senior management positions, presided over theft and plunder of county resources, and is the cause of unending industrial unrest by healthcare workers.
Ottichilo also appears not to be seeing eye to eye with his deputy, Dr Patrick Saisi, who has expressed intention to oust him in the 2022 polls.
Four MCAs also initiated a process to impeach the governor five days ago. The County Assembly last Friday impeached County Executives Dr Amos Kutwa (Health), Paul Mbuni (Lands), Pamela Kimwele (Public Service) and Kenneth Keseko (Trade).
The ward reps initiated the impeachment process for the four executives in May this year, when motions were tabled in the House, which precipitated the formation of an ad hoc committee to investigate them for corruption and professional misconduct in running county affairs.
Last Friday, Vihiga County Assembly Speaker Hasna Mudeizi scheduled a special sitting that was attended by 33 MCAs. It is from this sitting that the four executives were impeached.
According to a source, after word went round that MCAs were plotting the governor's impeachment if he does not sack the impeached executives, he was advised to crack the whip. This necessitated quick action by the governor on Tuesday to sack his trusted lieutenants.
"Following the resolution of the County Assembly of Vihiga approving the report of the select committee to have four of my CEC members dismissed, I have complied and immediately effected the dismissals," said Ottichilo in a presser.
Ottichilo added: "As a consequence of the above action, it has become necessary that I reorganise my government to ensure continuous delivery of service within the departments and in the entire county government," he said.
In the new reshuffle, Ottichilo appointed Prof Justus Inonda Mwanje, the Transport Executive, as the acting Health Minister in place of Dr Kutwa. Mary Amalemba, the Environment boss, will also head the Public Administration docket in an acting capacity.
Ottichilo also reshuffled his chief officers. Lucy Ijai who has been heading the Lands and Physical Planning department will now be the chief officer of Public Administration.