Damaged. Dismembered. Destroyed: DP Ruto on Jubilee party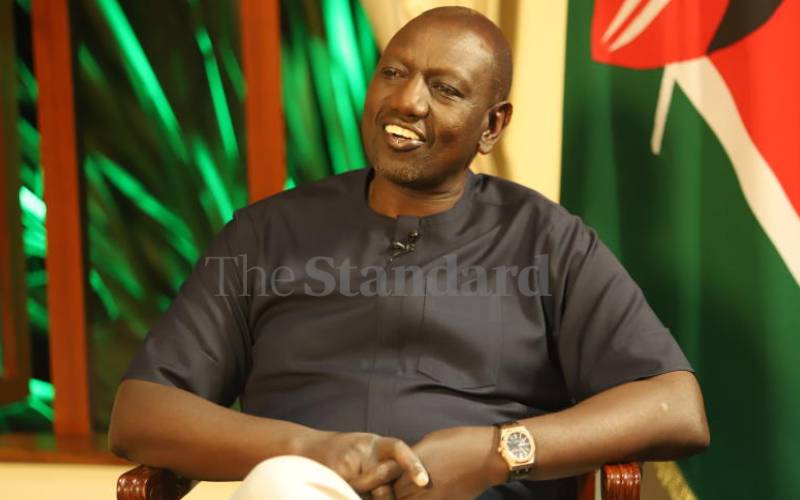 "Jubilee is badly damaged," these were the words of Deputy President William Ruto on whether the party is on the right track in pushing for democracy and the country's development.
Speaking on KTN News on Thursday night, the DP said Jubilee is concentrating on individuals and tribes.
"We need to judge leaders, not against the region or community they come from, but on their party philosophy and position on issues to transform the country."
He said a president should not represent a tribe or community, but an entire country.
The DP added that it would be "tragic" to merge ODM and Jubilee.
"How do you take a party that has 200+ MPs, senators, governors and MCAs and [make such decisions] without consultation? They deserve to be involved in such a decision."
Ruto is walking a tight rope as he navigates building a political party to use in his presidential bid and having to resign from Jubilee at least eight months before the general election.
After an acrimonious political fallout with President Uhuru Kenyatta, Dr Ruto, a Jubilee deputy party leader has gradually been edged out. He has since come to terms with the inevitable reality of having to ride on a new party - the United Democratic Alliance (UDA).
But he has since said he is ready for the planned coalition between Jubilee and ODM parties.
"I have heard them talk about Jubilee and ODM coming together. Let them know we are not bothered. We have our own hustlers party that has no tribal or regional boundaries. We are okay where we are," he said at a past function in Kapenguria.
"These people have destroyed Jubilee, which was a national party. Now they want to tell us that everyone to establish a regional party, the UDA is for Kenya and cannot fit in a particular ethnic group."
Ruto said there are people who have hijacked Jubilee party and are doing with it as they please.
The DP said Jubilee has been destroyed by people who do not appreciate that the way to de-ethinicise politics is to organise politics and parties.
He described the goings-on in Jubilee as a haemorrhage.
But the DP says he has plans to build a national political party that will "bring Kenyans together".
He said part of the problem with Jubilee is that there has never been constructive engagement, a party retreat, meeting or PG.
"A party is built on trust. You must work with people, not underestimate them. Don't look down on people, even the smallest in the party have something to say."
The DP said the Jubilee he spent so much time, energy, resources and emotion putting together has been "dismembered and destroyed".
He said Jubilee was almost successful, to the point of inspiring the creation of NASA.
"NASA was created because we put a lot of pressure on the small parties when we created Jubilee.
"Jubilee became so big that ODM, Wiper, Ford Kenya and ANC became too scared to run in a contest with it."
Ruto said an ideal Kenya would have two main national parties -- Jubilee and NASA. "We would then not need to have the small tribal parties."
"I saw that we weren't making the right party decisions, but when I went to the party headquarters it was construed in a ridiculous manner to say I wanted to take over the party," the DP said.
Ruto said although he is part of the problematic Jubilee, there are people who were trusted with its leadership but let the party down and destroyed it.