Joho, Mvurya and Kingi succession races hot up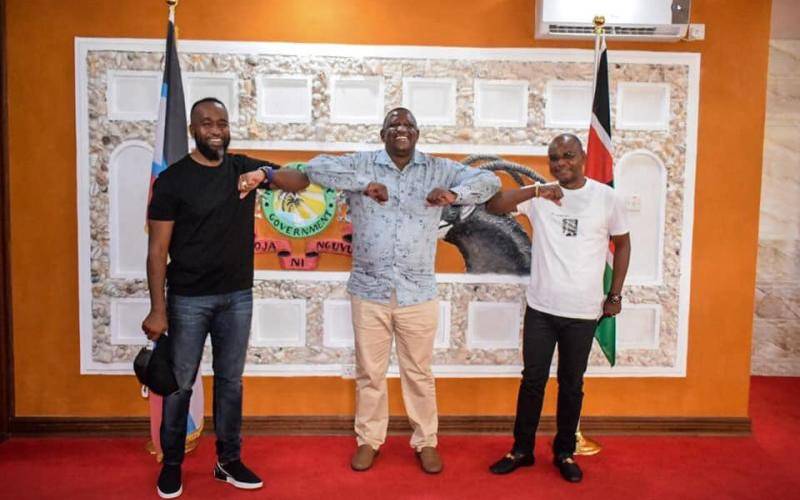 The succession battle in Kwale, Mombasa and Kilifi counties is shaping up, with each hopeful putting the best foot forward as the clock ticks towards next year's General Election.
In Kwale, Governor Salim Mvurya has settled on his deputy Fatuma Achani unlike his Mombasa counterpart Hassan Joho and Kilifi's Amason Kingi who are yet to name their preferred candidates.
Mvurya's headache is that he has not settled for a political party that would give his deputy a ticket in 2022. Last year, he declared he would shift to Deputy President William Ruto's camp.
On the other hand, Joho has not been clear whether he will back Mvita MP Abdulsawamad Nassir, his deputy William Kingi or erstwhile rival Suleiman Shahbal who recently defected from Jubilee to ODM.
In Kilifi, Kingi has stirred bitter rivalry among aspirants, with allies shifting camps.
The race has narrowed down to three main contenders – Malindi MP Aisha Jumwa who has identified United Democratic Alliance (UDA) party as her vehicle, Devolution Chief Administrative Secretary (CAS) Gideon Mung'aro who is keen to run on an ODM ticket despite being a Jubilee Party member and Kilifi County Assembly Speaker Jimmy Kahindi who now has the backing of Governor Kingi and at least four local MPs.
Kahindi is touted to vie on a party that is being assembled by Kingi.
Mvurya and Achani were close to Ruto until recently when Lunga Lunga MP and governor aspirant Khatib Mwashetani appeared to edge them out of UDA.
Mvurya and Mwashetani were elected on a Jubilee ticket but have had frosty relations following the governor's unwavering support for his deputy's bid to succeed him.
Although Achani has not hit the ground running, Mvurya has turned to be her main campaigner and fierce defender.
Mvurya wants Achani to carry on his legacy and has been fighting off political challenge from Kenya Ports Authority (KPA) Engineer Lung'anzi Chai Managale, Agriculture Principal Secretary Hamad Boga and Mwashetani.
Prof Boga and Managale are yet to disclose their political parties even as their teams intensify their bidding on the ground.
Also giving Mvurya and Achani headache is County Assembly Speaker Sammy Ruwa, an ODM member who enjoys the backing of a number of MCAs.
Other likely contenders are former Cabinet Minister and Wiper National Chairman Chirau Ali Mwakwere and the 2017 ODM governor candidate Issa Chipera.
Last week, Mvurya told a public meeting at Bilashaka Primary School that he was supporting his deputy so as to ensure continuity in service delivery, warning residents not to go for someone else as that would disrupt development.
"I will stand by Fatuma Achani. I do not believe the other aspirants can deliver to the people," he said.
But Prof Boga insisted he is the best man for the job.
In Kilifi, MPs behind Kahindi include Kaloleni's Paul Katana, Kilifi South's Ken Chonga, Magarini's Michael Kingi and William Kamoti of Rabai while Owen Baya of Kilifi North has thrown his weight behind Jumwa just days after he had indicated he would support Kahindi.
Ganze MP Teddy Mwambire, who is also the ODM vice chair in Kilifi County, however, warned those who have started early campaigns, saying they will be shocked come election time.