Are Uhuru's Nyanza projects tokenism or real development for larger Western Kenya region?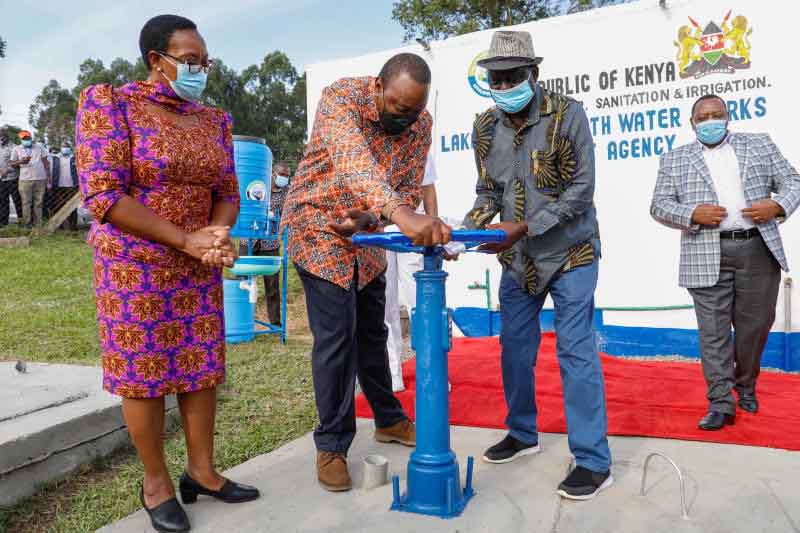 There is no denying that some of the projects in President Uhuru Kenyatta's bag of goodies that he unveiled ahead of last Tuesday's Madaraka Day celebrations will neither be executed within the lakeside city of Kisumu nor the Luo-Nyanza region.
Yet still the president's tour and gesture were largely fashioned as a Luo-Nyanza affair, which begs a host of questions.
How and why was Uhuru's tour of Nyanza fashioned as a development mission specifically for Luo-Nyanza and by whom?
And why didn't the Orange Democratic Movement (ODM) leader Raila Odinga, who is the political kingpin in the region, instead project it as a wider western region development agenda – a move that would have best suited his political interests in solidifying his support among the Luo, Luhya, Kisii and Kuria communities?
Or was this a missed opportunity, oversight or a strategic move with desired results?
Reached for comment, officials at the former Prime Minister and other leaders of the Orange party were cagey on the subject.
Raila's spokesman Dennis Onyango refused to be drawn into the discussion of the president's Kisumu trip.
Ugunja MP Opiyo Wandayi, who is also the Orange party's Secretary for Political Affairs, nonetheless concedes that last weekend's events were tagged a "Luo-Nyanza affair" to either create disfavour between Raila and the neighbouring communities of Luhya, Kisii and Kuria or solidify his Luo-Nyanza backyard.
"Otherwise Luo-Nyanza does not exist in isolation. The identified projects are meant to benefit residents of the entire western Kenya region and MPs from Nyanza only took a lead role because Uhuru was visiting for the Madaraka Day event," explained Wandayi.
But pundits like Prof Amukowa Anangwe believe Raila deliberately lobbied in favour of Luo-Nyanza.
According to the political scientist, the ODM leader probably got carried away and missed the opportunity to play politics by roping in leaders from neighbouring communities who, for the last two decades, have comprised his political constituency.
"The Raila we know projects himself as a nationalist and descendant of the Luhya," claims the former Cabinet Minister and MP for Butere.
"But this time around, the Luo got the better part of Raila and the great-great grandson of Nabongo Mumia (17th King of the Wanga Kingdom of the Luhya community, during pre-colonial era) in him vanished."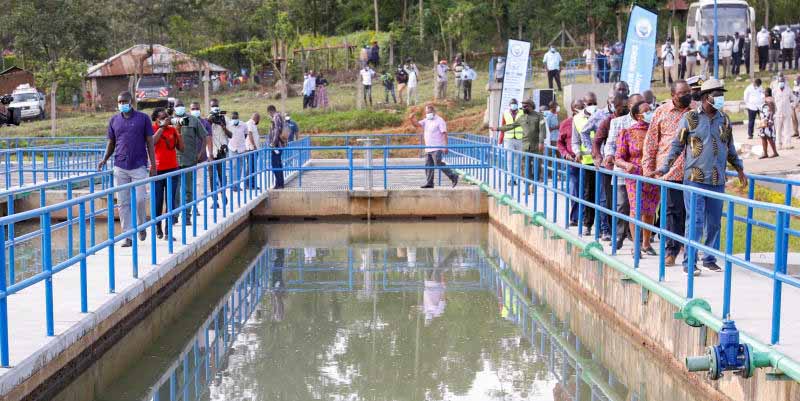 Among the projects lined up for execution include the railway line to Butere in Kakamega County, development of four feeder ports including Sio Port in Funyula, Busia County, commissioning of the African Development Bank-funded Sirari Corridor tarmac road to Kisii town and the Isebania-Ikerege-Kehancha-Ntimaru-Gwitembe-Ang'ata-Lolgorian Road in Kuria District, Migori County.
Other projects, including the refurbished Kisumu Port and the expansion of the Kisumu International Airport, are national strategic projects geared at serving all in the western Kenya region and beyond.
The projects are also meant to uplift the lake-side city to a regional economic hub and expand trade across the East Africa region.
These few projects notwithstanding, the impression that the Uhuru trip was a Luo-Nyanza affair took shape when the president invited the ODM leader alongside MPs from Luo-Nyanza to State House in Nairobi.
Speaking to journalists, Seme MP James Nyikal, who is chair of the Luo MPs Caucus, confined himself to the development agenda of the four counties of Kisumu, Siaya, Homa Bay and Migori.
Pointedly, governors from the said counties of Luo-Nyanza were at State House.
Wandayi, however, maintains the trip was not a Luo-Nyanza affair.
"Nobody fashioned it that way – not us (MPs from the region), not our party leader and of course not the President," he said.
Political sideshows aside, Dr Richard Bosire points out that the economic benefits for locals are real and stretch far.
As Dr Bosire puts it metaphorically, "when a giant tree sprouts in the neighbourhood, everyone benefits from its shade or leaves and branches which fall off".
And this, according to the political scientist, is the message that Raila is sending to his supporters across the larger western Kenya region.
"Raila's focus on Luo-Nyanza may not have been accidental. It was meant to endear him to his core constituency by demonstrating that the handshake with Uhuru was indeed an avenue to the much sought-after development in the region," says Bosire.
The University of Nairobi lecturer further opines that Uhuru's handshake partner "was a little bit selfish" in focusing on his political home turf alone.
With emerging rivalry from the likes of Amani National Congress (ANC) leader Musalia Mudavadi, Bosire argues that Raila did not want to give much political highlight to the Kisumu event, including roping in leaders from neighbouring regions.
"Right now, for instance, Mudavadi is on a spot from some of his supporters for not similarly lobbying for development projects for his people.
"It is the kind of comparative analysis that paints Raila as more influential within government circles and development conscious, and one that that may have been strategically thought out," Bosire says.
However, Prof Anangwe thinks differently.
This approach, he claims, was designed by the president, "who is keener on personalising national projects" by extending so-called favours to Raila and his rural community, "as a means of paying back political debts or investing in a political future."
"Uhuru wants safe passage to Gatundu as he retires in one year's time.
"So ideally, he is playing games with politicians who can guarantee him this passage and Raila might not be the last," says the former minister.
Whichever way one views it, Prof Anangwe's explanation amounts to tokenism, which defeats the very spirit of devolved system of government.
The notion behind devolution is bring governance and development closer to the people, as opposed to dangling goodies from the national government, with clear strings attached.