Uhuru recasts Big Four agenda as tenure nears end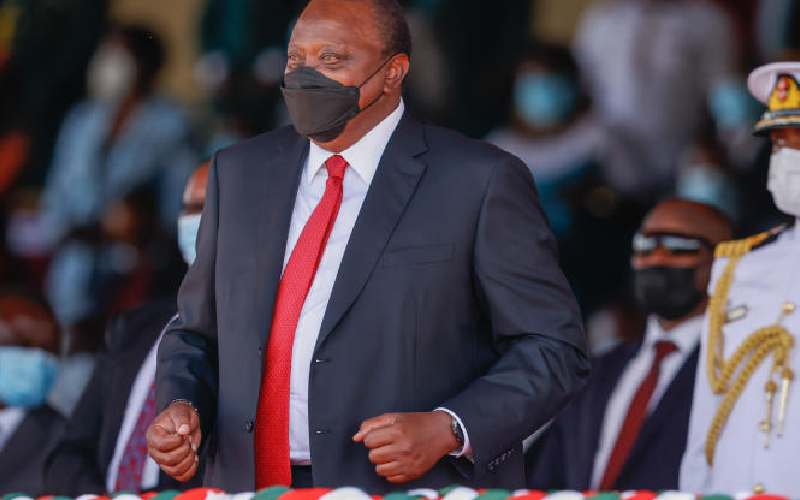 The government is re-modeling the Big Four Agenda as President Uhuru Kenyatta's tenure approaches the twilight days. The priority is now on economic acceleration, political stability, large infrastructure investments and restoration of dignity.
President Kenyatta is taking a new direction on food security, affordable housing, manufacturing and affordable healthcare which were the distinguishing characteristics of his second term in office.
The government has recast the Big Four agenda, whittling it down and introducing a new dimension - political stability.
In his speech during the Madaraka Day celebrations in Kisumu, was the president was eager to get the public see things from his point of view - that the country needed investment in big infrastructure projects as well economic acceleration.
His new vision encompasses projects such as the Nairobi Metropolitan Services, revival of key infrastructure such as roads, railways and shipping yards, all of which now inform the government's investments.
The government has revived the 200km Nairobi-Nanyuki railway, Port of Kisumu, reconditioned the MV Uhuru vessel and commissioned Lamu Port.
While the government has been criticised for borrowing heavily to finance the infrastructure projects, Uhuru said he was laying ground for economic take-off.
"Many Kenyans have asked why my administration is investing in big infrastructure projects. Why the roads, the rails, and the ports?" he said.
"…our brick-and-mortar investments of roads, rail and ports are not the dreams. The dream is what the "Big Push Investments" will do for Kenya, and how they will transform our standing in the community of nations. And form the basis of national prosperity and creation of decent and steady jobs for our people," he said.
Uhuru's address told of a new policy shift from a government whose primary focus since his re-election in 2017 has been promoting an initiative to change the law.
One of the government's key agenda, especially since Uhuru's rapprochement with ODM leader Raila Odinga, has been the Building Bridges Initiative (BBI) which Uhuru said was to avert crises from political instability.
Now the government is also formally including the BBI in its blueprint and Uhuru is pegging the assured political stability of the country on BBI.
However, he believes an impediment to the country achieving political stability is Kenyans' fear for change.
"But we cannot engage in political stabilisation if we live in political denial. For instance, everyone knows that BBI is good. It is good for our country. It is even good for those unhappy with it," he said.
Uhuru said Kenya had made politics the heat and light of its national existence. "Instead, we must endeavour to pursue political stabilisation by any means necessary. I say so because stability is the life-blood of our Republic," he said.
He added: "They oppose BBI not because of its substance; which even its harshest critics concede is good, but because, they cannot dare imagine a better Kenya for all."
The government's new plan is a hybrid bringing together other schemes such as affordable healthcare with a plan to afford Kenyans basic dignities like quality and decent medical care.
It also puts into perspective Uhuru's relentless backing of NMS - the body running Nairobi - whose plans he categorised under Big Push Investments.
NMS investments in medical infrastructure such as the construction of hospitals in informal settlements and investments in healthcare by providing essential equipment like dialysis machines.
"If dignity is 'freedom from want', then we have restored it using our health interventions; in fact, we have accelerated it," said Uhuru.
The government is continuing with its bid to reform the health sector through the National Hospital Insurance Fund (NHIF) Amendment Bill, 2021 which will change health insurance administration.
Winnie Mitula, a governance expert, said the four frames all build towards the Big Four agenda.
"They are not really a huge departure. They are elaborate but have an overarching issue," she said.
She also noted that aside from political stability, Uhuru was basically highlighting what his government has done since 2012. "The four frames are just documenting what has happened in the last eight years and showing where we want to go," she said.