Tough Amos Kimunya finally resigns to fate as Jubilee Party learns tough lesson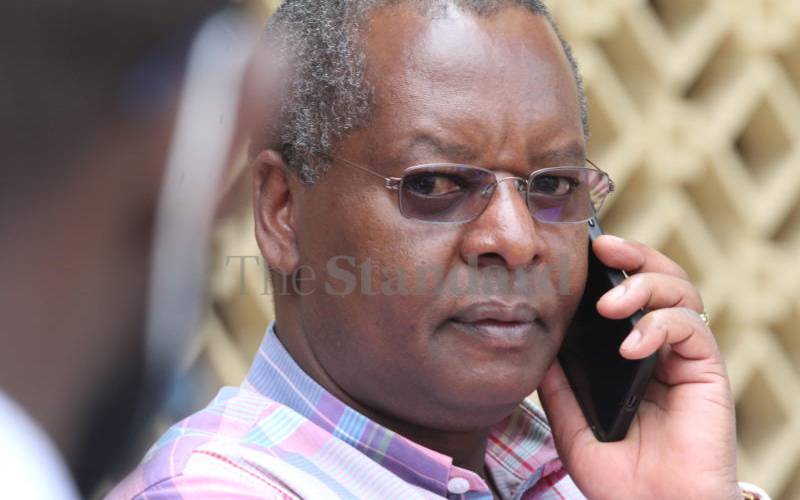 Amos Muhinga Kimunya is no stranger to controversy going by his past remarks. His latest, being his resolve to resign as National Assembly Majority Leader if United Democratic Alliance (UDA) candidate Francis Githaiga wins the Rurii Ward by-election. UDA is associated with Deputy President William Ruto.
But it seems the Kipipiri legislator's fiery tongue always puts him in the line of fire. On Thursday, the National Assembly WhatsApp group was awash with calls to Mr Kimunya to make good his threat, after Jubilee's Peter Thinji lost to Githaiga.
Hours after the results were announced, the Majority Leader made a u-turn arguing that those were just political sentiments and that he had not consulted people of Kipipiri.
"There must be public participation. I have not been left to face the consequences. I did not consult people of Kipipiri," he said on social media as he congratulated the winner.
Kimunya was captured on video saying: "I am the Jubilee Majority leader, this is our home and outsiders should not decide for us. Let us win this Rurii Ward by-election by 99 per cent so that those outsiders (UDA) trying to come here can be taught a lesson. Nyandarua is our home. If we lose in Rurii, I should just resign."
Kimunya is remembered for the statement, "I would rather die than resign" at the height of the probe of the sale of the Grand Regency hotel, now Laico Regency to Libyan firm in 2008, by the Public Accounts Committee (PAC) chaired then by Senator Boni Khalwale.
But in a dramatic turn of events, he quit the Cabinet on July 8, 2008, just a few days after making the statement.
On November 25, 2008, he was cleared of any wrongdoing. The commission's report was not made public.
Kimunya was appointed to the Transport ministry in 2009, but trouble still followed him. The PAC grilled the MP who was Finance Minister between February 2006 and July 2008 over shadowy deals on currency printing through which taxpayers lost an estimated Sh3 billion.
The Majority Leader, elected to Parliament in 2006, was at one point former President Kibaki's blue-eyed boy, and some believed he would succeed him in Mt Kenya region.
When he lost his Kipipiri seat in 2013 after ten years, he wrote to his constituents calling them a thankless lot.
An aggrieved Kimunya, in a letter submitted to the returning officer, said his development record spoke for itself, but thankless constituents still voted him out. "I am very disappointed that the people of Kipipiri did not appreciate my development record," read the letter in part.
He recapture the seat in 2017.
Kimunya was censured by the House in 2008 and 2009 during proceedings, with only former Nominated MP Rachael Shebesh urging members to wait for the report by EACC.
"We were shocked as committee members to hear about De La Rue directors and Kimunya said they were so patriotic that they wanted to save 260 jobs at the firm. Where was that same patriotism when the same minister was killing 1,700 jobs at Telecom Kenya?" said former Ikolomani MP Bonny Khalwale.
Kimunya responded: "I have been referred to as having connived to share loots, to share some spoils and that in my understanding is not right. Mr Speaker protect my reputation."
In 2020 after endorsement by Jubilee as Majority Leader, Kimunya was expected to lead the ruling coalition's troops in the National Assembly but has already had a run-in on numerous occasions with others mooting his impeachment.
In the controversial cancellation of contract to rehabilitate the Jomo Kenyatta International Airport when he was Lands minister, then Belgut MP Charles Keter asked: "Why is it that every ministry he goes there are issues. At the Lands Ministry he termed title deeds pieces of paper. Now he is in the Ministry of Transport there are issues."
And when the controversial Standard Gauge Railway tender came up, Public Investment Committee (PIC) summoned Kimunya but the House team termed him a hostile witness.
"I have come at the expense of making my money. All of you seated here, will be paid an allowance after this. Let's have some honour," the Kipipiri MP said.
Adan Keynan responded, "I am the chairman and I will rule you out of order."
But Kimunya responded: "No Mr chairman, you are out of order."