ODM man Pavel Oimeke wins closely fought Bonchari by-election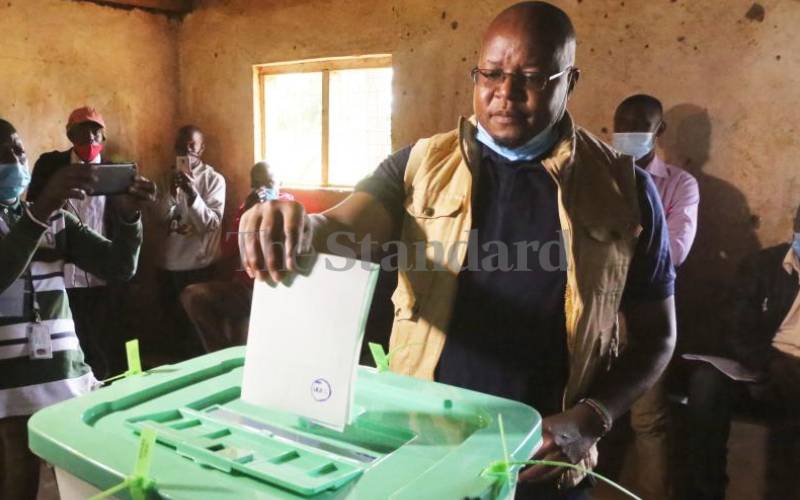 The Orange Democratic Movement, United Democratic Alliance and the Jubilee Party were last evening engaged in a tight battle for the Bonchari parliamentary seat as the ODM recorded a victory.
Confirmed results show ODM flagbearer Pavel Oimeke won the race with 8,049 votes, followed by Jubilee Party's Zebedeo Opore, who garnered 7,279 votes, while UDA's Teresa Bitutu came third with 6,964 votes.
The voter turn-out stood at 50 per cent, with 52,955 constituents casting their ballot.
Following Oimeke's win, ODM, which is regarded as a dominant political party in Nyanza, won its first National Assembly seat in Kisii County after walking away empty-handed in the 2017 General Election despite bagging the gubernatorial, senatorial and woman rep slots.
UDA, which is associated with Deputy President William Ruto, has been testing the waters in recent by-elections to gauge the DP's popularity ahead of the 2022 elections.
Ruto and his handlers were keen to use the Bonchari by-election, which followed the death of MP John Oroo Oyioka, to penetrate ODM leader Raila Odinga's Nyanza base.
Raila and ODM, which is regarded as the second-most popular party in the country after Jubilee, have been battling to retain the near-fanatical support that the former PM enjoyed in Nyanza and parts of Western, Coast and Nairobi in previous elections ahead of next year's presidential duel.
On the other hand, Interior Cabinet Secretary Fred Matiang'i – who despite being a technocrat is seen as the party's face in Gusiiland – also wanted to use the Bonchari polls to gauge his popularity and catapult him to national politics.
The mini-poll offered him an opportunity to consolidate his support in the region, bolster his efforts to be the Gusii community kingpin, catapult him to national politics and boost his ambition of vying for the presidency.
Although Matiang'i has not officially declared interest in the presidency, some of his colleagues in the Cabinet have been vouching for him.
A number of local MPs have also been campaigning for Matiang'i who is seen as President Uhuru Kenyatta's point man in the Gusii region.
Prior to the Bonchari by-election, plans were afoot to install the Interior CS as the Gusii community spokesman.
It had earlier been thought Jubilee Party would not field a candidate in Bonchari, but Matiang'i is said to have made a last-minute intervention for former MP Zedekiah Opore, 74, to carry the party's flag.
Following Handshake between Uhuru and Orange Democratic Movement (ODM) leader Raila Odinga, Jubilee and ODM had fronted joint candidates in the previous by-elections.
A meeting convened by Matiang'i at his office and attended by Kisii Governor James Ongwae, Senator Sam Ongeri and ODM treasurer Timothy Bosire before the by-election, failed to hammer out a deal on a Handshake candidate for the by-election.
Bosire is said to have stood his ground and insisted that his party was not ready to withdraw their candidate.
Later, without divulging details of the meeting, Bosire said that the Handshake had a definite job of uniting the country.
"ODM party has been receiving overwhelming support in Gusii and we will battle to win the seat," he said.
Following the meeting at Matiang'i's office, the ODM leaders from Gusii later met party leader Raila at his Karen home and he assured them of his support for the party candidate.
Opore also enjoyed the support of One Kenya Alliance parties of Kanu, led by its chair Gideon Moi, ANC of Musalia Mudavadi), Wiper led by Kalonzo Musyoka and Ford-K of Moses Wetangula.
Matiang'i's handlers who spoke to The Standard said he was keen on using the by-election to gauge his political muscle ahead of 2022.
Although the CS did not publicly campaign for Opore, he is said to have held meetings to strategise on Jubilee Party win and left his allies in the region to market the ruling candidate as the best bet.
There was heavy deployment of security personnel to oversee the by-election and ODM accused Matiang'i of using chiefs and county commissioners to harass the party members and coerce locals to back Opore.
Political commentator Nyaga Kindiki said Matiang'i was using all means for his favoured candidate to win as a precursor to what will happen in 2022.
"He (Matiang'i) is using Bonchari to popularise himself nationally," Prof Kindiki said, adding that the CS had an uphill task to compete with United Democratic Alliance (UDA), which he said, enjoys favourable support in an area perceived as an ODM stronghold.
Kindiki said although a win for Jubilee will give Matiang'i some political mileage, he is still a political greenhorn.
He noted that he is disadvantaged by the low number of voters from his Gusii community and that he has to battle it out with ODM for control of Nyanza.
Raila, Kindiki said, enjoys near-fanatical support in Luo Nyanza and will still sway the community in the next election even if he does not vie for presidency.
Development projects
Matiang'i has been quietly working to consolidate his support in Gusii land and spreading his network in the larger Nyanza through meetings with local leaders to 'discuss development.'
And through this, a number of development projects have been done especially in Kisii and Nyamira counties including the Ahero-Kisii-Isebania road.
But it is the detailed campaigns in Bonchari by Matiangi's associates that demonstrated the CS's intentions to make a debut in the 2022 presidential political contest with his supporters vouching for him to be the candidate due to his success in ministries he has headed.
The CS appears to have registered a turnaround of fortunes with most of the Gusii professionals in the region now endorsing him for the presidency in 2022.
Matiang'i has also been counting on his oversight role on development projects across the country to favour him politically.
His chairing of the Cabinet committee on development also gives him a head-start.
Local MPs allied to Matiang'i led by Jimmy Angwenyi (Kitutu Chache North) and Richard Onyonka (Kitutu Chache South) spearheaded Opore's campaigns.
Onyonka was elected on the Ford Kenya party ticket while Angwenyi is one of the two MPs elected on Jubilee Party ticket in Kisii County, an area that usually favours candidates from fringe parties.
Despite not having openly campaigned for the Jubilee candidate, signs were clear that the CS was out to stamp his authority in his backyard.
Onyonka has been vocal on the need to have an individual from the community ascend to the country's top seat.
"We have enough numbers that can propel us to the top position. We want to sit at the negotiating table," he said.
However, Matiang'i could be facing rebellion from a section of leaders, the majority elected on an ODM party ticket. The by-election could have been catalyst in the silent wars between the leaders and the CS.
The ODM leaders have remained loyal to the party and their boss Raila.
The leaders including Kisii Governor James Ongwae, Senator Prof Sam Ongeri, Woman Representative Janet Ongera and former MP Timothy Bosire have been pushing Raila's agenda.
The Orange party accused the police of raiding Governor Ongwae's residence and preventing Bosire, who was ODM's chief agent, from leaving a hotel in Kisii yesterday.
But Nyamira Governor Amos Nyaribo defended Matiang'i. "It is important to note that the National Police Service (NPS) has its own structure of operations and command and not everything which is done by its officers comes from the Interior CS," Nyaribo said.
Raila's decision to field a candidate is seen as a strategic political move to stamp the party's authority in the Kisii region to ward off DP Ruto's UDA party from making inroads.
Other candidates in the race were Eric Oigo of National Reconstruction Alliance, David Ogega of Kenya Social Congress, former Woman Representative Mary Otara of Green Movement Party, Margaret Nyabuto of Maendeleo Chap Chap and Kevin Mosomi of Party of Democracy and Unity.
Others were Victor Omanwa of Party of Economic Democracy, Jonah Ondieki of The New Democrats, Charles Mogaka of Progressive Party of Kenya, Paul Matagaro of Mwangaza Tu Party and Agano's Jeremiah Atancha.