Ruto, Raila and Matiang'i lock horns in Bonchari by-election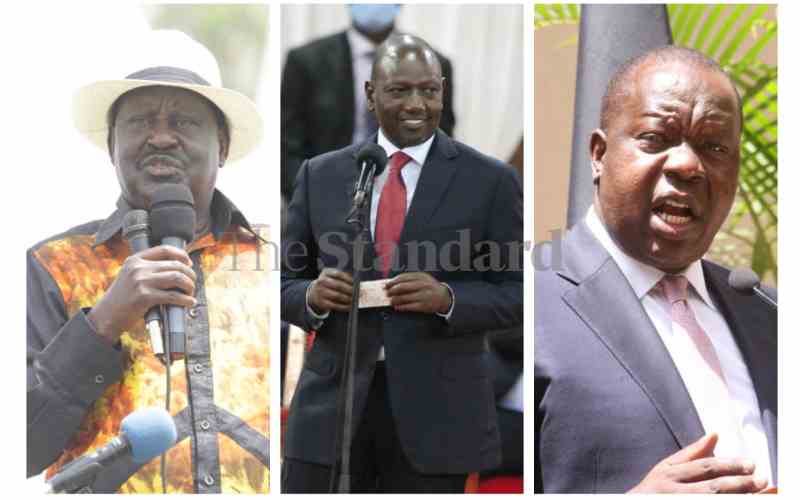 The political heavyweights meet again at the Bonchari by-election today as each party aims for a win for their candidates.
Yesterday, the Independent Electoral and Boundaries Commission was finalizing plans for the by-elections that has attracted 13 candidates.
In this parliamentary battle which pits Deputy President William Ruto, ODM party leader Raila Odinga and Interior and Coordination Cabinet Secretary Dr Fred Matiang'i, each of them is hoping to make a political statement 14 months to the General Elections.
The ruling Jubilee Party, ODM, UDA and Maendeleo Chap Chap are among those that have fielded candidates in the by-election occasioned by the death of area MP John Oroo Oyioka.
Ruto-allied party fronted Teresa Bitutu widow of the former MP while Raila's party has fronted Pavel Oimeke and Jubilee candidate in the by-election is former area MP Zebedeo John Opore.
The Gusii region has been known to see fringe parties triumph in elections as so-called big parties are left high and dry.
Despite winning the Kisii gubernatorial, senatorial and woman rep seats, ODM emerged empty-handed in constituency seats with no parliamentary canddate in the area winning on the Orange ticket in 2017.
While ODM is seeking to consolidate its support in Kisii which is regarded as its base, Matiang'i is said to be keen on ensuring Jubilee Party wins to weigh his support in the area.
After failing to win in the recent Kabuchai and Matungu by-elections, Ruto has been working to use the Bonchari polls to penetrate Nyanza ahead of 2022 ballot.
Due to the Covid-19 restrictions imposed by the Ministry of Health, the candidates mainly conducted door-to-door campaigns to win locals support as major political gatherings were banned.
Jubilee Party which has fielded a candidate against its handshake partner ODM. The Orange party and UDA are touted as frontrunners for the seat but other small parties and independent candidates have promised to give them a run for their money.
Opore, 74, was first elected to represent the Bonchari Constituency in the 1997 and also served as Assistant Minister in the Ministry of Information and Broadcasting. He lost the seat in the 2007 elections.
In June 2014, he won the Bonchari parliamentary by-election seat with 10,947 votes against the late John Oyioka Oroo ODM. Oroo had garnered 6,977.
ODM and UDA have accused the government of using state machinery to support Opore in the by-election including chiefs who were giving the candidate leverage.
Opore who says if elected, his priority will be to improve schools and road infrastructure. "I have enough experience to steer the constituency to the next level," he said.
On her part, Bitutu, who is riding on her husband's previous victory has called on the electorates to wipe away her tears following the death of her husband by electing her.
"I am ready to complete all the projects he had initiated and in 2022 General Election the people can evaluate my performance," Bitutu said.
Bitutu has been overseeing operations at the family's private teachers' college St Angelic, located in Suneka town within the constituency.
Great plans
Oimeke, a former Director General Energy and Petroleum Regulatory Commission is credited with having helped a number of youths from the constituency to gain formal employment. He also held several fund drives in the area in support of constriction of churches and improving school infrastructure
"I have great plans in improving our agricultural sector through value addition, support our youth secure employment opportunities as well as have them establish private enterprises. I will also complete all projects commenced by the former MPs," Oimeke said.
Other candidates include two other women seeking to break the community's patriarchal nature for the National Assembly seats. Margaret Nyabuto of Maendeleo Chap Chap (MCC) is making her debut in Kisii politics.
"I am not here on grounds because I am a woman. I have gone to school and I am ready to serve our people. We must support our people to realize their dreams. I am not a project, leadership is God given," Nyabuto said.
Mary Sally Otara, 57, who served as the first Kisii County Woman Representative says if elected she will empower the young people.
"I have an interest in helping the needy and empowering the youth. Education is my priority too," she said.
David Ogega of Kenya Social Congress (KSC) has thrice attempted to clinch the seat. A teacher by profession, he taught for18 years before he resigned to venture into politics. He also operates a chain of businesses in Kisii town.
The Kenya Science College graduate says he is ready to impact different leadership skills in the Constituency. "We have been held at ransom for long, we have an opportunity to change and shape our destiny," he said. Kevin Mosomi of Party of Democracy and Unity (PDU) is perhaps the youngest candidate in the by-election.
In the list of candidates in the race are Eric Oigo of National Reconstruction Alliance (NRA) who previously served as the Bonchari Constituency Development Fund Manager under the current Jubilee candidate.
Victor Omanwa of Party of Economic Democracy (PED) served as the board director of the Lake Victoria Water Service Board. Prior to his appointment to the board, he was among the Gusii professionals who campaigned for Jubilee presidential candidate in 2013 and in 2017.
The 25-year-old St Patrick's University graduate in Theology is the Kisii Youth Leader. He is the founder of Blessed Son International Ministry. He has not actively been involved in the campaigns.
University of Nairobi graduate Jonah Ondieki will be battling it out with the other 12 candidates on the New Democrats (TND) party. He also Studied Master of Public Administration at Bowling Green State University, USA.
He is among the youngest candidates in the race. "We must be ready for generational change. We have laid ground for better things."
The other candidates; Kenya (PPK), Paul Matagaro of Mwangaza Tu party and Jeremiah Atancha of Agano Party were both candidates in the 2017 General Elections.
Charles Mogaka of Progressive Party is contesting a fourth time from the General Elections in 2007, 2013 and in the June 2014 by-election.