Twice bitten, Mudavadi casts his lot with new alliance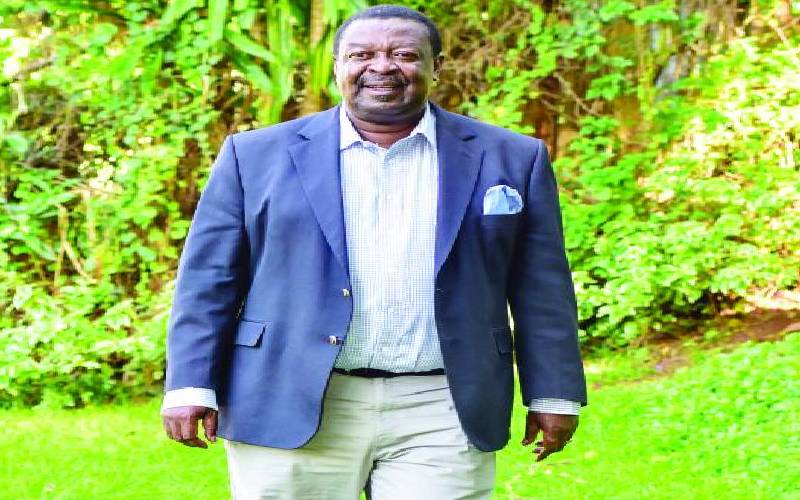 Our meeting at the Musalia Mudavadi Centre in Lavington was delayed. A meeting out of the office had overrun its time and his staff had informed me that he would be late for our lunch appointment. There were others before, so I knew it would take long before we met.
"I am so sorry I have kept you waiting," he says, stretching out his hand for a fist-bump when I am finally ushered into his office, the awkwardness caused by the coronavirus in the greeting notwithstanding.
"Where would you want us to sit?"
I tell him wherever is comfortable for him will work for me.
We opt to sit in a shade outside his office.
"How is everything coming along," I ask him as we walk the 20 yards out of his office.
"You plan and plan and plan again… you can't be too sure nowadays, can you?"
"There are so many trial balloons floating in the air," he adds.
We take our seats. His orderlies make sure he has sat well then ask what drink I would have.
"A glass of water please." He asks for black coffee.
"You learn new things in politics every day… what have you learnt recently," I ask him, paraphrasing a line in his 2020 autobiography, Soaring Above the Storms of Passion, co-authored with Barrack Muluka.
"I have learnt that pacts are made and before the ink dries, there are doubts already."
In 2012, the former Sabatia MP (1989-2002, 2007-2013) wrote in his book that then prospective candidates Uhuru Kenyatta and William Ruto showed up at his house.
"Our domestic detail announced that Uhuru and Ruto were outside. They wanted to see me… they, accordingly, wished to pull out of the race (because the two feared the ICC cases would come in the way of their candidature). They were proposing that I should become the joint presidential candidate, to be fielded against Raila of ODM."
From this meeting, it was agreed that a follow-up session would follow to thrash out a memorandum of understanding they had developed.
"The moment never came. It would never come. For, we were shocked to see after two days, footage in the media showing Uhuru on TV recanting…," Mudavadi wrote.
How has he dealt with that "disappointment or betrayal," I ask as the coffee and water is placed on the table.
Put it another way; what explains his unflappability in the midst of all this or as his book puts it, "the storms of passion"?
"I am not bitter at all. Bitterness wears you down… it clouds your sense of decision-making. I tell myself to learn how to do it better the next time," he says.
He attributes this to his Quaker faith and family upbringing, one of the oldest churches in the country. Established in 1902, there are about 300,000 quakers with satellite churches spread across the country, but mostly around Western region and Nairobi. Quaker churches are known for their simple structures as opposed to the more regimental that is common in other religious institutions.
"Quakerism exhorts us to speak the truth and be humble and to listen to others… it is about fighting for the rights of others," the son of a former high flying minister, Moses Mudavadi, says.
"There is a very serious deficit of trust in our society, in the Executive, and in the political arena… this is hurting our institutions."
Institutions are not living the spirit of the Constitution. The Judiciary, the IEBC, the media, the civil society and even the Legislature is coming under pressure and serious manipulation, says Mudavadi.
"It is bound to get more intense as we head into the referendum and the elections."
For example, he says, Parliament has "failed or neglected its duty to ensure debt is not a runaway matter".
"Meanwhile, the Executive is seemingly at loggerheads (or at war) with the Judiciary… this needs not be the case."
Deficit of trust
He is philosophical about this sad state if things: "Every blow that you strike the tree with an axe weakens it."
We both settle for a fruit salad. He remarks that having back-to-back meetings means sometimes he skips meals.
"Which is not a good thing," he quips.
I take him back to his earlier comment. What does he mean when he says there is a serious deficit of trust in the political landscape? Considering that he has been in the political arena for more than 30 years now, what has he done to infuse honesty into public sentiment?
"My commentary is never underpinned by malice… I have a genuine desire to cause change." He decries the lack of policy pronouncement "on the airwaves."
"There is little effort to crystallise political talk from policy talk… that hurts the economy; it hurts the country because serious things don't get resolved."
He points out that a member of his ANC party – Nambale MP Sakwa Bunyasi – has filed the Public Debt Management Bill, which will, among other things, set a ceiling on the amount and type of debt the country can take. At Sh7.2 trillion in December 2020, the GDP to debt ratio was 73 per cent. It had hovered at about 5-6 per cent when Mudavadi was at the Treasury in 1993-1997 in former President Daniel Moi's government.
Musalia Mudavadi has been many things before, but he speaks highly of his tenure as Finance minister. He also speaks glowingly about his time as the minister for Transport and Communications.
A land economics graduate from the University of Nairobi, he started out as Supplies and Marketing minister in 1989 then found himself in the hot seat – the Finance docket – four years later.
As he puts it in his book; "the economy was bleeding, the international finance community tightening their noose."
Curiously, that is where Kenya finds itself now – the economy is in a tailspin and we are seeing "a flurry of strings-attached interventions from international financial bodies".
What makes him think he has what it will take to turn things around?
His policy is to "see the good and try and solve problems".
Then, he says his biggest score was repealing a colonial era rule that restricted the movement of farm produce across district borders.
"To move 10 bags from Nakuru to, say, Baringo needed a government permit. You can imagine what this means to food security."
At Treasury, besides steadying the economy in the aftermath of the Goldenberg scam that centred around export compensation, he credits himself with easing forex restrictions and resuscitating the economy from "near comatose".
In those days, the minister was supposed to initialise an import ledger (of several hundreds of pages) that would then be used to allocate forex bills. His reforms unified the exchange rate and liberalised forex markets.
"And because of those reforms, we are more advanced than South Africa in the financial services sector."
He also cites reforms in the energy sector that he initiated as acting Energy minister following the death of John Kyallo in 1996.
The petroleum industry is vibrant, "you don't see queues at petrol stations because there are no fuel shortages like happens even in oil producers like Nigeria or Angola."
He was at Transport and Communication ministry (1997-2002) when the behemoth Kenya Posts and Telecommunications was cut into pieces to birth the country's most successful innovation story in Safaricom. He credits his team at the ministry for fostering competition and embracing change, and relishes the Celtel versus Safaricom fights that revolutionised the telco market.
"It is those small steps that make a huge difference," he says.
I remind him of his remarks at the launch of the Building Bridges Initiative (BBI) report at the Bomas of Kenya that went viral, where he chastised the political class for hijacking the reform process. Definitely, he is a good inclusion in any team… why does he seem to be perennially punching below his weight? He has a sharp mind, great intellect, is measured, not malicious and backed by a constituency of loyal followers in his backyard; what is holding him back?
"Perhaps I trust too much or perhaps I get into the wrong company… but I have learnt my lessons."
Was he offered a CS post by President Kenyatta?
"Yes, but I turned it down on principle. I wanted to offer criticism, which I reckoned then and even now I would do outside than inside," he says.
So what is his diagnosis of the problem with Kenya of 2021?
"It is the economy, stupid," he says, paraphrasing James Carville, former President Bill Clinton's strategist.
"Our economy is uncompetitive… our competitive edge is declining rapidly."
He says the prohibitive cost of energy is pushing manufacturing into Ethiopia. He says opening up the energy sector will create competition and reduce the risk of relying on the monopoly – Kenya Power.
"Our agricultural and manufacturing export earnings are flattening and our GDP is largely service industry heavy," he says.
Development priorities
"We have to reverse the fact that the biggest forex earner is remittance from diaspora, which can be subject to external forces like a pandemic."
Mudavadi says because many Kenyans abroad lack immigration status, remittance will be hit as they settle down in the new normal.
He says we ought to consider development priorities; go for projects with a multiplier effect on the economy and those with shorter payback period.
On debt, he says public expenditure ought to be rationalised to ensure value for money and that we have to "deal firmly" with corruption. Mudavadi was previously implicated in the infamous cemetery scandal, but was later cleared.
On Goldenberg he said, "I faced it, I confronted it and I brought it to an end."
"We have to borrow, what is angering Kenyans is that borrowing is not targeting priority areas… why is there a feeling that that money is going into the pockets of a few? Those fears are genuine, they need to be addressed."
He also cites reforming the taxation regime and reviewing the Vision 2030 blueprint as an urgent first step to get the economy back on track.
"Taxation is causing more harm than Covid-19 pandemic, why? Because we have not expanded the tax base by adopting progressive economic ideas to net as many taxpayers as possible."
I push him on the fact that public service is failing Kenyans and what would he do differently? The best education is guaranteed in a private school; a private hospital offers the best treatment; if you want reliable water supply, you dig a borehole; to be secure, one hires a private security guard; to travel hassle-free, you buy your own car.
He says any administration worth its salt must invite the best of its minds to give solutions and must listen to them.
"In transport and logistics, there are Kenyans involved in more complex situations than at home… let's bring this expertise home and utilise them."
End game
I ask him about his recent political pact – the One Kenya Alliance. What is the end game?
"When I came up with NASA (National Super Alliance), it was an attempt at offering Kenyans a viable, genuine alternative to Jubilee… history will be kind to us for that attempt, never mind the aftermath."
On One Kenya Alliance (OKA): "It is too early to gauge it… it is an emerging conversation, we are giving Kenyans alternative of hope amidst all the despair and acrimony."
"Remember NASA is not disbanded neither is the corporation between Kanu and Jubilee dissolved. So OKA may crystallise or it may not as we get closer to 2022."
He says he ought to be open to a third alliance besides that associated with Raila and Ruto.
He says OKA should not be seen as an association to settle scores, but rather one to refocus the country "especially on the economy."
From his book, he is alive to the treachery that goes on in those political darkrooms.
"The tribe will vote for their own man, regardless of his being a misfit and not good at all for national unity and for political and economic stability."
Work-life balance? The Manchester United and AFC Leopards fan says he spends time off the political podium and backrooms with family.
At 60, for a man who got into politics at 29, he has seen his family accept his political gene.
His children are all grown up now and "can hold out a little longer and show a keen interest in his political doings" unlike when they were younger when he feared they were losing out because of his busy schedule.