I would be happy with Raila presidency - Orengo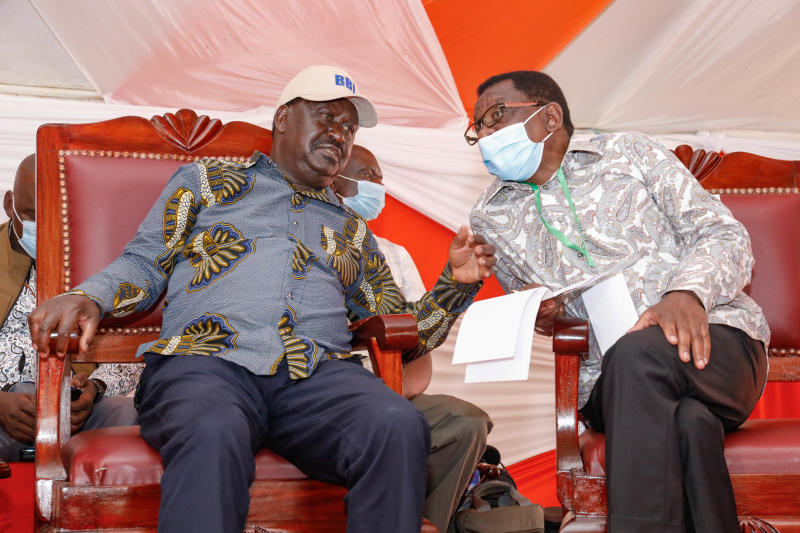 Siaya Senator James Orengo says he would be happy if ODM leader Raila Odinga would run for the presidency in 2022.
Orengo said though the party had already received the names of two candidates with an interest to fly ODM's flag in the election, he would personally want Raila to be given a chance.
His sentiments come after ODM Director of Elections Junet Mohamed said the party's National Elections Board and the National Executive would meet amid efforts to consider if more applicants would submit their names.
So far Mombasa governor Hassan Joho and his Kakamega counterpart Wycliffe Oparanya submitted their names.
On April 1, 2021, the party issued a statement that indicated Raila would be on the ballot but on the following day Secretary-General Edwin Sifuna clarified saying it was a prank for April fool's day.
Speaking on KTN Wednesday night, Orengo said the controversy about Raila's presidential candidature was a storm in a teacup.
The senator said ODM was focused on carrying out a member recruitment drive before the election.
"We shall have elections in August 2022 which is almost 16 months from now. Our party leader has been consistent on this matter that he does not want to talk about 2022 because his focus, for now, is the BBI process," Orengo said.
Orengo said if Raila would enter the theatre of the 2022 contest then focus would be lost.
"Personally I would want Raila to be on the ballot but that is a decision he would have to make by himself because again no one can force him if he does not want to," he said.
He added, "There is never a big problem that cannot be solved. We are on a journey that we cannot look back. As ODM we do not currently have a post-Raila plan but if that happens we already have two candidates with institutions and organs in place to handle the matter".
If Raila is allowed by the party, it would be his fifth time he will be trying his luck at the presidency.
Before the famous 'handshake' happened, Raila and President Uhuru Kenyatta battled it out in the 2017 general election.
Though the election was nullified by the Supreme Court, Raila declined to contest in the repeat election protesting against what he termed as electoral reforms.
Orengo said the ongoing talks on political formations are a normal political process that should not create a lot of anxiety.
"People are trying to find their levels in these alliances and formations and that is not a crime. By the time we near elections a lot would have happened," he said.
About the BBI process, Orengo said the matter was still on and a referendum would happen in good time.
"Reggae is still on and the bill will be dealt with in Parliament in the few coming days and will end up in a referendum. It is important to keep within time frames outlined in the constitution because any plan to extend the life of the current parliament would be setting a bad precedent," he said.
Orengo recalled there was a plan to extend the life of parliament during President Mwai Kibaki's regime but the retired president was the first one to oppose it.