Parliament suspends sittings due to Covid-19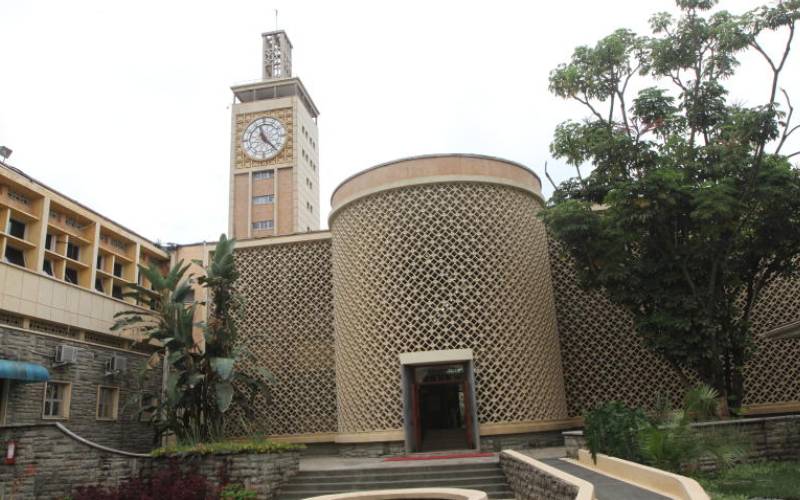 Parliament yesterday adjourned its sittings as a containment measure against the Covid-19 pandemic currently in its third wave.
The National Assembly approved the motion to suspend its regular sessions till May 4th May at 2.30pm, while the Senate will resume on May 11th inline with the President's directive to mitigate against the spread of the virus whose daily positivity rate is more than 26 percent.
Senate Majority Leader Senator Samuel Poghisio and the Majority leader Amos Kimunya yesterday moved a motion in their respective Houses to alter the calendar for the Firth Session.
Kimunya even informed the House that the joint Justice and Legal Affairs Committee (JLAC) sittings were suspended last week after some members turned Covid-19 positive and went into isolation.
But National Assembly JLAC vice-chairman disagreed with Kimunya's assertions on the Health Status of the BBI team members. The committee was expected to table its report on April 1st.
"As a House, we not only do it to protect ourselves but as a sign of leadership to other levels of government," said Kimunya.
The current session was supposed to go till the end of April and a one-month recess to be taken from April 7.
He argued, "It makes more sense to bring forward the long recess. We take it now so we come back when we should have been going for recess and transact the business that will be before us and within a safe environment."
The charged House took issue with the President's directive, with MPs insisting that they are independent and can only make their own alterations of the calendar.
Just like last year, parliament has planned to ensure that public participation on budget and departmental committees which takes place during the May recess will be conducted virtually.
Even though the chamber is suspended, committees will continue meeting in order to see through "urgent business that comes inside the house" such as the BBI and the County Allocation of Revenue Bill (CARB), 2020.
"Immediately we live today, committee meeting will be taking place and you will be expected to be in Nairobi, in your office although the meetings will take place virtually," said Kimunya.?
Minority Leader John Mbadi supported the motion stating that members in committees should ensure they transact their duties from the office to avoid interference from informal areas such as homes.
"If you are not going to be available in the office, ask for permission from your Chair," said Mbadi.
Speaker Justin Muturi sought to set the record straight on why they had to alter the House calendar and not as per the President's directive, which was supposed to be indefinite.
"For Parliament, we cannot be suspended. We cannot be adjourned or directed to adjourn except as we desire through our own resolutions. I wish to make certain clarifications. I am aware that the business appearing on Order No. 13 is a result of certain exigencies that have happened in the country and certain communications that may have been issued," said Muturi.
he went on, " I reminded members of the need to shield MPs from Covid-19, which is not new, and that House proceedings will not be affected. The true position is this, that a meeting was called at State House, at which all the three arms of government were represented for consultation and briefing on updates on the latest Covid-19 pandemic situation in the country."
He disclosed, "After listening to the Health professional, led by the Director of Health, the three arms of government and the Inter-religious Council representatives at that meeting took certain decision. Ordinarily, when consultations of that nature do happen, certain statements follow."
Muturi said he advice then that with regards to what happens in the houses of Parliament, he said the houses of Parliament representatives and leadership there should have merely been requested to take note of the brief.
Unfortunately, he revealed, "As maybe some of you will know, not everybody understands the language of Parliament."
He added, "But of course, members, there are some overenthusiastic people who do not always understand some of those things, even as we debate this motion, we must bear in mind that it is you, as members, who have the ultimate responsibility, duty and authority to determine how you would want to regulate yourselves...even in the current upsurge in the Covid-19 pandemic."
Senate, on its part, resolved to adjourn until May 11th with committees also allowed to carry on with virtual sittings with the option for physical sittings when necessary.
President Kenyatta said in his Covid-19 update address to the nation last Friday said in consultation with the speakers of the bicameral Parliament, the august house would suspend its sittings.
Several senators were opposed to the president's directive, and a subsequent communication by Speaker Kenneth Lusaka during yesterday's morning sitting seemed to align with it.
Speaker Lusaka was on the spot for his communication that senators felt had been an extension of the president's directive.
"The speaker's communication was like a directive. The speaker's powers are very limited. The House makes decisions and resolutions in plenary," said Minority Leader James Orengo who at the same time underscored the need for taking necessary precaution.
The Siaya senator had proposed that senators take weekly Covid-19 tests to ensure their safety during the sittings.
Vihiga Senator George Khaniri also faulted President Uhuru's action, saying he had no such powers.
"We passed the constitution 2010 to ensure that Parliament has its independence. We can decide when to sit and when not to. All three arms are independent of each other," said Khaniri.
He went on "We are happy to adjourn but we must continue working… as Senator Khaniri said, the executive is still working," said Narok Senator Ledama ole Kina, adding that virtual committee sittings were critical in oversight.
"The calendar of Parliament cannot be amended and discussed in any other meeting," said Kericho Senator Aaron Cheruiyot, who also bashed the Speaker for his communication.
Senate had been sitting from Tuesday to Thursday until last week when they resolved to reduce their sitting days to one, every Wednesday. The National Assembly introduced night sittings on Tuesday and Thursday to clear the backlogs of pending House business because of Covid- 19.