Mvurya backs Achani to take over from him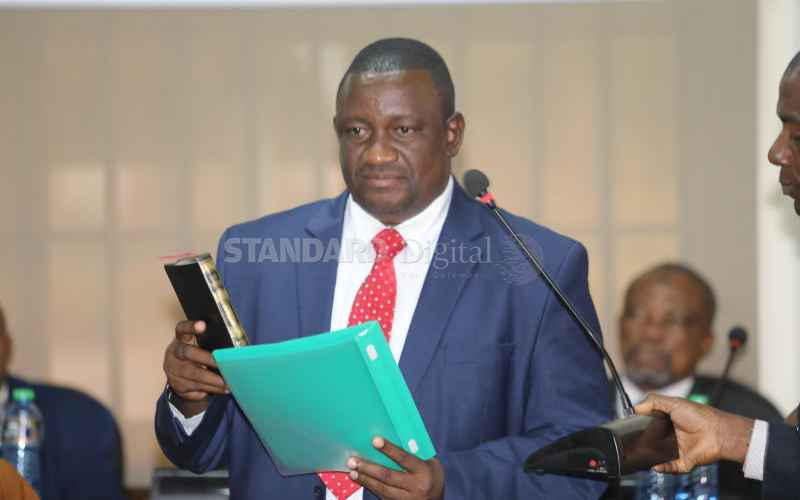 Kwale Governor Salim Mvurya has intensified campaigns for his deputy Fatuma Achani, urging residents to shun what he termed as cheap propaganda by adversaries and back her bid to take over from him.
Mvurya told residents his support for the deputy was meant to sustain his track record and spur further development in the region.
He was speaking yesterday during the opening of a twin workshop and groundbreaking ceremony for a hostel project at the Kinango Vocational Traing Centre in Kinango Sub-county.
"Many will come to you spreading propaganda, abusive politics and divide you along tribal lines. Be cautious with politicians scheming to destabilise our development record," he said.
The governor pledged to continue working closely with the national government, saying it was through such collaboration that the county realised infrastructure projects such as the Sambaru–Kinango, Kanana-Shimoni and Lunga Lunga-Vanga roads that are now complete.
Mvurya also issued cheques to students from Kinango Ward, where 369 students from Kinango Vocational Training Centre received bursary worth Sh6.7 million.
Mvurya said that through the Elimu Ni Sasa initiative, the county has invested in education.
"Since we came into office in 2013, education standards in Kwale have positively changed thanks to the Elimu Ni Sasa initiative. Currently, we are fully sponsoring 5,149 students in national schools, 2,500 in universities," Mvurya said.
Achani is facing stiff competition from Lunga Lunga MP Khatib Mwashetani, former Cabinet Minister and Matuga MP Chirau Mwakwere, Dr Issa Chipera and Kwale County Assembly Speaker Sammy Ruwa.
Kenya Ports Authority Engineer Lung'anzi Chai and Agriculture Principal Secretary Hamadi Boga are also eyeing the seat.
The deputy governor urged leaders to avoid abusive and provocative politics and instead focus on development.
"Mvurya's leadership is exemplary, and it is our responsibility to support him to enable him take a national position in 2022," she said.
Achani urged residents to have faith in her, saying women also make good leaders.