Money, clan and 2022 succession main factors in mini polls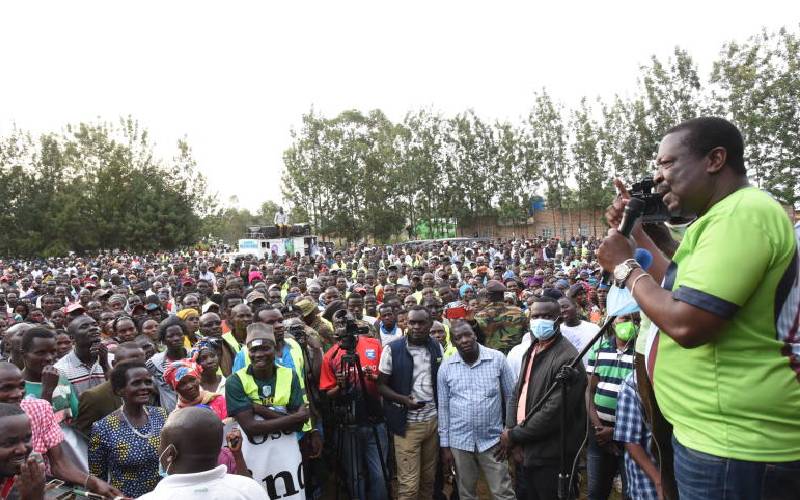 Candidates vying for Matungu and Kabuchai parliamentary by-elections wrapped up their campaigns yesterday and shifted focus to the elections tomorrow.
Although the contest has been touted as a battle for national political stalwarts out to test their popularity ahead of the 2022 presidential elections, there are many issues that will determine the winners.
Clan loyalty, the welfare of sugar farmers due to mismanagement of Mumias Sugar company, money and 2022 succession politics could determine the outcome in Matungu by-election according to political commentator Martin Andati.
A section of voters interviewed said they had made up their minds on who to vote for and the presence of the political bigwigs would not sway them.
ODM's Raila Odinga, Musalia Mudavadi (ANC), Moses Wetangula (Ford-Kenya) and allies of Deputy President William Ruto who were there for the United Democratic Alliance (UDA) candidate, have all put up a spirited fight to woo voters.
Hamsa Shiundu, a voter from Namamali ward said she will vote for someone with a vision to empower the locals and not a political party.
"I will vote for someone with the interest of the ordinary person at heart, some of the candidates running around are just offering empty promises," she said.
UDA, which is linked to Ruto, has fielded candidates in both Matungu and Kabuchai while Raila has a candidate in Matungu only.
"In previous elections, both Raila and Ruto have used the larger Mumias comprising Matungu, Mumias West and Mumias East Constituencies to get a foothold in western Kenya politics and therefore a loss in the two elections will deal them a huge blow," argued Andati.
Andati says ANC and Ford Kenya candidates are likely to spoil the party for Raila and Ruto in the by-elections.
"ANC candidate Peter Nabulindo has good chances of winning in Matungu while Ford Kenya's Majimbo Kalasinga is the man to beat in Kabuchai," said Andati.
He adds clan may not be an issue in Matungu where Nabulindo and the UDA candidate Alex Lanya hail from the predominant Abashitsetse clan.
"A similar scenario played out in 2017 when the late Murunga and Nabulindo, both from the Abashitsetse clan squared it out, with the former garnering 18,088 votes and the latter managing 10,636. History could just repeat itself," said Andati.
Financial muscles
Nabulindo is buoyed by his impressive performance in the last elections and is confident of trouncing his rivals.
According to Andati, the ANC candidate is favoured by financial muscle and goodwill from smaller clans but he must implore his supporters to wake up early and vote in large numbers and also protect the votes.
ODM's David Aoko Were, who ran on a Jubilee ticket in 2017, finished third with 8,618 but he has been reaching out to the voters to give him another chance.
He had been in Parliament for 15 years.
Testing waters
Earlier efforts by smaller clans to gang up and produce a strong candidate in an attempt to dislodge the Abashitsetse clan hit a brick wall and most of them have ended up fielding candidates.
Party politics could also play a role in determining the winner. The fact that Murunga was elected on ANC ticket gives the party an advantage.
Another factor likely to tilt the mini-poll is regional schism, according to Andati.
There have been arguments that the western part of the constituency has held onto the seat for too long under Were and that it is the turn of the people in the northern part of Matungu which borders Mumias East and Bumula constituencies.
But more important is the 2022 factor, with Ruto, Raila and Mudavadi said to be focused on testing the waters in Western Kenya.
Mudavadi and his allies have maintained that the by-election was not just a Matungu affair but a national contest.
Voter bribery has emerged as another challenge. Rival parties have been accusing each other of giving money to voters to woo them.
Some of the voters interviewed in Kabuchai said they would vote for Kalasinga because they relate well with the Ford Kenya party.
For Evans Kakai of UDA, his choice of the party appears to be working against him since Ford Kenya is dominant in the area and UDA is viewed as an outsider political outfit in the region.
Kabuchai has 56,000 voters and the main issues affecting the constituency include high level of poverty, unemployment, cattle theft, water shortage and crime.
The seat fell vacant following the death of James Lusweti on December 5, 2020.
Wetang'ula has been traversing Kabuchai urging locals to vote for his candidate to teach Kakai, a close ally of DP Ruto, a lesson.
Kalasinga vied for the same seat in 2013 but lost to Lusweti.
Dr Gasper Wafubwa, an independent candidate, has been campaigning with the hope of eating into Kalasinga's support base.
He is from the Omutukuyika clan, the largest in Kabuchai. Kalasinga's mother belongs to the same clan.
Wafubwa has been practising in the United States of America for more than 25 years.
Masinde, who belongs to the Bamutilu clan, says he has initiated many projects to support SMEs in the constituency and deserves to represent the people.
[Report by Nathan Ochunge, Brian Kisanji and Micah Sali]