Opposition builds against Lenku in county politics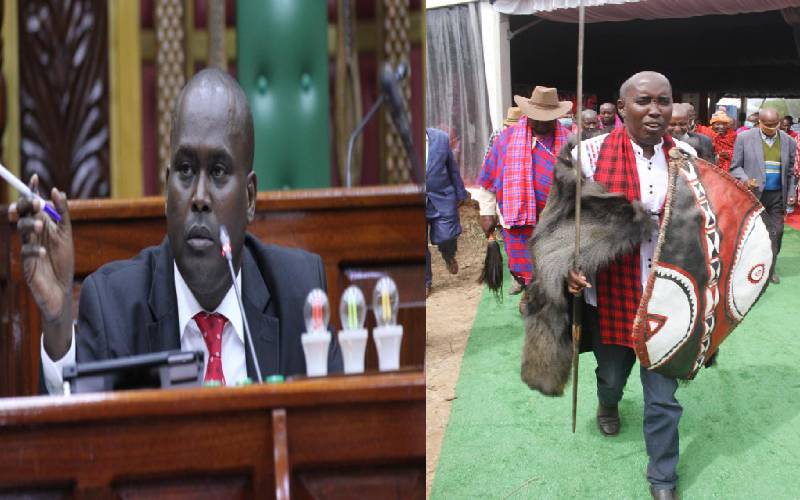 A supremacy battle between Kajiado Governor Joseph ole Lenku and Kajiado South MP Katoo ole Metito has started taking shape.
Katoo, who is seeking to unseat Governor Lenku, has been flying the hustler flag, while Lenku is determined to defend his seat and complete his two terms.
In what may alter the 2017 line-ups where Jubilee and ODM politicians did not see eye to eye, the next General Election will present a new reality with several ODM politicians running alongside Lenku while some of the Jubilee politicians will opt to fly the Tangatanga flag.
While Lenku's opponent said he has not delivered his promise to the people of Kajiado, Lenku said he has successfully delivered in many ways. He said he has done very well in matters health where he has upgraded Kajiado Referral and Oloitokitok Sub-county hospitals.
Lenku also said he has initiated major markets to boost trade within every town in Kajiado. The governor says he has also overseen an upgrade of town roads to bitumen standard and cabro in Rongai, Kiserian, Ngong, Mathare and Loitokitok townships.

''Given a second term I will be able to complete many of the projects my administration has started in order to benefit the people of Kajiado,'' said Lenku.
However, Kajiado East Member of Parliament Peris Tobiko, who is also eying the gubernatorial seat, said Lenku's administration has not delivered on anything.

''Lenku has miserably failed in service delivery but is very good in sideshows. If elected governor, quality services to the electorate such as water provision, health services, garbage management, roads infrastructure and equal employment opportunities will be witnessed like never before,'' said the MP.
''Kajiado is a cosmopolitan county that deserves a development-oriented leader. Why don't we have water in many of our towns; why don't we have good roads to serve our people? This is because Lenku's government is not able to deliver to the electorate,'' said Tobiko.
Metito, who spoke to The Standard on phone recently, said, "I am the face of the hustler movement in Kajiado. I am running for governor and I want to bring change in this county and also ensure Deputy President William Ruto wins majority of votes.
The long time ally of President Uhuru Kenyatta and also a former assistant Internal minister during retired Mwai Kibaki's regime accused Lenku of sidelining other communities during his tenure.
"In Kajiado we need someone who can incorporate all communities in matters development and that is me. I cannot afford to see other communities suffer again,'' said Metito.
Metito is hoping to ride on the coattails of Tangatanga, a wing of the Jubilee party allied to Ruto, and has secured the backing of MCAs Mwathi Pere (Ongata Rongai), Njogu Kimemia (Oloolua), Robert Sungura (Ngong) and Onesmus Ngogoyo (nominated).
Pundits say running for the governorship was Metito's exit plan from the hot Kajiado South parliamentary seat where the younger age set are saying 20 years was enough for him as MP.
While Metito is working hard to inherit Ruto's supporters in Jubilee's divided house in Kajiado, Lenku has been keen to inherit President Uhuru Kenyatta's diehards as well as ODM politicians in the spirit of the Handshake.
When the four Jubilee MCAs bolted to Metito's camp, Lenku swiftly recruited seven others from ODM and Wiper to neutralise them.
Those who joined Lenku's camp from NASA are Minority Leader Daniel Naikuni (Purko), Peter Tirishe (Mosiro), Dickson Nkaloyo (Matapato North), Amos Peshut (Imaroro, Wiper), Samuel Teum (Ildamat, Wiper), Joshua Oluwuas (Kaputiei North, Wiper) and Paul Matuyia (Kitengela).
Apart from the MCAs, Lenku wooed former Senator Peter Mositet, then a harsh critic, and managed to bag Kajiado Central MP Memusi Kanchory and ODM Nominated Senator Judith Pareno.
He also struck deals with 2017 ODM parliamentary aspirants for Kajiado West Joseph Simel and Kakuta Maimai of Kajiado East. Instructively, Simel garnered 17,112 votes against the incumbent George ole Sunkuyia's 18,696. Maimai polled 31,168 votes against the current Kajiado East MP Peris Tobiko's 39,937.
However, Ruto's handlers may have to change tact in their entry to Kajiado following a turbulent reception for his newfound point men ahead of 2022.
The region largely tilts towards Uhuru, although ODM leader Raila Odinga has considerable support especially from the settler community from Western and Nyanza regions who constitute a majority of the workforce in the various multinational organisations in the county.
And last week, Lenku re-organised his government, renaming and moving
departments in perhaps one of his last administrative actions before the 2022 elections. The reshuffle is seen as yet another effort to mollify various ethnic interests in the county in line with implementation of his political clarion call of uniting Kajiado.
During his visit to Kajiado recently, the deputy president came face to face with the resentment some of his allies are getting on the ground, leaving two MPs with political bruises after being shouted down at two separate meetings in Kajiado West.
Ruto has been on a charm offensive trying to craft a new team to spearhead his campaigns and has held more than five meetings with local leaders at his Karen home in the last four months before venturing into Kajiado West.
The first venue was Daniel Tinaai's home in Olchoro Onyori. Tinaai ran for the Senate seat on an ODM ticket and lost with a huge margin to Senator Philip Mpaayei. All indications are that Ruto has now dumped Mpaayei for Tinaai.
At Tinaai's home, Metito was jeered by the crowd for saying Lenku had claimed he would defend his seat by "sweat and blood". The crowd flatly told Metito to concentrate on his manifesto and leave Lenku alone.
Another Ruto ally, Kajiado West MP George Sunkuyia, was booed off the stage at Kiserian town, regarded a Lenku stronghold.
Sunkuyia has been running into crowd trouble in the area, especially after he bolted from Lenku's camp.
Apart from Sunkuiya, no other Kajiado MP has joined the Metito wagon, with Jubilee nominated Senator Mary Seneta still maintaining her close ties with Lenku even if she is steadfast in supporting Ruto for president.
Like Seneta, Mpaayei is a Ruto man but was politically mentored by Lenku and are close allies.
Mositet said the Handshake versus Tangatanga duel in Kajiado will be interesting as it will have a national impact, but claims the Handshake line-up will eventually triumph.
"The so-called hustlers have approached Kajiado wrongly. They are trying to impose candidates the way they did in 2017. We know how our people behave and I can assure you the votes here belong to Uhuru and Raila. I do not see this changing significantly in the near future," said Mositet.
When cancer runs in the family
Cancer of the cervix, stomach cancer, breast cancer and cancer of the eye. These have affected close members of one family